Division Rivals in FIFA Mobile 23 is where you can compete with other players through different modes and earn rewards. Here you can also complete the Daily Goals/Objectives to get more rewards.
There are four distinct chapters you can engage in, which include VS Attack (VSA), Head to Head (H2H), Manager Mode, and Player of the Month (POTM) Tournament. You can play VSA, H2H, and Manager Mode daily, while the POTM Tournament takes place once a month.
With four different chapters, Division Rivals provides an alternative for you to play if you're bored with the ongoing seasonal events. Please check the brief guide for the four chapters in Division Rivals below, and be sure to click on the reference link in each chapter for more comprehensive information.
Please check out the latest Division Rivals Update here!
VS Attack (VSA)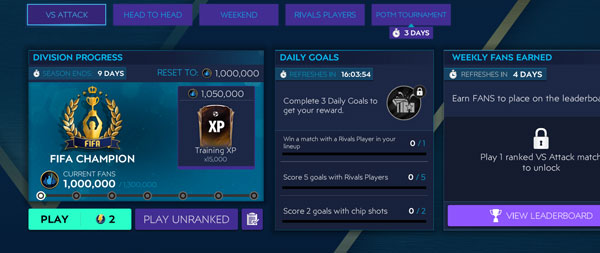 This is a mode that has been around since FIFA Mobile season 1. This mode has also undergone many changes since it was first introduced.
VSA or Versus Attack is based on chances. And as the name implies, most of these chances are attacks. There are also defensive scenarios (counter attacks), but this only occurs if there is a significant difference between your OVR and your opponent's OVR.
Please check more information about VSA here.
Head to Head (H2H)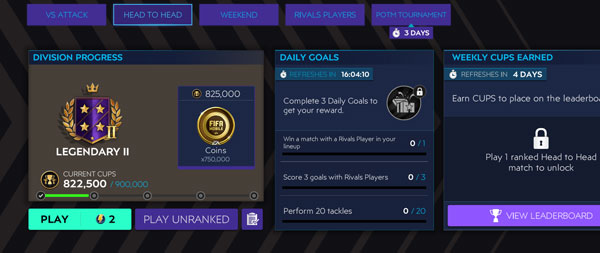 This is where you can play 11vs11 matches against other online users in real time. H2H mode is suitable for those of you who want to play football just like in the real world.
Unlike VSA which only focuses on attacks, in H2H you have to control the starting XI of your team in defenses and attacks, ball possessions, counter attacks, and so on.
The drawback is that because it is real-time, H2H requires stable and smooth internet connections. If one user's internet connection is bad, it will affect both users who are playing and the game will run slowly and laggy.
Please check more information about H2H here.
Manager Mode
Manager Mode focuses on the strategic management of your team, allowing you to observe them executing your game plan rather than actively playing as in VS Attack or H2H. Centered on tactics, the chosen tactic will influence your team's playstyle, with four preset tactics available: Attacking, Control, Counter, and Defensive.
The game situation, your opponent, and your team's strengths and weaknesses all contribute to the selected tactic, and customizing a preset tactic will lead to the creation of a Custom Tactic.
Manager Mode offers the ability to view detailed metrics throughout the game, allowing you to analyze your team's statistics, such as shots, possession percentage, pass accuracy, fouls, and offsides.
Additionally, you can review individual player metrics, including goals, assists, shots on target, passing, tackles, fouls, and overall match rating. Utilize these metrics to make informed tactical decisions like any intelligent manager.
Similar to H2H and VS Attack, Manager Mode features a progression system. Winning games advances your position in Division Rivals rankings and provides better rewards.
Please check more information about Manager Mode here.
POTM Tournament
POTM Tournament runs for 3 days at the beginning of each month. This tournament uses a VSA matches system, so you can't play it in H2H mode.
The highest reward of the POTM tournament is a POTM player, who is selected based on his performance in the real world.
You must win at least 26 out of 30 VSA matches to claim a POTM player. If it's less than that, you can save the POTM points and use them in the following month.
Please check more information about POTM Tournament here.