Division Rivals in FIFA Mobile is where you can compete with other players through different modes and earn rewards. Here you can also complete the Daily Goals/Objectives to get more rewards.
There are 4 different chapters that you can play with, namely VS Attack (VSA), Head to Head (H2H), Weekend Tournament, and Player of the Month (POTM) Tournament. VSA and H2H can be played every day, Weekly Tournament is only available on weekends, and POTM Tournament is once a month.
With 4 different chapters, Division Rivals offers an alternative that you can play if you are bored of the ongoing seasonal events. Please check the brief guide for the 4 chapters in Division Rivals below and please click the reference link in each chapter to get more complete information.
VS Attack (VSA)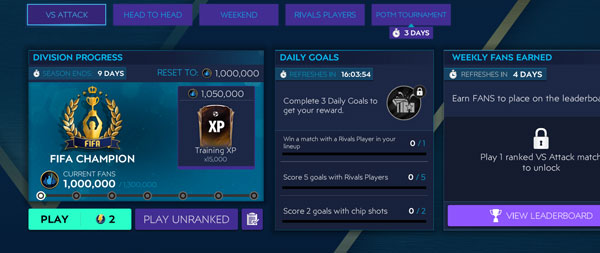 This is a mode that has been around since FIFA Mobile season 1. This mode has also undergone many changes since it was first introduced.
VSA or Versus Attack is based in chances. And as the name implies, most of these chances are attacks. There are also defensive scenarios (counter attacks), but this only occurs if there is a significant difference between your OVR and your opponent's OVR.
Check more information about VSA here.
Head to Head (H2H)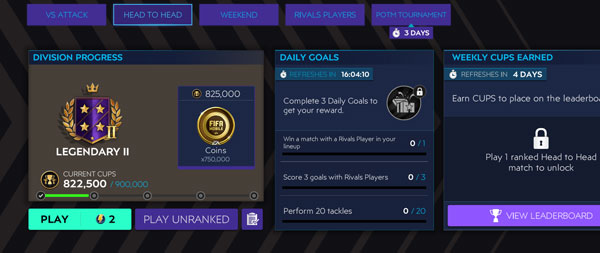 This is where you can play 11vs11 matches against other online users in real-time. H2H mode is suitable for those of you who want to play football like in the real world.
Unlike VSA which only focuses on attack, in H2H you have to control the starting XI of your team in defense and attack, ball possession, counter attack, and so on.
The drawback is that because it is real-time, H2H requires a stable and smooth internet connection. If one user's internet connection is bad, it will affect both users who are playing and the game will run slowly and laggy.
Check more information about H2H here.
Weekend Tournament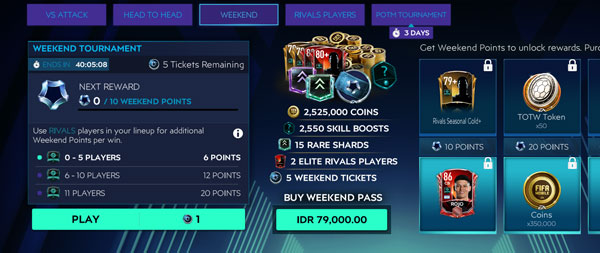 Weekly Tournaments run for 3 days on weekends. You can choose between VSA or H2H to compete in this tournament.
To get more points per match (which will later be used to claim rewards), you can use Division Rivals players in your lineup. The more Rivals players in your lineup, the higher points per match.
There is also a Weekend Pass that you can buy using real money, if you want to get more rewards.
What are Rivals players in FIFA Mobile? Rivals Players are players who are claimable from the rewards in the Division Rivals.
You will get Rivals Players from the weekly VSA and H2H rewads. You can also buy Rivals players in the market. To do this, go to the market and filter by Program >> Division Rivals.
Check more information about Weekend Tournament here.
POTM Tournament
POTM Tournament run for 3 days at the beginning of each month. This tournament using VSA matches system, so you can't play it in H2H mode.
The highest reward of the POTM tournament is a POTM player, who is selected based on his performance in the real world.
You must win at least 26 out of 30 vsa matches to claim a POTM player. If it's less than that, you can save the POTM points and use it in the following month.
Check more information about POTM Tournament here.