VS Attack (VSA) is a mode that has been around since FIFA Mobile season 1. Since it was first introduced, VSA or Versus Attack has undergone various format changes.
In FIFA Mobile season 5, VSA is no longer a standalone mode. Together with Head to Head (H2H), the Weekend Tournament and the POTM Tournament, they are part of the Division Rivals.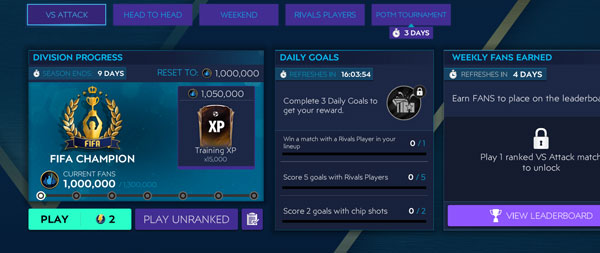 VSA system is based in chances. And as the name implies, most of these chances are attacks. There are also defensive scenarios (counter attacks), but this rarely happens because it's only occurs if there is a significant OVR difference between two teams.
At VSA, you will be assigned to a division based on the number of fans. The more wins you get at VSA, the more fans you have and you can move up the division tiers. Conversely, losing too many VSA matches could get you demoted to a lower division.
VSA Division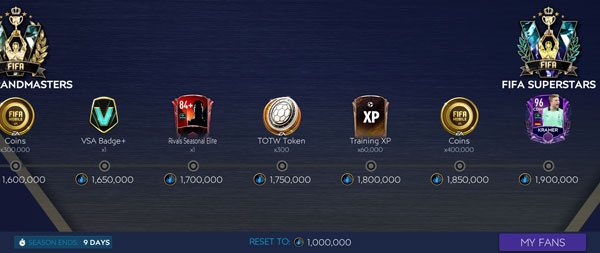 Down below is the full list of FIFA Mobile VSA Divisions :
| Division | Required Fans |
| --- | --- |
| Amateur III | – |
| Amateur II | 40,000 |
| Amateur I | 100,000 |
| Pro III | 180,000 |
| Pro II | 260,000 |
| Pro I | 340,000 |
| World Class III | 420,000 |
| World Class II | 500,000 |
| World Class I | 600,000 |
| Legendary III | 700,000 |
| Legendary II | 800,000 |
| Legendary I | 900,000 |
| FIFA Champion | 1,000,000 |
| FIFA Masters | 1,300,000 |
| FIFA Grandmasters | 1,600,000 |
| FIFA Superstars | 1,900,000 |
VSA Daily Goals
Here you can complete 3 daily goals/objectives to get reward. Daily goals differ from day to day.
Here are some of daily goals at VSA :
Win a match with a Rivals Player in your lineup
Score 5 goals with Rivals Players
Score 2 goals with chip shots
Score a goal from 20 m
Get 10 assists
Win a match in Weekend Tournament
Perform 5 assists in Weekend Tournament
etc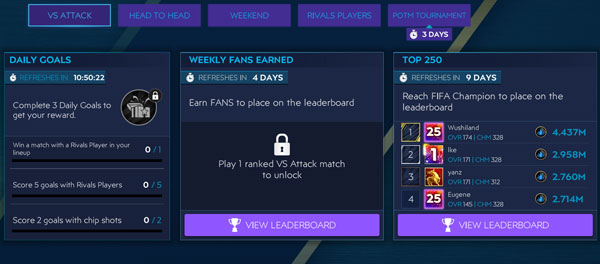 VSA Leaderboard
There are 2 top leaderboards in VSA, one is reset every week, and the other one (TOP 250) is reset every month.
Because VSA is based on chances, your chances of getting on the top leaderboard (especially for the top 250) are quite small if you are an F2P.
In VSA, the higher the OVR, the more great chances you will get in each match. So, just like in the League Tournament, the top 250 VSA is only inhabited by p2p and p2w players.
VSA Tips & Tricks
These are the tips tricks at VSA based on my experience playing this game since season 1. Before reading further, if you are new to this game, you should first read about Gameplay Controls.
From the first kick off, step back to your line and then clear the ball (using 'Shoot' button) so you can move immediately to the next chances. The basic chance at the beginning of the match is the most time-wasting and the chances of a goal are very small.
For basic chances in mid-match, passing the ball to the side of the field (using the 'Pass' button) so you can immediately move to the next chances. This is especially so if you are against a higher OVR (3+ or more), because the basic chances against a higher OVR are harder than the basic chances against a lower OVR.
The VSA runs for 1:30 minutes, and you will likely get between 10-20 chances. Maximize in converting good and great chances into goals, and throw away basic chances as quickly as possible (unless you are sure can convert them into goals) so that overall you can get more chances.
Great chances most of the time is 99% goals. If you often failed on great chances, then there are two solutions: a) Change your player, because maybe the gameplay is not good. b) Practice your angle in shooting the ball, because it is possible that your angle is not right so the ball does not aim at the goal or is saved by the goalkeeper. Or maybe, your shooting isn't strong enough.
Don't change formations often and remember each scenario as best you can in VSA, because you will get those scenarios over and over again in subsequent matches.
Use players that match your playstyle. If you like to dribble and pass your opponent, use fast paced and good dribbling attackers. If your playstyle is passing or crossing, maybe you can use tall strikers that have good headings.
I hope you found this VSA guide is helpful. Don't forget to also check about Skill Moves so that you become more proficient at playing VSA in FIFA Mobile.