Head to Head (H2) is a mode where you can play online 11vs11 matches against others users in real-time. Wanna play football just like in the real life? Then this is for you.
In FIFA Mobile season 5, H2H is no longer a standalone mode. Together with VS Attack (VSA), the Weekend Tournament and the POTM Tournament, they are part of the Division Rivals.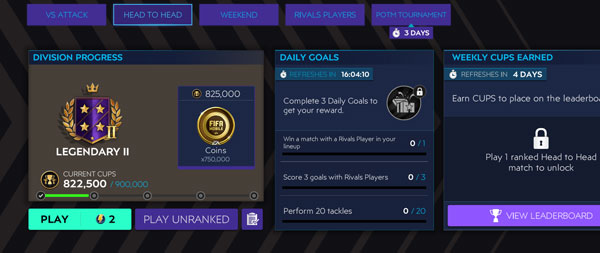 In H2H, you have to control all of your team in defense and attack, just like console games in general (FIFA 21, PES 2021). But there are no substitutions here.
In H2H, OVR has absolutely no effect. So is chemistry. EA said chemistry had an effect on players' gameplay in H2H, but the majority of users said they didn't feel it.
If you want to play with friends, it's more fun to use this mode than VSA.
However, H2H requires a stable and smooth internet connection, because it's real-time. If one user's internet connection isn't very good, it will affect both users and the match will run slowly and laggy.
H2H Division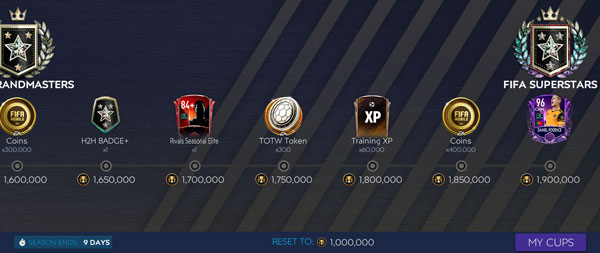 Here is the full list of FIFA Mobile H2H Divisions :
| Division | Required Fans |
| --- | --- |
| Amateur III | – |
| Amateur II | 40,000 |
| Amateur I | 100,000 |
| Pro III | 180,000 |
| Pro II | 260,000 |
| Pro I | 340,000 |
| World Class III | 420,000 |
| World Class II | 500,000 |
| World Class I | 600,000 |
| Legendary III | 700,000 |
| Legendary II | 800,000 |
| Legendary I | 900,000 |
| FIFA Champion | 1,000,000 |
| FIFA Masters | 1,300,000 |
| FIFA Grandmasters | 1,600,000 |
| FIFA Superstars | 1,900,000 |
Below are some of daily goals at H2H :
Win a match with a Rivals Player in your lineup
Get 5 assists
Score 3 goals with Rivals Players
Perform 20 tackles
H2H Leaderboard
There are 2 top leaderboards in H2H, one is reset weekly, and the other (TOP 250) is reset monthly.
Because H2H is not based on chances, your chances of getting into the top leaderboard (both weekly and monthly) are wide open. Of course, the gameplay of top players like Prime Icons is still influential, but if your skill is above average, you can still get a place at the top of the leaderboard easily even if you only use cards from seasonal events like Marquee Stars, Spring Break, Harvest Fest, Carniball, or Top Transfer.
If the top 250 VSA is only inhabited by p2p and p2w players, in H2H the occupants of TOP 250 are more varied. There are p2p and p2w players of course, but there are skilled f2p players too, and….. cross spammers.
H2H Tips & Tricks
I rarely play h2h because the internet connection in my area isn't very good. But here are the tips and tricks that I can share based on my experience. Before reading further, if you are new to this game, you should first read about Gameplay Controls.
Use 5 at the back formations if you want to be more effective at preventing cross spammers.
Don't use 2nd defender unless you're sure you can take the ball. 2nd defender makes your defenses open and easy to expose.
On/off the auto switching button, depending on your playstyle. Auto switching can make defenses more organized, but it can also get messy if you're not used to it.
Change to Attacking when you have a corner, and change to Defending when you against a corner.
Don't use 3 at the back formations if you are not good with defending or holding the ball. Your defenses will be easier to exploit by cross spammers.
During a counter attack, look at the radar. If any of your attackers are in a good position, you can use long passing.
I hope you found this H2H guide is helpful. Don't forget to also check about Skill Moves so that you become more proficient at playing H2H in FIFA Mobile.