In FIFA Mobile, we can earn different types of rewards by completing quests, winning games, participating in events, and other activities. These rewards can include coins, skill boosts, players, and other resources.
FIFA Mobile players are categorized into two groups: tradeable and untradeable. Tradeable players can be bought and sold on the market, while untradable players cannot be traded.
If you have untradeable players, you may be wondering if there is a way to sell them. In this article, we will help you find a solution for dealing with untradable players.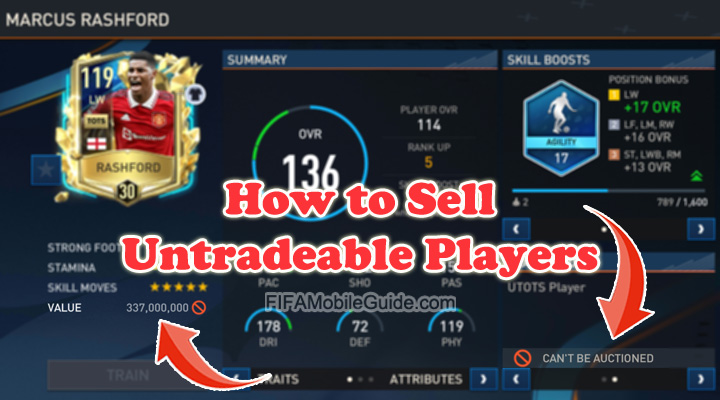 How Do You Sell Untradeable Players?
As previously mentioned, untradeable players cannot be traded or sold on the market in FIFA Mobile. This is a deliberate decision by EA to manage the supply of cards and avoid market crashes.
Untradeable players can only be sold if EA decides to make them tradeable, which is quite rare. Moreover, EA usually announces this change beforehand. If there is no official announcement from EA, it is unlikely that your untradable players will become tradable.
What To Do with Untradeable Players?
While untradeable players cannot be sold on the market in FIFA Mobile, they still serve various purposes within the game.
Here are some options for utilizing your untradable players:
Add Them to Your Team
If you have untradeable players with high OVR, you can add them to your team. If they have good gameplay, you can use them in the Division Rivals matches such as H2H or Manager Mode, either as a starting player or a substitute.
As the game progresses, EA frequently introduces new players with higher OVR, making older cards with lower OVR less relevant. If this happens to your untradable players, you have the following choices available to you.
Use Them for Exchanges
In FIFA Mobile, the latest events often feature Exchanges where specific criteria such as OVR, league, nation, or club are required for participation.
You have the option to keep your untradeable players and use them for exchanges at a later time, provided they fulfill the required criteria. This allows you to obtain rewards offered through the exchange system.
Use Them for Training
Another option is to use untradeable players as XP to train players in your Starting 11. By using untradeable players, you can save the cost of buying players on the market as XP.
The higher the OVR of your untradable players, the more XP you can get.
Completing Quests
During seasonal events in FIFA Mobile, there are usually daily quests such as winning a certain number of VSA or H2H matches, scoring a certain number of goals, providing a certain number of assists, and so on. These quests typically require players from certain countries, leagues, or clubs in the starting XI.
In such scenarios, your untradeable players become valuable assets if they happen to belong to the required countries, leagues, or clubs. By utilizing these players, you can effectively fulfill the quests without having to spend coins on purchasing players from the market, thereby enabling you to save your in-game currency.
Quicksell
If you find yourself wanting to clear your inventory and have no intention of keeping untradable players, another choice is to quicksell them. This option may be particularly relevant when dealing with bronze or silver players.
It is important to note that quickselling untradeable players will only yield 100 coins. Therefore, it is crucial to ensure that you genuinely have no need for these players before opting for quicksell.
And there you have it! These are all the essential details you need to know regarding untradable players and how to optimize their utilization in FIFA Mobile. Although you cannot sell untradeable players directly, there are still various ways to make use of them and benefit from their presence in your squad.