There are three main currencies in the EA Sports FC Mobile, namely FC Points, gems, and coins. Each currency has its advantages and disadvantages. They are also obtained in different ways.
In this article, we'll provide a comprehensive guide on all the currencies in FC Mobile and how you can earn them. This knowledge will help you assemble your ultimate team.
FC Points
FC Points (previously FIFA Points) are the most valuable currency in FC Mobile. Using FC Points, you can buy various items in the Store such as Packs, Pack Bundles, Coins, Gems, event currencies, and so on. Almost all items in the Store can be purchased using FC Points.
How do you earn FC Points in FC Mobile? On rare occasions, you can collect FC Points for free through event rewards. But most of the time, FC Points can't be obtained for free. To be able to earn FC Points, you have to spend real money and buy it in the Store.
Gems (Diamonds)
What are gems used for in EA FC Mobile? What can you do/buy with it? Gems or diamonds are one of the in-game currencies. You can use gems to buy Packs, Additional Lineups, Stadiums, Skill Moves, and so on.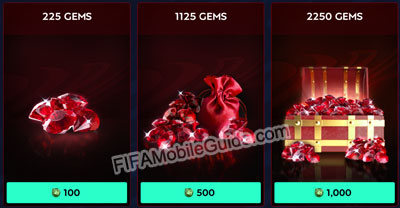 You can earn gems for free by completing daily activities. You can also get it for free from the Star Pass rewards and events rewards.
Coins
Coins are the easiest currency to obtain on EAS FC Mobile. You can earn it through rewards at VSA, H2H, Events, Daily Activities, Free Packs, and so on. You also get coins by buying and selling players on the market.

If you are a F2P player, learning how to get coins in FC Mobile is very crucial. For f2p players, coins and markets are the only way to compete with p2p players (from an OVR point of view).
Without coins and markets, f2p players will not be able to catch up with p2p players, let alone p2w players.
Events Currencies
In addition to FC Points, gems, and coins, there are other currencies from events. These currencies are usually unique for an event, so each event has different currencies.
For example, at the Summer Celebration event, there are currencies such as Beachcomber Points, Beach Party Tokens, Fishing Lures, and so on. In the Flashbacks event, there are currencies such as Flashback Points, Gallery Points, and so on.
You cannot use these event currencies outside of the event, or use them in a different event. They can only be used in the respective event.
That's all the currencies available in FC Mobile. Thank you for watching our guide on the currencies in FC Mobile and we hope this knowledge helps you build your ultimate team.