Welcome to the EA Sports FC Mobile 24 Conmebol Libertadores event! South America's most prestigious club competition is coming to FC Mobile for the first time ever. Take on some of the most formidable teams in South America in daily Matches and Skill Games, compete in the thrilling Challenge Mode, and earn special CONMEBOL Libertadores Player Items.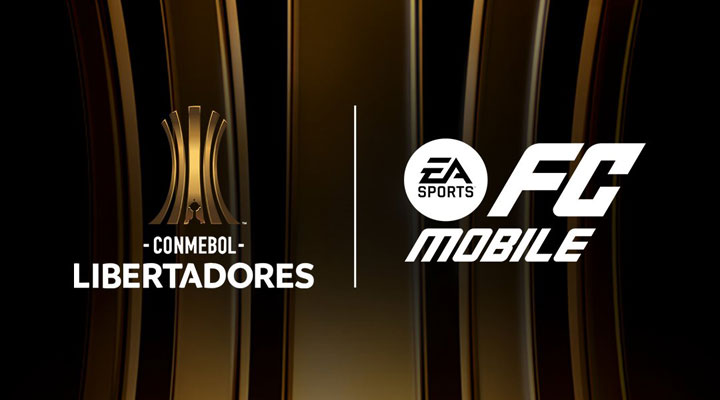 Event Duration: October 19 – November 09, 2023 (21 Days)
Table of Contents
Conmebol Libertadores Event
Play 4 daily Group Stage Skill Games and Matches to earn Coins and Event Pass Credits.
Type
Reward
Skill Game 1
2,000 Coins
100 Event Pass Credits
Skill Game 2
2,000 Coins
100 Event Pass Credits
Match 1
5,000 Coins
100 Event Pass Credits
Match 2
5,000 Coins
100 Event Pass Credits
Log in every day to Claim the Match Group Daily Reward and Win 16 Skill Games or Matches to earn Milestone 1.
Milestone 1 Rewards:
75-94 OVR Mixed Version Player
65-74 OVR Mixed Version Player
Knockout Stage
Unlocks on October 26, 2023.
Glory
Weekly Exchange
Trade-in Libertadores/Sudamericana Players for higher OVR Libertadores Event Players. The exchange limit is 2x per week.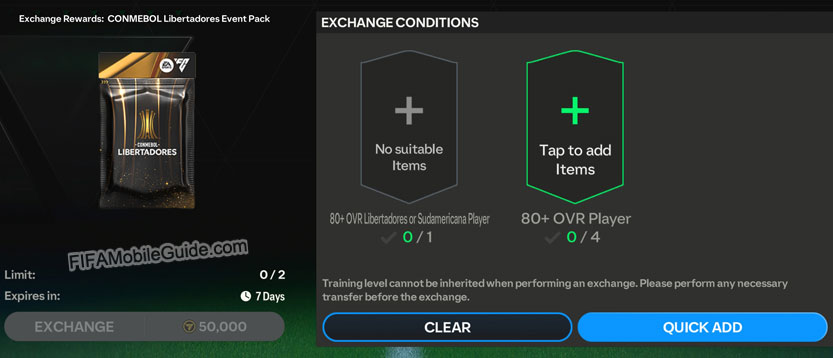 Requirement
Reward
80+ OVR Libertadores/Sudamericana Player
4x 80+ OVR Players
50,000 Coins
82-85 OVR Libertadores Event Player
Final Reward
Claim a 90 OVR RB Cafu after collecting 8 Libertadores Event Players.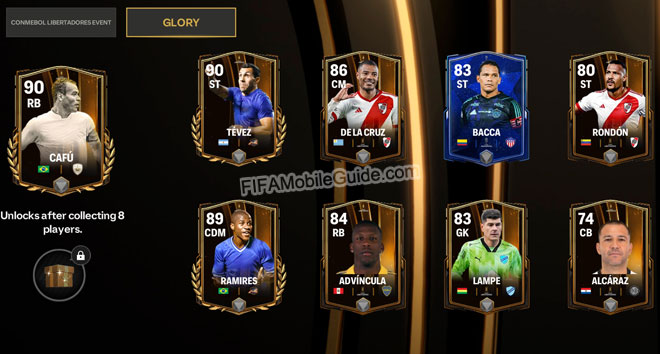 The 8 players that you need to claim in order to be able to claim Cafe are:
90 ST Tevez
89 CDM Ramirez
86 CM De La Cruz
84 RB Advincula
83 ST Bacca
83 GK Lampe
80 ST Rondon
74 CB Alcaraz
You can also buy these players from the market.
Exchange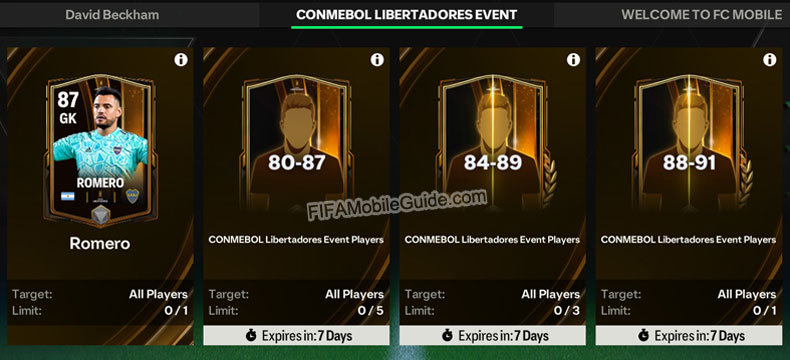 Requirement
Reward
Limit
82+ OVR Defender or Goalkeeper
6x 80+ OVR Players
500,000 Coins
87 OVR GK Sergio Romero
(Untradable)
1x
4x 70+ OVR Attackers
3x 70+ OVR Midfielders
4x 70+ OVR Attackers or Defenders
80-87 OVR Libertadores Player
5x per week
3x 80+ OVR Attackers
4x 80+ OVR Midfielders
4x 80+ OVR Defenders or Goalkeepers
84-89 OVR Libertadores Player
3x per week
4x 84+ OVR Attackers
4x 84+ OVR Midfielders
3x 84+ OVR Defenders or Goalkeepers
88-91 OVR Libertadores Player
1x per week
Event Pass
Navigate to the Conmebol Libertadores Event and select the "Conmebol Libertadores Event Pass" button. You can accumulate progress for this Pass by completing Skill Games or Matches in the Conmebol Libertadores event.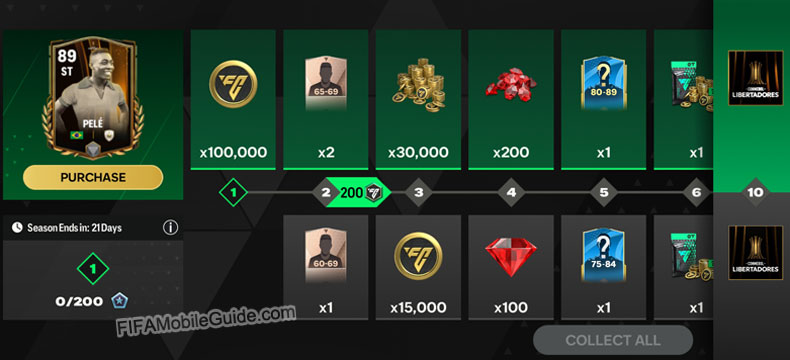 Challenge Mode
Coming Soon…
Players List
Below is the list of the Conmebol Libertadores Players, including their refresh times.
| Name | Pos. | OVR | Club | League | Nation | Refresh Times |
| --- | --- | --- | --- | --- | --- | --- |
| Zico | CAM | 94 | Icons | Icons | Brazil | 0:20:50 |
| Riquelme | CAM | 93 | Icons | Icons | Argentina | 0:20:52 |
| Carlos Alberto | RB | 93 | Icons | Icons | Brazil | 0:20:51 |
| Mascherano | CDM | 92 | Heroes | Heroes | Argentina | 0:20:54 |
| Jairzinho | RW | 92 | Icons | Icons | Brazil | 0:20:53 |
| Milito | ST | 91 | Heroes | Heroes | Argentina | 0:20:56 |
| Roberto Carlos | LB | 91 | Icons | Icons | Brazil | 0:20:55 |
| Tévez | ST | 90 | Heroes | Heroes | Argentina | 0:20:58 |
| Cafú | RB | 90 | Icons | Icons | Brazil | 0:20:57 |
| Pelé | ST | 89 | Icons | Icons | Brazil | 0:21:00 |
| Ramires | CDM | 89 | Heroes | Heroes | Brazil | 0:20:59 |
| Pabón | RM | 88 | Atlético Nacional | Conmebol Libertadores | Colombia | 1:48:21 |
| Cavani | ST | 88 | Boca Juniors | LPF | Uruguay | 1:48:20 |
| Romero | GK | 87 | Boca Juniors | LPF | Argentina | Untradable |
| Romero | GK | 87 | Boca Juniors | LPF | Argentina | 1:48:23 |
| Braida | LWB | 87 | San Lorenzo de Almagro | LPF | Argentina | 1:48:22 |
| Moreno | CDM | 86 | Racing Club de Avellaneda | LPF | Argentina | 1:48:26 |
| De la Cruz | CM | 86 | River Plate | LPF | Uruguay | 1:48:25 |
| Lanzini | CAM | 86 | River Plate | LPF | Argentina | 1:48:24 |
| Rollheiser | RM | 85 | Estudiantes de La Plata | LPF | Argentina | 1:48:29 |
| Barco | LM | 85 | River Plate | LPF | Argentina | 1:48:28 |
| Solari | RM | 85 | River Plate | LPF | Argentina | 1:48:27 |
| Advíncula | RB | 84 | Boca Juniors | LPF | Peru | 1:48:32 |
| Medina | CM | 84 | Boca Juniors | LPF | Argentina | 1:48:31 |
| Pérez | CDM | 84 | River Plate | LPF | Argentina | 1:48:30 |
| Lampe | GK | 83 | Bolívar | Conmebol Libertadores | Bolivia | 1:48:34 |
| Bacca | ST | 83 | Junior de Barranquilla | Conmebol Libertadores | Colombia | 1:48:33 |
| Mier | GK | 82 | Atlético Nacional | Conmebol Libertadores | Colombia | 1:48:36 |
| Benedetto | ST | 82 | Boca Juniors | LPF | Argentina | 1:48:35 |
| Sánchez | CM | 81 | Peñarol | Conmebol Libertadores | Uruguay | 1:48:38 |
| Yotún | CM | 81 | Sporting Cristal | Conmebol Libertadores | Peru | 1:48:37 |
| Rondón | ST | 80 | River Plate | LPF | Venezuela | 1:48:40 |
| Ramírez | CAM | 80 | San Lorenzo de Almagro | LPF | Uruguay | 1:48:39 |
| Rojo | CB | 79 | Boca Juniors | LPF | Argentina | 1:48:43 |
| Arezo | ST | 79 | Peñarol | Conmebol Libertadores | Uruguay | 1:48:42 |
| Aravena | LM | 79 | Universidad Católica | Conmebol Libertadores | Chile | 1:48:41 |
| Lucumí | LM | 78 | Deportes Tolima | Conmebol Libertadores | Colombia | 1:48:46 |
| Santa Cruz | ST | 78 | Libertad | Conmebol Libertadores | Paraguay | 1:48:45 |
| Meza | CB | 78 | Palestino | Conmebol Libertadores | Argentina | 1:48:44 |
| Barcos | ST | 77 | Alianza Lima | Conmebol Libertadores | Argentina | 1:48:48 |
| Redondo | CM | 77 | Argentinos Juniors | LPF | Argentina | 1:48:47 |
| Zapata | CB | 76 | Atlético Nacional | Conmebol Libertadores | Colombia | 1:48:50 |
| Cardozo | ST | 76 | Libertad | Conmebol Libertadores | Paraguay | 1:48:49 |
| Medina | CDM | 75 | Deportivo Pereira | Conmebol Libertadores | Colombia | 1:48:53 |
| Pons | ST | 75 | Independiente Medellín | Conmebol Libertadores | Argentina | 1:48:52 |
| Martínez | ST | 75 | Racing Club de Avellaneda | LPF | Colombia | 1:48:51 |
| Alcáraz | CB | 74 | Olimpia Asunción | Conmebol Libertadores | Paraguay | 1:48:55 |
| Giay | RWB | 74 | San Lorenzo de Almagro | LPF | Argentina | 1:48:54 |
| Gondou | ST | 73 | Argentinos Juniors | LPF | Argentina | 1:48:58 |
| Deossa | CM | 73 | Atlético Nacional | Conmebol Libertadores | Colombia | 1:48:57 |
| Fagúndez | CAM | 73 | Nacional de Montevideo | Conmebol Libertadores | Uruguay | 1:48:56 |
| Fernández | ST | 72 | Bolívar | Conmebol Libertadores | Chile | 1:49:01 |
| Zambrano | CDM | 72 | LDU Quito | Conmebol Libertadores | Ecuador | 1:49:00 |
| Sforza | CDM | 72 | Newell's Old Boys | LPF | Argentina | 1:48:59 |
| Bejarano | RWB | 71 | Bolívar | Conmebol Libertadores | Bolivia | 1:49:05 |
| Pierotti | ST | 71 | Colón | LPF | Argentina | 1:49:04 |
| Duarte | LW | 71 | Defensor Sporting | Conmebol Libertadores | Uruguay | 1:49:03 |
| Doldán | CB | 71 | Estudiantes de Mérida | Conmebol Libertadores | Paraguay | 1:49:02 |
| Valiente | LW | 70 | Defensor Sporting | Conmebol Libertadores | Uruguay | 1:49:08 |
| Agrón | CB | 70 | Emelec | Conmebol Libertadores | Colombia | 1:49:07 |
| Cardozo | RM | 70 | Olimpia Asunción | Conmebol Libertadores | Paraguay | 1:49:06 |