There are more than 50 goal celebrations in FIFA Mobile. Unlike in FIFA console, in FIFA Mobile you can't control goal celebration manually using buttons/gestures such as when we want a player to pass, shot, or perform skill moves. It is embedded automatically in the player/card and also triggered automatically after a player scored a goal.
To find out your player's Celebration type, select a player in the squad and click the Details button.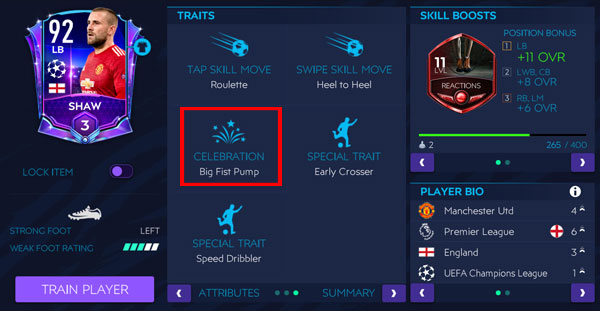 Below is the complete list of all Goal Celebrations in FIFA Mobile.
Standing Arm Sweep
Torero
Twist Flip
Uppercut Jump Punch
Violinist
Walking Backflip
Who Am I
Thigh Point
Elbow
Right Here Right Now
Heart
Point to Sky
Mask
Cell Phone
Kiss the Ring
Scorpion
X
Hang Loose
Arms Crossed
Matador
KO
Stand Tall
Push It Down
Calm Down
Timber
Floor Spin
Waddle
Standing Archer
Baby
Side Slide
Spanish Archer
Big Fist Pump
Golf Swing
Bow
Brick Fall
Cart Wheel
Cart Wheel and Flip
Karate Kick
Chest Slide
Double Backflip
Push-Up
Front Flip
I Can't Hear You
Heel Taps
Cell Phone
Jump Punch to Fist Pump
Knee Slide
Knee Slide Arms Out
Knee Slide Fall on Back
Knee Slide Spin
Knee Slide to Fist Pump
Kneel and Point to Heavens
Punch and Dodge
Robot
Roll and Fist Pump
Samba Dance
Shoulder Dust
Hand Spring
Stand and Point to Sky
Sit Crossed Arms