Skill moves make the gameplay in FIFA Mobile becoming more attractive and interesting to play. Using skill moves, gamers can show their ability to get past opposing players.
The current skill moves in FIFA Mobile are quite varied, better than in previous seasons. If you didn't know, in the first season of FIFA Mobile, there are only two types of skill moves, namely roulette and rainbow. Today there are more than 10 skill moves in FIFA Mobile 21 that you can use.
In this article, we will explain how to perform skill moves and various types of skill moves in FIFA Mobile.
How to do Skill Moves in FIFA Mobile
The way to do skill moves in FIFA Mobile is very easy. There are two ways to do this, and each one produces a different output.
Method 1 (Tap Skill Move)
Tap the "Sprint & Skill" button while dribbling the ball.
Method 2 (Swipe Skill Move)
Swipe up the "Sprint & Skill" button while dribbling the ball.
OUR LATEST VIDEOS
For the tap skill move, the resulting output is always roulette. Meanwhile, the output generated by the swipe skill move from one player to another can be different. The type of skill moves for each of these players has been determined by EA when releasing them, and we cannot change them.
You can check your player's swipe skill move type by clicking Details, then scrolling to the Traits tab. In the same way, you can also check the types of skill moves of the players in the market.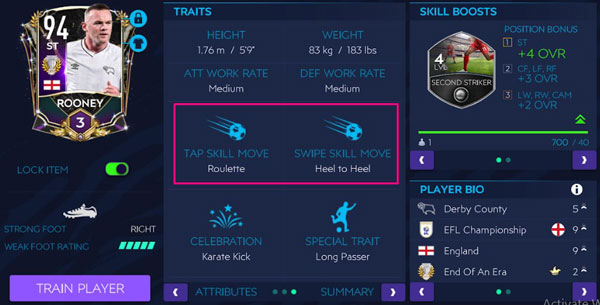 The most important thing in doing these skill moves so that it can be successful and effective in the game is timing.
Skill Moves List
Here is the list of skill moves available in FIFA Mobile 21:
Tap Skill Move:
Swipe Skill Moves:
Heel to Heel
Rainbow
Flick Up
Lane Change Roll
Flip Flap
Advanced Rainbow
Hocus Pocus
Ronaldo Chop
McGeady Spin
Skill Moves Tutorial
Down below is a video tutorial on how to do various skill moves in FIFA Mobile from Roulette, Flip Flap, Heel to Heel, to Ronaldo Chop and McGeady Spin.
OUR LATEST VIDEOS
We hope you found this FIFA Mobile 21 Skill Moves guide helpful. As always, please write in the comments if you have any questions.