Discover all there is to know about Manager Mode and how to master tactical play! See how it works and how you can become a tactical master in this exciting new mode that is coming to FIFA Mobile 22. Test your managerial skills here!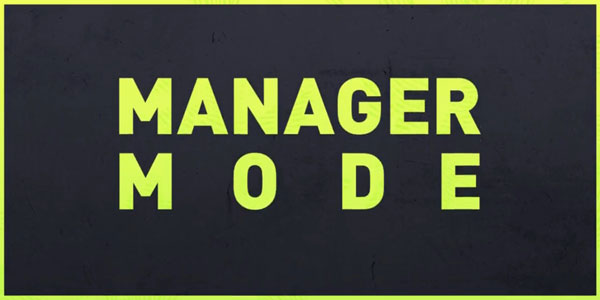 As the manager, you now have complete control over the tactics and strategy of your team and must make important choices. Will you choose to use long through balls to position your team for a rapid attack or will you choose to use systematic lateral passes to advance your team up the field slowly? With dozens of different tactical levers at your disposal, Manager Mode puts you in charge. Play to your team's strengths and use strategies that suit their playing style to show off your tactical prowess.
FIFA Mobile: Manager Mode is concentrated on organizing your team from a tactical standpoint. Instead of playing these games like VS Attack or H2H, you'll be managing your team as you watch them execute your game plan.
Table of Contents
Auto Match
A full autoplay mode is what FIFA Mobile: Manager Mode it's all about. Decide on your starting lineup and strategy, and then start the game.
The Auto Match settings let you cue up multiple matches. Select from a variety of filters, such as:
Daily Match Rewards (10 max)
Daily Safety Rewards (4 max)
Amount of Points to reach
Division to reach (Amateur/Pro/World Class/Legendary/FIFA Champion)
After you've chosen your ideal settings, you can start a running match queue. That implies that a countdown will begin automatically after you've finished a Manager Mode match. You'll enter a new match after the countdown is over. This continues until you either attain your desired parameters (for example, make it to Pro Division) or you end the Countdown. If you want to "set and forget" your Manager Mode matches until you reach a certain milestone, this is a fantastic choice.
Tactics
Manager Mode is centered on tactics. The tactic you select will affect the playstyle of your team. These are the high-level plans you decide on for your squad both before and throughout the game.
There are four preset Tactics on FIFA Mobile – Manager Mode:
Attacking
Control
Counter
Defensive
The game situation, your opponent, and your team's strengths and weaknesses all factor into the tactic you choose. You are now developing a Custom Tactic if you begin changing the specifics of a Preset Tactic.
Let's dive deeper into these preset tactics:
Attacking
Your squad will be forced into aggressive attacking positions by the attacking tactic. Your players will advance further up the field in an effort to immediately score. They will also look for direct passes into dangerous positions.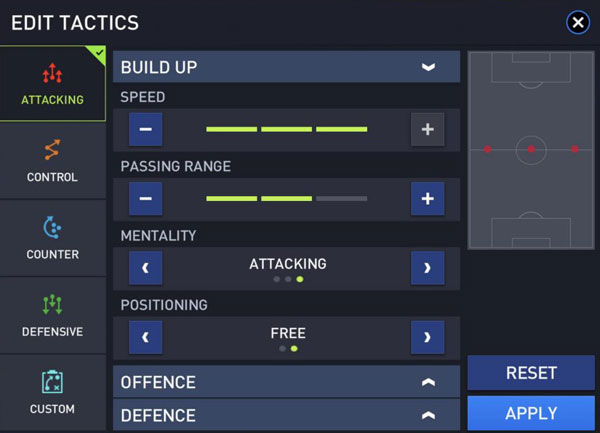 Use this technique carefully because you run the danger of having your midfielders out of position during a change of possession and running a high risk of being countered.
Control
The Control Tactic aims to keep possession and advance steadily up the field. Your players will attempt short, safer passes and take fewer risks. Your players won't use forced passes; instead, they'll look for the best opportunity to go past the defense.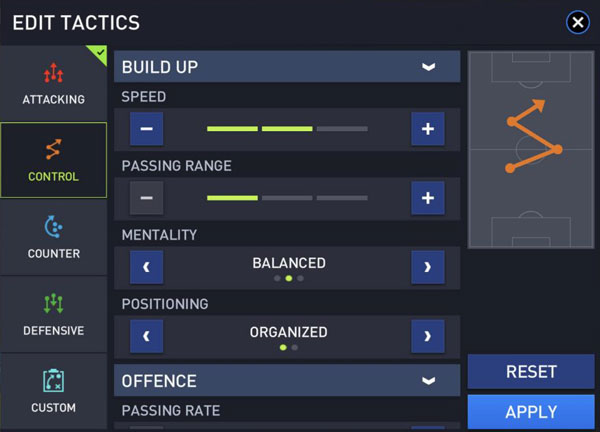 This tactic is best suited for teams with technical players who can patiently break down the opponent's defenses.
Counter
The counter tactic emphasizes sitting back and launching a swift counterattack. Your players will make long-through balls into open space once you retake possession so your attackers have somewhere to run. Your midfielder will pass the ball fast in an effort to catch your opponent off guard.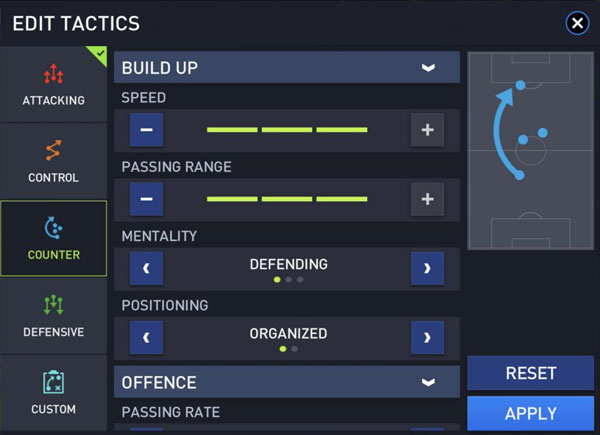 This tactic works best for teams who have speedy forwards and athletic midfielders.
Defensive
The main focus of the defensive tactic is maintaining order and discipline at the back in order to limit offensive opportunities. To deny your opponent's chances, your players will drop back and pack the defensive third of the field.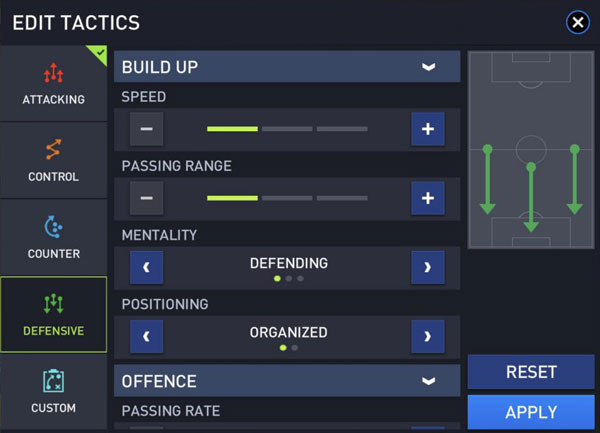 When you regain control of the ball, your players will try to release the pressure by making long passes up to your attackers.
In order to maintain your formation's shape, this tactic will minimize attacking runs. This tactic works best for teams that are outmatched or trying to hold on to goals advantage.
Custom
You decide what the Custom Tactic will be. To suit the needs of your team, you can either make minor adjustments to the current tactic or fully revamp it. There are a ton of diverse options available for you. Explore and master it!
The choice is yours: either create your Custom Tactic and save it before starting a match or create a new one in the middle of a match!
Options
You can change certain settings in the Tactics that have an immediate impact on how your squad performs on the field. They are divided into the Build Up, Offense, and Defense categories.
Build Up
Build Up is the amount of support play from teammates, the speed at which the offensive team will move the ball, and the positioning of your team.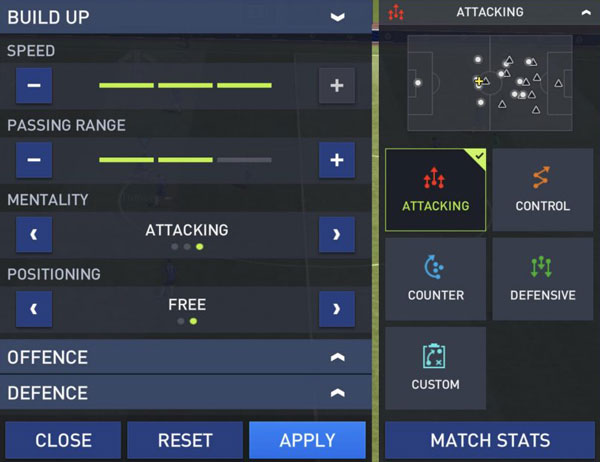 Speed: This factor determines the speed and urgency that players will have when moving the ball towards the attacking third.

Higher speed: Players will be prioritizing faster passing.
Lower speed: Players will try to retain possession more.

Passing Distance: The tendency of short to long-distance passes that players will perform. 
Mentality: Controls the rate at which your players make runs up and down the pitch. You can choose between Defending, Balanced, or Attacking mentality.
Positioning

Organized: Players will stick to their exact position in a strict manner.
Free: Players will often roam into other areas of the pitch (out of position) depending on the match situation.
Offence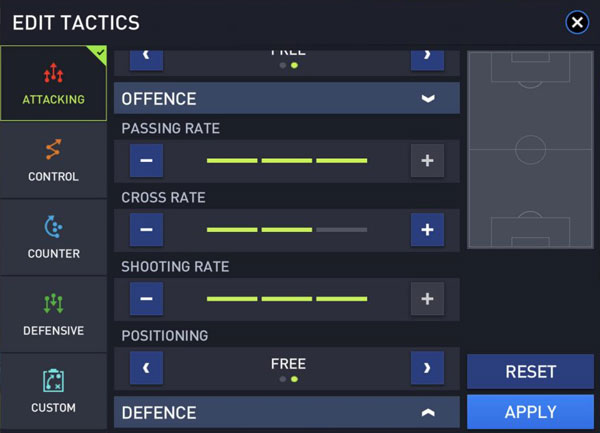 Passing Rate: Determines the frequency of your players passing the ball.

Higher Passing Rate: Players will attempt more through passes and riskier passes.
Lower Passing Rate: Players will choose to make safer, less-contested passes throughout the field.

Cross Rate: Determines the frequency of your players crossing the ball into the box from the wings.
Shooting Rate: The shooting rate of your players determines how frequently they will attempt a shot.

Higher Shooting Rate: Players will make more attempts to shoot, even at a distance.
Lower Shooting Rate: Players will be more cautious with their shots and will not shoot until they're closer to the goal.

Positioning

Organised: Your attacking players will stick to their exact position in a strict manner. The wingers will not drift inside and the strikers will not fall back into midfield or drift outside.
Free: Attacking players will often roam into other areas of the pitch depending on the match situation. Your wingers may drift inside to support your strikers, and your strikers may drift to the wings or fall back to support the midfielders.
Defence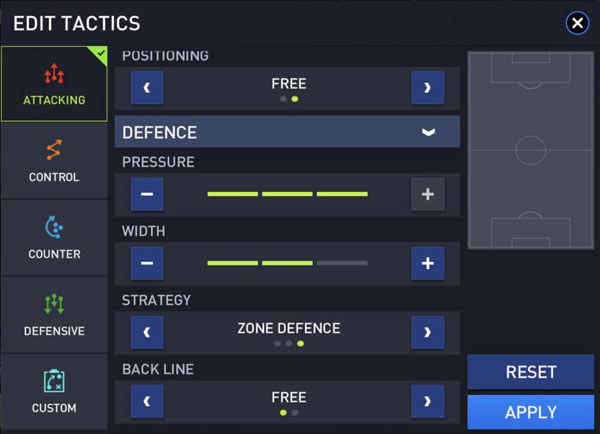 Pressure: The rate at which a Second Defender Press will be triggered and how tight your defenders will mark attackers.

Higher Pressure: Players will mark opponents more aggressively, often pulling a second defender in to help.
Lower Pressure: Players will mark opponents more conservatively, with fewer second defenders coming in for support.

Width

Narrow: Adjusts your defensive shape to be narrow to have more players in the middle of the pitch for defensive covering. This implies that the flanks will be more open, while the pitch's center will be more defensively focused.
Balanced: Adjusts your defensive shape to be balanced for generic positioning.
Wide: Adjusts your defensive shape to cover your wide players (left back, right back, left midfielder, and right midfielder) towards the sidelines. As a result, the center of the field will be more open while the wings will be more defensively focused.

Tackle Tendency: Determines the frequency at which your players will engage in a tackle, or whether they will contain the attacker.
Back Line

Free: Your defenders won't try to set up the Offside Trap.
Offside Trap: With the intention of catching an attacker offside, this tactic instructs your defenders to quickly push up as a group.
Match Stats
You can see more detailed metrics in Manager Mode at any time throughout a game. Look into your team's statistics, such as shots, possession percentage, pass accuracy, fouls, and offsides. View the Goals, Assists, Shots on Target, Passing, Tackles, Fouls, and Overall Match Rating for each of your players. Make tactical judgments based on these metrics as any smart manager would!
Division Rivals
FIFA Mobile: Manager Mode has a similar progression system to Head to Head (H2H) and VS Attack (VSA). Win games to advance in Division Rivals rankings and receive better rewards. To earn a spot on the leaderboard and a TOP 1-250 logo, compete among the top contestants.
Divisions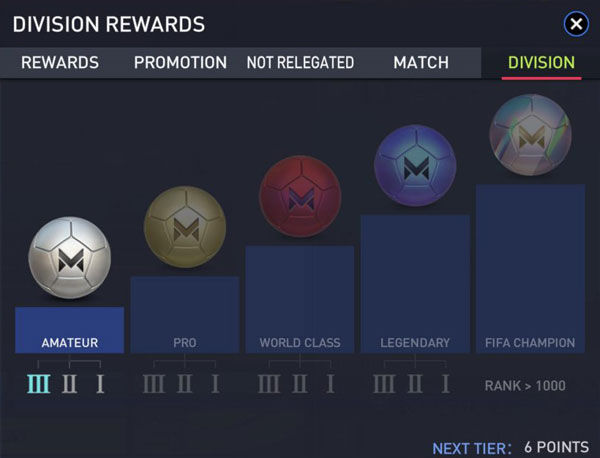 Manager Mode Divisions:
Amateur III
Amateur II
Amateur I
Pro III
Pro II
Pro I
World Class III
World Class II
World Class I
Legendary III
Legendary II
Legendary I
FIFA Champion
Promotion & Relegation
Promotion and Relegation is a system that Manager Mode uses to move up and down divisions. You will earn Points based on your matches results:
Win: 3 Points
Draw: 1 Point
Loss: 0 Point
For every division, there is a Points threshold to hit over 10 matches to either be promoted to the next division, relegated to the lower division, or remain in the current division.
For example in Pro III:
If you get 12 or more points in 10 games, you will be promoted to Pro II.
If you get between 4 and 11 points in 10 games, you will stay in Pro III.
If you get fewer than 4 points, you will be relegated to Amateur I.
To be promoted, demoted, or stay in the current division, there are different Point requirements for each division.
Individual Match Rewards
For each Manager Mode game you play, you'll receive Star Pass Points and Coins.
By doing this, you'll advance on the Star Pass path and earn more rewards.
Promotion Rewards
You'll get Coins and Rank Up item rewards every time you advance a Division for the first time. To receive the greatest promotion benefits, progress all the way to FIFA Champion.
Season Rewards
At the end of every month, you will receive specific rewards based on the Division you have reached. The higher your division, the better the rewards.