FIFA Mobile 23: Exchange Guide – Exchange is one of the features available in the FIFA Mobile game. By using this feature, you can trade players you no longer need for rewards such as Coins, Skill Boosts, and Players.
In addition to obtaining rewards, the exchange feature is also useful for reducing the number of cards in your inventory, especially those that are no longer needed. Whether your cards are tradeable or untradeable, there are likely exchanges that suit your cards.
In this guide, FIFAMobileGuide.com will provide a comprehensive review of the Exchanges available in FIFA Mobile.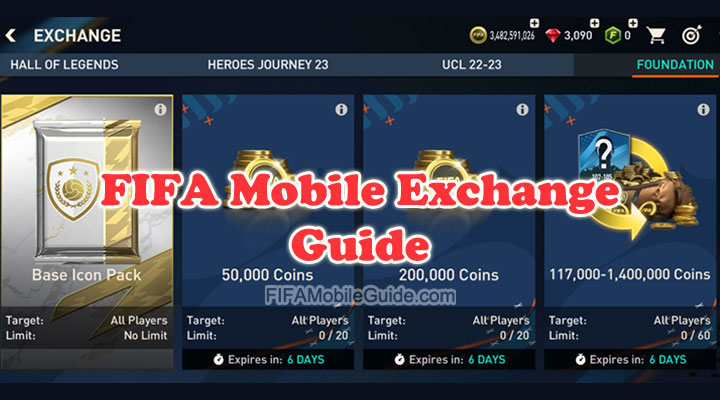 Table of Contents
How to Exchange Players
To perform an exchange, please tap the "Exchange" menu located at the bottom of the Home screen. After that, you will find several exchange tabs.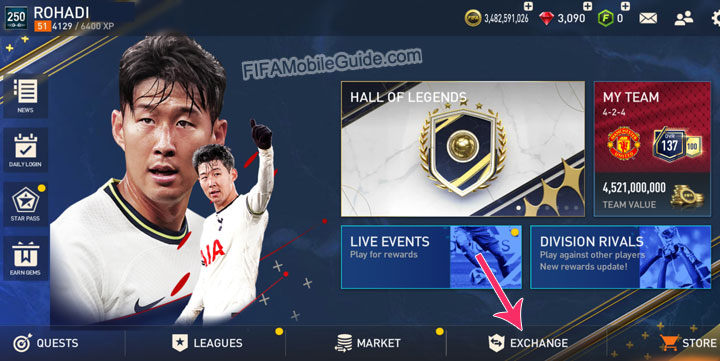 Choose the exchange you want and then look at the requirements. If you have all the required players, you just need to add them and then click the "Exchange" button.
However, if you don't have all the required players, you will need to buy them first in the market.
Foundation
Foundation is an Exchange menu that will always be available in FIFA Mobile. Other exchange tabs are usually for seasonal events, which typically have an expiration date and will be replaced with new exchange menus.
The Foundation contains exchanges for the Base Icon Pack, Skill Boosts, and Coins.
Requirement
Reward
Limit
– 500,000 Coins
– 10x 80+ OVR Attackers
– 10x 80+ OVR Midfielders
– 10x 80+ OVR Defenders
– 5x 80+ OVR GKs
Base Icon Pack
–
5x 70+ OVR Players
50,000 Coins
20
5x 80+ OVR Players
200,000 Coins
20
30x 48-89 OVR Players
50 Skill Boosts
30
Events Exchanges
Apart from being available in the Exchange menu, Exchange can also appear as a chapter within an event. Each event has a different format, including its exchange format.
Usually, the requirements for an exchange event are tailored to the theme of the event.
Exchanged items or players are not refundable, and the training level cannot be inherited when performing an exchange.
FIFA Mobile Exchange Not Working
Are you unable to perform an exchange? Are the players you own not appearing in the add menu on Exchange?
Many users complain about this. However, the problem is usually quite simple.
Most users who complain about FIFA Mobile Exchange not working are actually trying to exchange untradeable players, while the exchange they want to complete only accepts tradeable players. So of course, they won't be able to do it.
In some rare cases, Exchange not working could be due to a programming error from EA. But again, the most common cases we encounter are users not realizing that their cards are untradeable and cannot be used in exchanges that only accept tradeable cards.
Another scenario is when the player you want to exchange is still being used in your squad. In such cases, you need to remove the player from your Starting XI squad before initiating the exchange.
Exchange Leaks
A few days before a new event is launched, there are usually leaks about the exchanges and their requirements for that event. If you want to get leaks about exchanges for upcoming events, you need to monitor them from reliable sources.
In addition to FIFAMobileGuide.com, here are some sources you can refer to for getting exchange leaks for upcoming events:
The Exchange feature in FIFA Mobile allows players to trade unwanted cards for rewards, reducing inventory clutter. By following the simple steps outlined in this guide and staying informed about upcoming exchanges through reliable sources, you can optimize for rewards and enhance your gameplay experience.