FIFA Mobile 20 TOTY (Team of the Year) is here! Kick off 2020 with one of the biggest Football events of the year!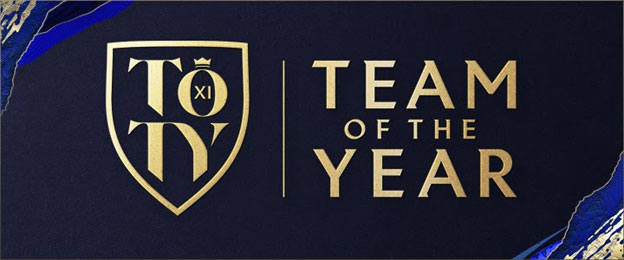 How does the Event Work?
First, play Skill Games to earn Position Points (Attacker Points, Midfielder Points and Defender Points). TOTY Energy refreshes hourly and max. is 24.
You can get more TOTY Energy by playing Daily Challenge Matches, watching ads, and buy TOTY Energy Offer for 100k Coins.
Attacking Skill Game/Chapters appeared first, then it will be followed by Midfielder Skill Game/Chapters and Defender Skill Game/Chapters.
On Attackers/Midfielders/Defenders Chapter, spend your Position Points to move down the path. You will earn ATK/MID/DEF Starter Tokens from the Path and every time you claim a TOTY nominee Player.
Collect ATK/MID/DEF Starter Tokens and use it to obtain TOTY Starter XI Players.
Claim all TOTY Attacker Starters to earn a Ultimate TOTY (UTOTY) Attacker. Future UTOTY Starters cost 400 ATK/MID/DEF Starter Tokens.

Event last for 25 days. Additionally, you can earn a TOTY Logo by completing 10 sets of Challenge Matches.
TOTY Guide
TOTY Starting XI Cost :
| Player | OVR | Cost (Starter Token) |
| --- | --- | --- |
| Lionel Messi | 96 | 200 |
| Mbappe | 95 | 175 |
| Sadio Mane | 93 | 100 |
| Kevin De Bruyne | 95 | 175 |
| De Jong | 94 | 150 |
| Kante | 93 | 100 |
| Van Dijk | 95 | 175 |
| De Ligt | 93 | 100 |
| Alexander-Arnold | 93 | 100 |
| Robertson | 93 | 100 |
| Alisson | 94 | 150 |
TOTY Attacker/Midfielder/Defender Path :

*All paths have the same TOTY points needed and reward quantity (SB, Coins, XP, Elite Player and Starter Tokens), the difference is only on TOTY players.
TOTY Energy & TOTY Points Math :

How to Claim TOTY Starter without spend real money :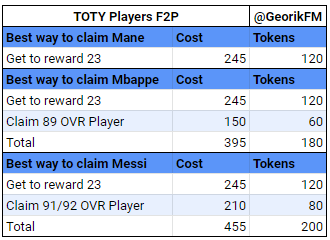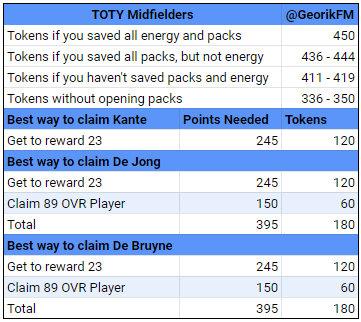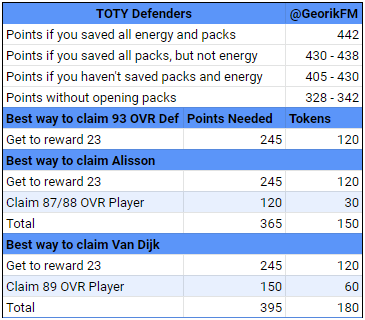 TOTY Tips & Tricks for F2P Players
Based on experience in the previous season, here are some tips & tricks that you might consider:
If you want profit (or not interested in any players), wait until Midfielders and Defenders are available. The price of Midfielders and Defenders players is likely to be more expensive than Attackers because they appear later, which makes supply less. The majority of new and impatient FIFA Mobile players usually spend their points already in the Attackers Chapter. Last season, even the price of Messi and CR7 (both starters) was cheaper than VVD, Ramos, Modric or De Gea.
Even if you want to claim a Midfielder/Defender Player, keep playing the live events and collect Attacker Points, while waiting for Midfielders/Defenders to arrive. Do not save TOTY Energy because when it reaches the limit of 24, energy will not regenerate unless you spend it.
So far, an f2p player guarantee can claim at least 1 TOTY Starter without using gems. So plan your strategy as best you can, don't rush using TOTY Points before Midfielder and Defender arrive so you can make the best possible plan to get the maximum possible rewards.
For hardcore f2p players, perhaps one of the best reward are not a TOTY Starter, but Skill Boosts. For them, Position Skill Boosts are very valuabe, while TOTY Starters can be bought easily in the market using coins from investing or sniping.
At this moment, UTOTY Starter Players are not possible for f2p, unless you have 50k saved gems.
TOTY Players List
Just like previous season, this year's FIFA Mobile 20 TOTY (Team of the Year) consists of 55 nominees. From all of 55 nominee players, 11 players have been chosen as TOTY Starting XI.
TOTY Starting 11 will also receive exclusive and upgraded cards, called TOTY Ultimate Players (UTOTY).
TOTY Starting XI
| Player | Pos. | OVR | TOTY | Skill Boost | Club | League | Nation |
| --- | --- | --- | --- | --- | --- | --- | --- |
| Messi | RW | 96 | Attacker | Agility | FC Barcelona | LaLiga Santander | Argentina |
| Mbappé | ST | 95 | Attacker | Poacher | Paris Saint-Germain | Ligue 1 | France |
| Mané | LW | 93 | Attacker | Shot Power | Liverpool | Premier League | Senegal |
| De Bruyne | CAM | 95 | Midfielder | Counter | Manchester City | Premier League | Belgium |
| De Jong | CM | 94 | Midfielder | Box to Box | FC Barcelona | LaLiga Santander | Netherlands |
| Kante | CDM | 93 | Midfielder | Long Passing | Chelsea | Premier League | France |
| Van Dijk | CB | 95 | Defender | Tackling | Liverpool | Premier League | Netherlands |
| De Light | CB | 93 | Defender | Aggression | Piemonte Calcio | Serie A | Netherlands |
| Robertson | LB | 93 | Defender | Crossing | Liverpool | Premier League | Scotland |
| Alexander-Arnold | RB | 93 | Defender | Defending | Liverpool | Premier League | England |
| Alisson | GK | 94 | Defender | Diving | Liverpool | Premier League | Brazil |
TOTY Nominees
| Player | Pos. | OVR | TOTY | Skill Boost | Club | League | Nation |
| --- | --- | --- | --- | --- | --- | --- | --- |
| C. Ronaldo | ST | 92 | Attacker | Target Man | Piemonte Calcio | Serie A | Portugal |
| Oblak | GK | 92 | Defender | GK Positioning | Atlético de Madrid | LaLiga Santander | Slovenia |
| Hazard | LM | 92 | Midfielder | Ball Control | Real Madrid | LaLiga Santander | Belgium |
| Neymar Jr | LW | 91 | Attacker | Attacking | Paris Saint-Germain | Ligue 1 | Brazil |
| Koulibaly | CB | 91 | Defender | Marking | Napoli | Serie A | Senegal |
| Reus | CAM | 91 | Midfielder | Counter | Borussia Dortmund | Bundesliga | Germany |
| Salah | RW | 90 | Attacker | Speed | Liverpool | Premier League | Egypt |
| Sergio Ramos | CB | 90 | Defender | Physical | Real Madrid | LaLiga Santander | Spain |
| ter Stegen | GK | 90 | Defender | Reflexes | FC Barcelona | LaLiga Santander | Germany |
| Modrić | CM | 90 | Midfielder | Captain | Real Madrid | LaLiga Santander | Croatia |
| Agüero | ST | 89 | Attacker | Finishing | Manchester City | Premier League | Argentina |
| Kane | ST | 89 | Attacker | Shooting | Tottenham Hotspur | Premier League | England |
| Lewandowski | ST | 89 | Attacker | Acceleration | Bayern München | Bundesliga | Poland |
| Ederson | GK | 89 | Defender | GK Generalist | Manchester City | Premier League | Brazil |
| Hummels | CB | 89 | Defender | Strength | Borussia Dortmund | Bundesliga | Germany |
| Jordi Alba | LB | 89 | Defender | Reactions | FC Barcelona | LaLiga Santander | Spain |
| Laporte | CB | 89 | Defender | Stopper | Manchester City | Premier League | France |
| David Silva | CM | 89 | Midfielder | Passing | Manchester City | Premier League | Spain |
| Dybala | CAM | 89 | Midfielder | Free Kick | Piemonte Calcio | Serie A | Argentina |
| Fabinho | CDM | 89 | Midfielder | Destroyer | Liverpool | Premier League | Brazil |
| Aubameyang | CF | 88 | Attacker | Second Striker | Arsenal | Premier League | Gabon |
| Sterling | LW | 88 | Attacker | Dribbling | Manchester City | Premier League | England |
| Bonucci | CB | 88 | Defender | Holding | Piemonte Calcio | Serie A | Italy |
| Kimmich | RB | 88 | Defender | Balanced | Bayern München | Bundesliga | Germany |
| Marquinhos | CB | 88 | Defender | Tackling | Paris Saint-Germain | Ligue 1 | Brazil |
| Škriniar | CB | 88 | Defender | Marking | Inter | Serie A | Slovakia |
| Eriksen | CAM | 88 | Midfielder | Vision | Tottenham Hotspur | Premier League | Denmark |
| Sancho | RM | 88 | Midfielder | Ball Control | Borussia Dortmund | Bundesliga | England |
| Benzema | ST | 87 | Attacker | Acceleration | Real Madrid | LaLiga Santander | France |
| Son | LW | 87 | Attacker | Speed | Tottenham Hotspur | Premier League | Korea Republic |
| Alex Sandro | LB | 87 | Defender | Balanced | Piemonte Calcio | Serie A | Brazil |
| Giménez | CB | 87 | Defender | Stopper | Atlético de Madrid | LaLiga Santander | Uruguay |
| Onana | GK | 87 | Defender | Number 1 | Ajax | Eredivisie | Cameroon |
| Havertz | CAM | 87 | Midfielder | Free Kick | Bayer 04 Leverkusen | Bundesliga | Germany |
| Verratti | CM | 87 | Midfielder | Captain | Paris Saint-Germain | Ligue 1 | Italy |
| Bernardo Silva | RW | 86 | Attacker | Agility | Manchester City | Premier League | Portugal |
| Roberto Firmino | ST | 86 | Attacker | Second Striker | Liverpool | Premier League | Brazil |
| Thiago Silva | CB | 86 | Defender | Aggression | Paris Saint-Germain | Ligue 1 | Brazil |
| Vertonghen | CB | 86 | Defender | Holding | Tottenham Hotspur | Premier League | Belgium |
| Wijnaldum | CDM | 86 | Midfielder | Box to Box | Liverpool | Premier League | Netherlands |
| Ziyech | RM | 86 | Midfielder | Long Shots | Ajax | Eredivisie | Morocco |
| Tadić | ST | 85 | Attacker | Finishing | Ajax | Eredivisie | Serbia |
| Tagliafico | LB | 85 | Defender | Pace | Ajax | Eredivisie | Argentina |
| Henderson | CM | 85 | Midfielder | Interceptions | Liverpool | Premier League | England |
Ultimate TOTY (UTOTY)
| Player | Pos. | OVR | TOTY | Skill Boost | Club | League | Nation |
| --- | --- | --- | --- | --- | --- | --- | --- |
| Messi | RW | 97 | Attacker | Attacking | FC Barcelona | LaLiga Santander | Argentina |
| van Dijk | CB | 96 | Defender | Marking | Liverpool | Premier League | Netherlands |
| De Bruyne | CAM | 96 | Midfielder | Long Shots | Manchester City | Premier League | Belgium |
| Mbappé | ST | 96 | Attacker | Finishing | Paris Saint-Germain | Ligue 1 | France |
| Alisson | GK | 95 | Defender | Reflexes | Liverpool | Premier League | Brazil |
| de Jong | CM | 95 | Midfielder | Captain | FC Barcelona | LaLiga Santander | Netherlands |
| C. Ronaldo | ST | 95 | UTOTY 12th Man | Second Striker | Piemonte Calcio | Serie A | Portugal |
| Robert Lewandowski | ST | 95 | UTOTY 13th Man ?? | Finishing | Bayern München | Bundesliga | Poland |
| Robertson | LB | 94 | Defender | Reactions | Liverpool | Premier League | Scotland |
| Alexander-Arnold | RB | 94 | Defender | Pace | Liverpool | Premier League | England |
| de Ligt | CB | 94 | Defender | Holding | Piemonte Calcio | Serie A | Netherlands |
| Kanté | CDM | 94 | Midfielder | Interceptions | Chelsea | Premier League | France |
| Mané | LW | 94 | Attacker | Dribbling | Liverpool | Premier League | Senegal |
Archives