The UEFA Champions League (UCL) Group Stage is in full swing and now the event is here in FC Mobile 24. Earn UEFA Champions League stars, including special Player Items that receive OVR upgrades based on their club's performances. Take on Daily Challenges in this new live event and play the Tournament Mode for extra rewards.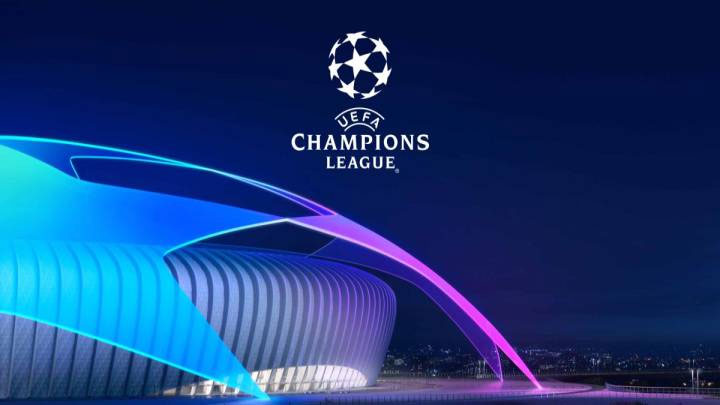 Event Duration: October 26, 2023 – November 23, 2023 (28 Days)
Table of Contents
UCL Main
Play daily Skill Games and Matches to earn UCL Points.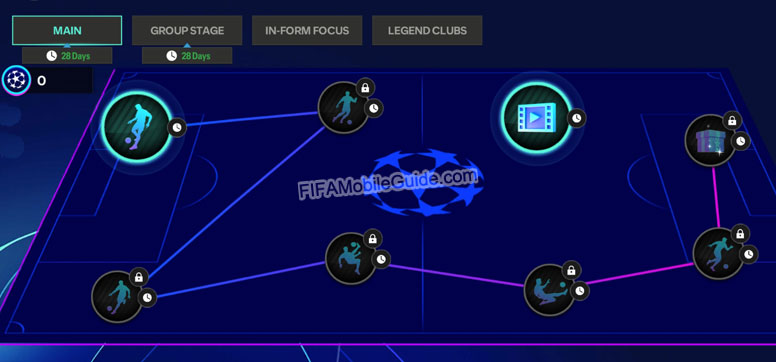 Type
Reward
Skill Game 1
4 UCL Points
Match 1
4 UCL Points
Match 2
4 UCL Points
Match 3
4 UCL Points
Match 4
5 UCL Points
Skill Game 2
4 UCL Points
Daily Reward
75-85 OVR Player
10,000 Coins
WATCH AD: 5 UCL Points (limit 3x per day).
Group Stage
Spend UCL Points to get UCL Group Stage team logos. Collect all 32 logos to unlock the UCL Super Star Player Reward.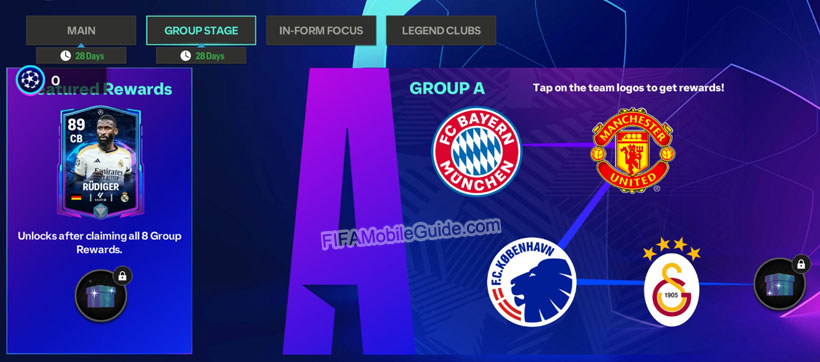 Each club logo costs 25 UCL Points. For every four club logos on a UCL Group, you will get 1x UCL Player as a reward.
You will also unlock 89 OVR CB Rudiger (Untradable) as a Final Reward after claiming all 8 Group Rewards.
In-Form Focus
How Live OVR Works: If a Live OVR Player's team meets certain conditions in a real-life match, such as winning, scoring a goal, etc, then he will receive a Live OVR Boost.
You can earn UCL Star Points from UCL quests, matches in UCL Main, and Challenge Modes.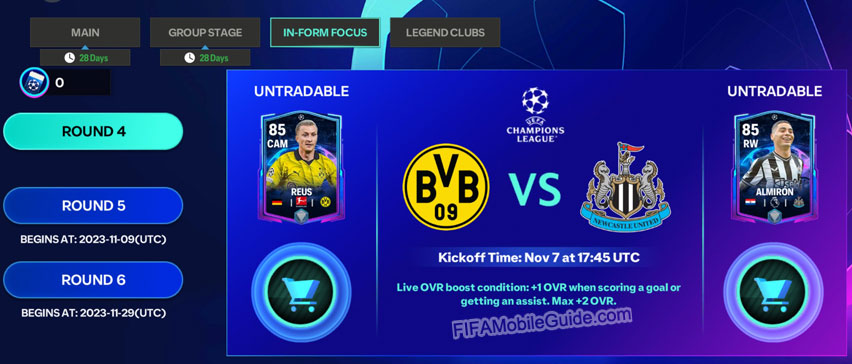 Legends Clubs
Real Madrid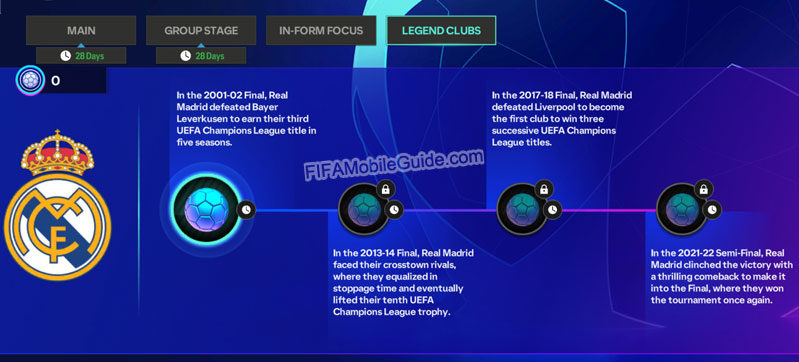 | Type | Reward |
| --- | --- |
| Match 1 | 10 UCL Club Tokens |
| Match 2 | 10 UCL Club Tokens |
| Match 3 | 10 UCL Club Tokens |
| Match 4 | 10 UCL Club Tokens |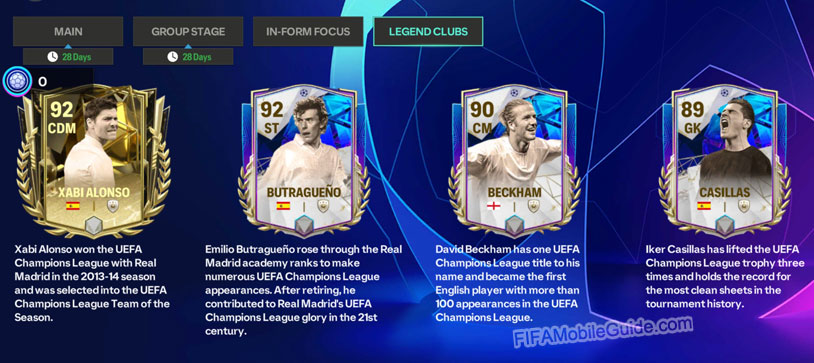 Store
Cost
Reward
Bronze
20 UCL Club Tokens
10,000 Coins or a 70-80 OVR Player
Silver
Free
(Unlocks after making 10 purchases in the Bronze store)
50,000 Coins or a 75-85 OVR UCL/UEL/UECL Player
Gold
Free
(Unlocks after making 4 purchases in the Silver store)
2x 75-85 OVR UCL/UEL/UECL Players
Final Reward
Free
(Unlocks after making 3 purchases in the Gold store)
89-92 OVR Legend Clubs Player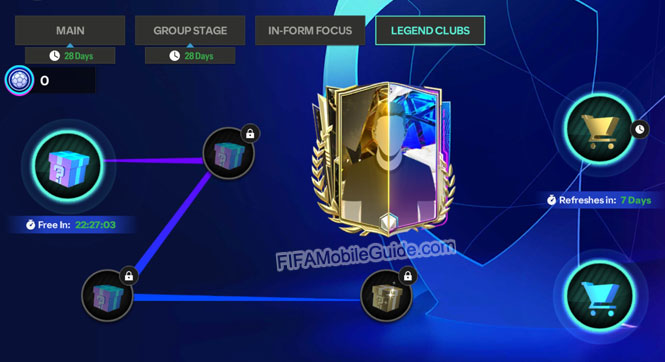 Manchester City
It's weird to see City as one of the legend clubs, but whatever.
Unlock on November 02, 2023.
Paris Saint-Germain
Unlock on November 09, 2023.
UCL Daily Challenge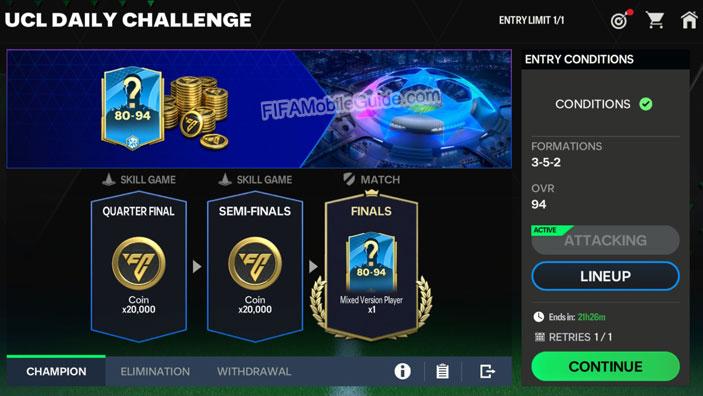 | Type | Reward |
| --- | --- |
| Skill Game 1 | 20,000 Coins |
| Skill Game 2 | 20,000 Coins |
| Match | 80-94 OVR Player |
UCL Group Stage Exchange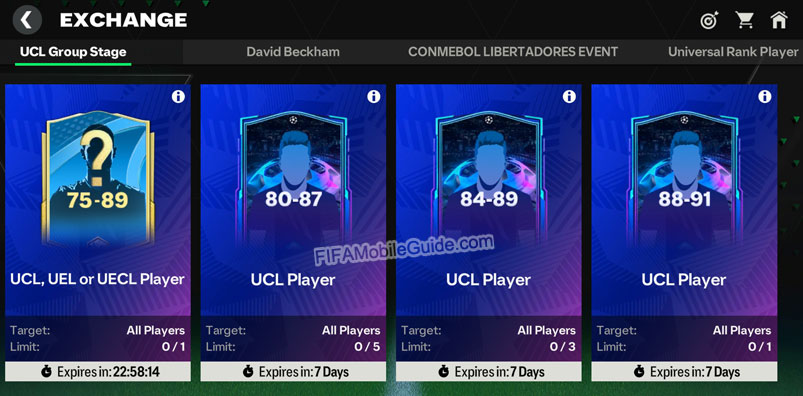 Requirement
Reward
Limit
80+ OVR Midfielder
2x 75+ OVR Spanish Players
8x 70+ OVR Players
85 ST Morata
1x
3x 82+ OVR Midfielders
3x 80+ OVR LaLiga Players
5x 70+ OVR Players
1,500,000 Coins
87 CM Gavi
1x
80+ OVR Midfielder
2x 75+ OVR Bundesliga Players
8x 70+ OVR Players
85 CAM Reus
1x
3x 82+ OVR Defenders / Goalkeepers
3x 80+ OVR EPL Players
5x 70+ OVR Players
2,000,000 Coins
87 RB Walker
1x
3x 70-74 OVR Players
75-89 OVR UCL/UEL/UECL Player
1x per day
4x 70+ OVR Attackers
3x 70+ OVR Midfielders
4x 70+ OVR Defender / Goalkeepers
80-87 OVR UCL Player
5x per week
3x 80+ OVR Attackers
4x 80+ OVR Midfielders
4x 80+ OVR Defender / Goalkeepers
84-89 OVR UCL Player
3x per week
4x 84+ OVR Attackers
4x 84+ OVR Midfielders
3x 84+ OVR Defender / Goalkeepers
88-91 OVR UCL Player
1x per week
Universal Rank Player Exchange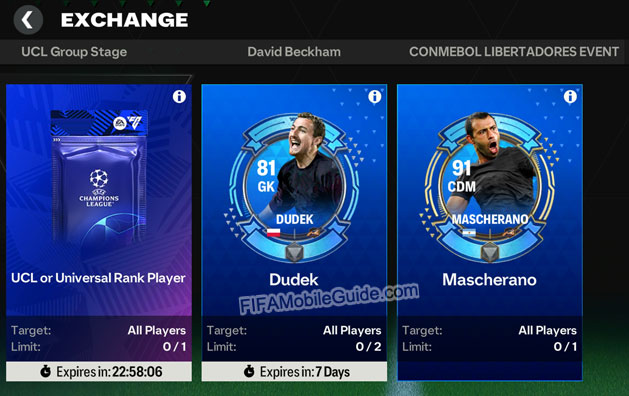 Requirement
Reward
Limit
2x 80 OVR UCL Players
85+ OVR Player
80-89 OVR UCL Player / Universal Rank Player
1x per day
3x 85+ OVR Attackers
3x 80+ OVR Midfielders
4x 80+ OVR Defenders
81 GK Dudek
2x per week
5x 81 OVR Universal Rank Player
2x 90+ OVR Players
91 CDM Mascherano
1x
Universal Rank Player Quests
| Requirement | Reward |
| --- | --- |
| Complete 10 VSA/H2H/MM Matches | 81 OVR GK Dudek |
| Complete 20 Skill Games/Matches in Events, Challenge Mode, or Tournament | 81 OVR GK Dudek |
| Perform Training 10 Times | 81 OVR GK Dudek |
UCL Daily Quests
| Requirement | Reward |
| --- | --- |
| Acquire 1 Pack from the Store | 50 Gems |
| Complete 1 Challenge Mode Match | 10,000 Coins |
| Win 1 H2H or VSA Match | 10,000 Coins |
| Score 6 Goals in Any Mode | 50 Gems |
UCL Weekly Quests
Requirement
Reward
Complete 10 UCL Daily Quests
100,000 Coins
Complete 15 Matches in the UCL Main Chapter
80-85 OVR Player
20,000 Coins
Score 50 Goals in Any Mode
300 Gems
UCL Tournament Quests
Requirement
Reward
Use Any Grup A Team to Play 6 Matches in UCL Tournament
78-83 OVR Player
50 UCL Points
Use Any Grup B Team to Score 30 Goals in the UCL Tournament
78-83 OVR Player
50 UCL Points
Use Any Grup C Team to Play 6 Matches in the UCL Tournament
78-83 OVR Player
50 UCL Points
Use Any Grup D Team to Win 3 Matches in the UCL Tournament
78-83 OVR Player
50 UCL Points
Use Any Grup E Team to complete 30 Tackles in the UCL Tournament
78-83 OVR Player
50 UCL Points
Use Any Grup F Team to Play 6 Matches in the UCL Tournament
78-83 OVR Player
50 UCL Points
Use Any Grup G Team to Score 30 Goals in the UCL Tournament
78-83 OVR Player
50 UCL Points
Use Any Grup H Team to Complete 50 Passes in the UCL Tournament
78-83 OVR Player
50 UCL Points
Champions League Players List
| Name | Pos. | OVR | Club | League | Nation | Refresh Times |
| --- | --- | --- | --- | --- | --- | --- |
| Haaland | ST | 94 | Manchester City | Premier League | Norway | 1:52:54 |
| Lewandowski | ST | 93 | FC Barcelona | LaLiga EA Sports | Poland | 1:53:11 |
| Bellingham | CAM | 93 | Real Madrid | LaLiga EA Sports | England | 1:51:37 |
| Butragueño | ST | 92 | Icons | Icons | Spain | Untradable |
| Xabi Alonso | CDM | 92 | Icons | Icons | Spain | Untradable |
| Butragueño | ST | 92 | Icons | Icons | Spain | 0:21:23 |
| Xabi Alonso | CDM | 92 | Icons | Icons | Spain | 0:21:20 |
| Bernardo Silva | CM | 92 | Manchester City | Premier League | Portugal | 1:52:55 |
| Martínez | ST | 92 | Inter | Serie A TIM | Argentina | 1:51:52 |
| Kimmich | CDM | 92 | Bayern München | Bundesliga | Germany | 1:51:06 |
| Mascherano | CDM | 91 | Heroes | Heroes | Argentina | Untradable |
| Rúben Dias | CB | 91 | Manchester City | Premier League | Portugal | 1:52:53 |
| Kvaratskhelia | LW | 91 | Napoli | Serie A TIM | Georgia | 1:51:32 |
| Bruno Fernandes | CAM | 91 | Manchester United | Premier League | Portugal | 1:50:53 |
| Beckham | CM | 90 | Icons | Icons | England | Untradable |
| Beckham | CM | 90 | Icons | Icons | England | 0:21:22 |
| Trippier | RB | 90 | Newcastle United | Premier League | England | 1:52:43 |
| Griezmann | CAM | 90 | Atlético de Madrid | LaLiga EA Sports | France | 1:52:13 |
| Saka | RW | 90 | Arsenal | Premier League | England | 1:51:27 |
| Casillas | GK | 89 | Icons | Icons | Spain | Untradable |
| Casillas | GK | 89 | Icons | Icons | Spain | 0:21:21 |
| Rüdiger | CB | 89 | Real Madrid | LaLiga EA Sports | Germany | Untradable |
| Foden | CAM | 89 | Manchester City | Premier League | England | 1:53:03 |
| Rüdiger | CB | 89 | Real Madrid | LaLiga EA Sports | Germany | 1:51:38 |
| Ødegaard | CAM | 89 | Arsenal | Premier League | Norway | 1:51:13 |
| Neuer | GK | 89 | Bayern München | Bundesliga | Germany | 1:50:50 |
| Çalhanoğlu | CM | 88 | Inter | Serie A TIM | Turkey | 1:51:54 |
| Musiala | CAM | 88 | Bayern München | Bundesliga | Germany | 1:51:05 |
| Rashford | LW | 88 | Manchester United | Premier League | England | 1:50:56 |
| Walker | RB | 87 | Manchester City | Premier League | England | Untradable |
| Gavi | CM | 87 | FC Barcelona | LaLiga EA Sports | Spain | 1:53:24 |
| Walker | RB | 87 | Manchester City | Premier League | England | 1:52:51 |
| Immobile | ST | 87 | Lazio | Serie A TIM | Italy | 1:52:14 |
| Koundé | CB | 86 | FC Barcelona | LaLiga EA Sports | France | 1:53:10 |
| Di Lorenzo | RB | 86 | Napoli | Serie A TIM | Italy | 1:51:30 |
| Sané | RM | 86 | Bayern München | Bundesliga | Germany | 1:50:52 |
| Saliba | CB | 85 | Arsenal | Premier League | France | Untradable |
| Almirón | RW | 85 | Newcastle United | Premier League | Paraguay | Untradable |
| Cristante | CDM | 85 | Roma | Serie A TIM | Italy | 1:53:31 |
| Berghuis | CAM | 85 | Ajax | Eredivisie | Netherlands | 1:53:30 |
| Reus | CAM | 85 | Borussia Dortmund | Bundesliga | Germany | Untradable |
| Diogo Costa | GK | 85 | FC Porto | Liga NOS | Portugal | 1:53:13 |
| Werner | ST | 85 | RB Leipzig | Bundesliga | Germany | 1:52:58 |
| Almirón | RW | 85 | Newcastle United | Premier League | Paraguay | 1:52:44 |
| Giroud | ST | 85 | Milan | Serie A TIM | France | 1:52:42 |
| Reus | CAM | 85 | Borussia Dortmund | Bundesliga | Germany | 1:52:34 |
| Morata | ST | 85 | Atlético de Madrid | LaLiga EA Sports | Spain | 1:52:22 |
| Provedel | GK | 85 | Lazio | Serie A TIM | Italy | 1:52:15 |
| Álex Remiro | GK | 85 | Real Sociedad | LaLiga EA Sports | Spain | 1:52:06 |
| Dimarco | LB | 85 | Inter | Serie A TIM | Italy | 1:52:01 |
| Zambo Anguissa | CDM | 85 | Napoli | Serie A TIM | Cameroon | 1:51:34 |
| Wahi | ST | 85 | RC Lens | Ligue 1 | France | 1:51:22 |
| Saliba | CB | 85 | Arsenal | Premier League | France | 1:51:14 |
| Rakitić | CM | 84 | Sevilla FC | LaLiga EA Sports | Croatia | Untradable |
| Vitinha | CM | 84 | Paris Saint-Germain | Ligue 1 | Portugal | Untradable |
| David | ST | 84 | LOSC Lille | Ligue 1 | Canada | 1:54:00 |
| Dahoud | CM | 84 | Brighton & Hove Albion | Premier League | Germany | 1:53:33 |
| Zappacosta | LB | 84 | Atalanta | Serie A TIM | Italy | 1:53:32 |
| Alderweireld | CB | 84 | Antwerp | 1A Pro League | Belgium | 1:53:19 |
| Orban | CB | 84 | RB Leipzig | Bundesliga | Hungary | 1:52:56 |
| Doku | RW | 84 | Manchester City | Premier League | Belgium | 1:52:52 |
| Vitinha | CM | 84 | Paris Saint-Germain | Ligue 1 | Portugal | 1:52:47 |
| Schär | CB | 84 | Newcastle United | Premier League | Switzerland | 1:52:46 |
| Hummels | CB | 84 | Borussia Dortmund | Bundesliga | Germany | 1:52:35 |
| Can | CDM | 84 | Borussia Dortmund | Bundesliga | Germany | 1:52:33 |
| Saúl | CM | 84 | Atlético de Madrid | LaLiga EA Sports | Spain | 1:52:23 |
| Rafa | CAM | 84 | Benfica | Liga NOS | Portugal | 1:52:05 |
| Oyarzabal | LM | 84 | Real Sociedad | LaLiga EA Sports | Spain | 1:51:59 |
| Acerbi | CB | 84 | Inter | Serie A TIM | Italy | 1:51:55 |
| Ricardo Horta | CAM | 84 | Braga | Liga NOS | Portugal | 1:51:40 |
| Joselu | ST | 84 | Real Madrid | LaLiga EA Sports | Spain | 1:51:39 |
| Nacho Fernández | CB | 84 | Real Madrid | LaLiga EA Sports | Spain | 1:51:35 |
| Rakitić | CM | 84 | Sevilla FC | LaLiga EA Sports | Croatia | 1:51:25 |
| Icardi | ST | 84 | Galatasaray | Süper Lig | Argentina | 1:51:07 |
| Upamecano | CB | 84 | Bayern München | Bundesliga | France | 1:50:51 |
| Reijnders | CM | 83 | Milan | Serie A TIM | Netherlands | Untradable |
| Digne | LB | 83 | Aston Villa | Premier League | France | 1:54:01 |
| Lienhart | CB | 83 | SC Freiburg | Bundesliga | Austria | 1:53:36 |
| Harit | LM | 83 | Olympique de Marseille | Ligue 1 | Morocco | 1:53:35 |
| Bowen | RM | 83 | West Ham United | Premier League | England | 1:53:34 |
| Pepe | CB | 83 | FC Porto | Liga NOS | Portugal | 1:53:12 |
| João Félix | ST | 83 | FC Barcelona | LaLiga EA Sports | Portugal | 1:53:09 |
| Simakan | CB | 83 | RB Leipzig | Bundesliga | France | 1:53:04 |
| Nuno Mendes | LB | 83 | Paris Saint-Germain | Ligue 1 | Portugal | 1:52:48 |
| Reijnders | CM | 83 | Milan | Serie A TIM | Netherlands | 1:52:41 |
| Danilo Pereira | CDM | 83 | Paris Saint-Germain | Ligue 1 | Portugal | 1:52:32 |
| Azpilicueta | CB | 83 | Atlético de Madrid | LaLiga EA Sports | Spain | 1:52:24 |
| Kamada | CAM | 83 | Lazio | Serie A TIM | Japan | 1:52:16 |
| Kubo | RW | 83 | Real Sociedad | LaLiga EA Sports | Japan | 1:52:08 |
| Le Normand | CB | 83 | Real Sociedad | LaLiga EA Sports | Spain | 1:52:00 |
| Sánchez | ST | 83 | Inter | Serie A TIM | Chile | 1:51:53 |
| Otamendi | CB | 83 | Benfica | Liga NOS | Argentina | 1:51:50 |
| Bonucci | CB | 83 | 1. FC Union Berlin | Bundesliga | Italy | 1:51:45 |
| José Fonte | CB | 83 | Braga | Liga NOS | Portugal | 1:51:42 |
| Fernando | CDM | 83 | Sevilla FC | LaLiga EA Sports | Brazil | 1:51:11 |
| Torreira | CDM | 83 | Galatasaray | Süper Lig | Uruguay | 1:51:03 |
| McTominay | CDM | 83 | Manchester United | Premier League | Scotland | 1:50:55 |
| Højlund | ST | 83 | Manchester United | Premier League | Denmark | 1:50:54 |
| Frankowski | RB | 82 | RC Lens | Ligue 1 | Poland | Untradable |
| Teze | RB | 82 | PSV | Eredivisie | Netherlands | Untradable |
| Aboubakar | ST | 82 | Beşiktaş | Süper Lig | Cameroon | 1:54:02 |
| Capoue | CM | 82 | Villarreal CF | LaLiga EA Sports | France | 1:53:39 |
| Krejčí | CB | 82 | Sparta Praha | Česká Liga | Czech Republic | 1:53:38 |
| Nicolaisen | CB | 82 | Toulouse FC | Ligue 1 | Denmark | 1:53:37 |
| Sergi Roberto | RB | 82 | FC Barcelona | LaLiga EA Sports | Spain | 1:53:08 |
| Itten | ST | 82 | BSC Young Boys | RSL | Switzerland | 1:53:06 |
| Simons | CAM | 82 | RB Leipzig | Bundesliga | Netherlands | 1:52:57 |
| Adeyemi | LM | 82 | Borussia Dortmund | Bundesliga | Germany | 1:52:50 |
| Burn | LB | 82 | Newcastle United | Premier League | England | 1:52:49 |
| Calabria | RB | 82 | Milan | Serie A TIM | Italy | 1:52:38 |
| Gonçalo Ramos | ST | 82 | Paris Saint-Germain | Ligue 1 | Portugal | 1:52:31 |
| Hancko | CB | 82 | Feyenoord | Eredivisie | Slovakia | 1:52:26 |
| McGregor | CDM | 82 | Celtic | Scottish Prem | Scotland | 1:52:18 |
| Geertruida | RB | 82 | Feyenoord | Eredivisie | Netherlands | 1:52:11 |
| Trauner | CB | 82 | Feyenoord | Eredivisie | Austria | 1:52:10 |
| Brais Méndez | CM | 82 | Real Sociedad | LaLiga EA Sports | Spain | 1:52:09 |
| Aursnes | CM | 82 | Benfica | Liga NOS | Norway | 1:52:02 |
| Kepa | GK | 82 | Real Madrid | LaLiga EA Sports | Spain | 1:51:36 |
| Rrahmani | CB | 82 | Napoli | Serie A TIM | Kosovo | 1:51:33 |
| Teze | RB | 82 | PSV | Eredivisie | Netherlands | 1:51:29 |
| Frankowski | RB | 82 | RC Lens | Ligue 1 | Poland | 1:51:28 |
| Adrià Pedrosa | LB | 82 | Sevilla FC | LaLiga EA Sports | Spain | 1:51:24 |
| Samba | GK | 82 | RC Lens | Ligue 1 | Congo | 1:51:20 |
| de Jong | ST | 82 | PSV | Eredivisie | Netherlands | 1:51:17 |
| Trossard | ST | 82 | Arsenal | Premier League | Belgium | 1:51:16 |
| Larsson | RW | 82 | FC København | 3F Superliga | Sweden | 1:51:08 |
| Muslera | GK | 82 | Galatasaray | Süper Lig | Uruguay | 1:51:02 |
| Dudek | GK | 81 | Heroes | Heroes | Poland | Untradable |
| Vanaken | CM | 81 | Club Brugge | 1A Pro League | Belgium | 1:54:05 |
| Max | LB | 81 | Eintracht Frankfurt | Bundesliga | Germany | 1:54:04 |
| Steffen | RM | 81 | FC Lugano | RSL | Switzerland | 1:54:03 |
| Elliott | CAM | 81 | Liverpool | Premier League | England | 1:53:41 |
| Sidibé | RB | 81 | AEK | Hellas Liga | France | 1:53:40 |
| Janssen | ST | 81 | Antwerp | 1A Pro League | Netherlands | 1:53:21 |
| Stepanenko | CDM | 81 | Shakhtar Donetsk | Ukrayina Liha | Ukraine | 1:53:16 |
| Galeno | LM | 81 | FC Porto | Liga NOS | Brazil | 1:53:15 |
| Ugrinic | CM | 81 | BSC Young Boys | RSL | Switzerland | 1:53:05 |
| Elia | ST | 81 | BSC Young Boys | RSL | Congo DR | 1:53:00 |
| Thiaw | CB | 81 | Milan | Serie A TIM | Germany | 1:52:40 |
| Moukoko | ST | 81 | Borussia Dortmund | Bundesliga | Germany | 1:52:37 |
| Wieffer | CDM | 81 | Feyenoord | Eredivisie | Netherlands | 1:52:29 |
| Johnston | RB | 81 | Celtic | Scottish Prem | Canada | 1:52:27 |
| Vecino | CM | 81 | Lazio | Serie A TIM | Uruguay | 1:52:25 |
| O'Riley | CM | 81 | Celtic | Scottish Prem | Denmark | 1:52:20 |
| Furuhashi | ST | 81 | Celtic | Scottish Prem | Japan | 1:52:19 |
| Terzić | LB | 81 | RB Salzburg | Ö. Bundesliga | Serbia | 1:52:07 |
| David Neres | RM | 81 | Benfica | Liga NOS | Brazil | 1:52:04 |
| Pavlović | CB | 81 | RB Salzburg | Ö. Bundesliga | Serbia | 1:51:57 |
| Bidstrup | CDM | 81 | RB Salzburg | Ö. Bundesliga | Denmark | 1:51:56 |
| Doekhi | CB | 81 | 1. FC Union Berlin | Bundesliga | Netherlands | 1:51:49 |
| Becker | ST | 81 | 1. FC Union Berlin | Bundesliga | Suriname | 1:51:47 |
| Banza | ST | 81 | Braga | Liga NOS | Congo DR | 1:51:44 |
| Pizzi | CM | 81 | Braga | Liga NOS | Portugal | 1:51:41 |
| Danso | CB | 81 | RC Lens | Ligue 1 | Austria | 1:51:21 |
| Veerman | CM | 81 | PSV | Eredivisie | Netherlands | 1:51:18 |
| Gudelj | CB | 81 | Sevilla FC | LaLiga EA Sports | Serbia | 1:51:12 |
| Ocampos | RW | 81 | Sevilla FC | LaLiga EA Sports | Argentina | 1:51:10 |
| Claesson | CAM | 81 | FC København | 3F Superliga | Sweden | 1:50:58 |
| Lindelöf | CB | 81 | Manchester United | Premier League | Sweden | 1:50:57 |
| Cuypers | ST | 80 | Gent | 1A Pro League | Belgium | 1:54:07 |
| de Wit | CAM | 80 | AZ | Eredivisie | Netherlands | 1:54:06 |
| Pezzella | CB | 80 | Real Betis Balompié | LaLiga EA Sports | Argentina | 1:53:43 |
| Boniface | ST | 80 | Bayer 04 Leverkusen | Bundesliga | Nigeria | 1:53:42 |
| Sikan | ST | 80 | Shakhtar Donetsk | Ukrayina Liha | Ukraine | 1:53:27 |
| Wendell | LB | 80 | FC Porto | Liga NOS | Brazil | 1:53:26 |
| Riznyk | GK | 80 | Shakhtar Donetsk | Ukrayina Liha | Ukraine | 1:53:25 |
| Bataille | RB | 80 | Antwerp | 1A Pro League | Belgium | 1:53:23 |
| Balikwisha | LW | 80 | Antwerp | 1A Pro League | Belgium | 1:53:22 |
| Ekkelenkamp | CAM | 80 | Antwerp | 1A Pro League | Netherlands | 1:53:20 |
| Zubkov | RM | 80 | Shakhtar Donetsk | Ukrayina Liha | Ukraine | 1:53:18 |
| Rakitskyi | CB | 80 | Shakhtar Donetsk | Ukrayina Liha | Ukraine | 1:53:17 |
| Fábio Cardoso | CB | 80 | FC Porto | Liga NOS | Portugal | 1:53:14 |
| Janko | RB | 80 | BSC Young Boys | RSL | Gambia | 1:53:07 |
| Camara | CB | 80 | BSC Young Boys | RSL | Guinea | 1:53:02 |
| Lauper | CDM | 80 | BSC Young Boys | RSL | Switzerland | 1:53:01 |
| Klostermann | CB | 80 | RB Leipzig | Bundesliga | Germany | 1:52:59 |
| Longstaff | CM | 80 | Newcastle United | Premier League | England | 1:52:45 |
| Okafor | ST | 80 | Milan | Serie A TIM | Switzerland | 1:52:39 |
| Ryerson | LB | 80 | Borussia Dortmund | Bundesliga | Norway | 1:52:36 |
| Zaïre-Emery | CM | 80 | Paris Saint-Germain | Ligue 1 | France | 1:52:30 |
| Jahanbakhsh | RW | 80 | Feyenoord | Eredivisie | Iran | 1:52:28 |
| Maeda | LW | 80 | Celtic | Scottish Prem | Japan | 1:52:21 |
| Guendouzi | CM | 80 | Lazio | Serie A TIM | France | 1:52:17 |
| Pablo Barrios | CM | 80 | Atlético de Madrid | LaLiga EA Sports | Spain | 1:52:12 |
| Šimić | ST | 80 | RB Salzburg | Ö. Bundesliga | Croatia | 1:52:03 |
| Kjaergaard | CM | 80 | RB Salzburg | Ö. Bundesliga | Denmark | 1:51:58 |
| Juan Bernat | LB | 80 | Benfica | Liga NOS | Spain | 1:51:51 |
| Juranović | RWB | 80 | 1. FC Union Berlin | Bundesliga | Croatia | 1:51:48 |
| Khedira | CDM | 80 | 1. FC Union Berlin | Bundesliga | Germany | 1:51:46 |
| Bruma | LM | 80 | Braga | Liga NOS | Portugal | 1:51:43 |
| Lindstrøm | CAM | 80 | Napoli | Serie A TIM | Denmark | 1:51:31 |
| Bakayoko | RW | 80 | PSV | Eredivisie | Belgium | 1:51:26 |
| Abdul Samed | CDM | 80 | RC Lens | Ligue 1 | Ghana | 1:51:23 |
| Pepi | ST | 80 | PSV | Eredivisie | United States | 1:51:19 |
| Fábio Vieira | CAM | 80 | Arsenal | Premier League | Portugal | 1:51:15 |
| Tetê | RM | 80 | Galatasaray | Süper Lig | Brazil | 1:51:09 |
| Ayhan | CB | 80 | Galatasaray | Süper Lig | Turkey | 1:51:04 |
| Falk | CM | 80 | FC København | 3F Superliga | Denmark | 1:51:01 |
| Diks | RB | 80 | FC København | 3F Superliga | Netherlands | 1:51:00 |
| Elyounoussi | LW | 80 | FC København | 3F Superliga | Norway | 1:50:59 |
| Petković | ST | 79 | Dinamo Zagreb | Liga Hrvatska | Croatia | 1:54:09 |
| Berg | CDM | 79 | FK Bodø/Glimt | Eliteserien | Norway | 1:54:08 |
| Breivik | CDM | 79 | Molde FK | Eliteserien | Norway | 1:53:45 |
| Diomande | CB | 79 | Sporting CP | Liga NOS | Ivory Coast | 1:53:44 |
| Kalvach | CDM | 78 | Viktoria Plzeň | Česká Liga | Czech Republic | 1:54:11 |
| King | ST | 78 | Fenerbahçe | Süper Lig | Norway | 1:54:10 |
| Masopust | RM | 78 | Slavia Praha | Česká Liga | Czech Republic | 1:53:47 |
| Roofe | ST | 78 | Rangers | Scottish Prem | Jamaica | 1:53:46 |
| Ranieri | CB | 77 | Fiorentina | Serie A TIM | Italy | 1:54:13 |
| Villadsen | RB | 77 | FC Nordsjælland | 3F Superliga | Denmark | 1:54:12 |
| Ousou | CB | 77 | BK Häcken | Allsvenskan | Sweden | 1:53:49 |
| Kotsiras | RB | 77 | Panathinaikos | Hellas Liga | Greece | 1:53:48 |
| Cissé | CB | 76 | Ferencvárosi TC | Magyar Liga | France | 1:54:16 |
| Marc Gual | ST | 76 | Legia Warszawa | PKO Ekstraklasa | Spain | 1:54:15 |
| Shinnie | CDM | 76 | Aberdeen | Scottish Prem | Scotland | 1:54:14 |
| Horvath | CAM | 76 | LASK | Ö. Bundesliga | Austria | 1:53:52 |
| Kiteishvili | CAM | 76 | Sturm Graz | Ö. Bundesliga | Georgia | 1:53:51 |
| Puertas | CM | 76 | Union Saint-Gilloise | 1A Pro League | Switzerland | 1:53:50 |
| Koulierakis | CB | 75 | PAOK | Hellas Liga | Greece | 1:54:18 |
| Hämäläinen | LB | 75 | HJK Helsinki | Finnliiga | Finland | 1:54:17 |
| Rouiller | CB | 75 | Servette FC | RSL | Switzerland | 1:53:55 |
| Papanikolaou | CM | 75 | Raków Częstochowa | PKO Ekstraklasa | Greece | 1:53:54 |
| Yıldırım | ST | 75 | Stade Rennais | Ligue 1 | Turkey | 1:53:53 |
Archives