Acquire FIFA Mobile Fantasy 23 Players from the Store, Battle Pass, and Exchanges, all featuring OVR Upgrades based on real-life performances! Enhance your starting XI with real-world performances during the Fantasy event on FIFA Mobile.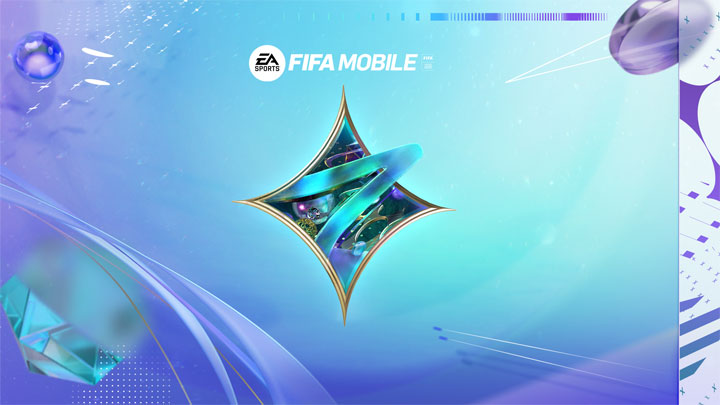 Each Fantasy Player Item is eligible for upgrades depending on the club and individual achievements on the field during a specific four-match domestic run. Every moment matters—from clean sheets to goals and assists—increasing their rating each time they reach specific statistical milestones.
Table of Contents
How It Works
Fantasy Players can receive two potential OVR upgrades: individual performance and club performance. The player upgrades are based on four domestic league matches starting May 6th.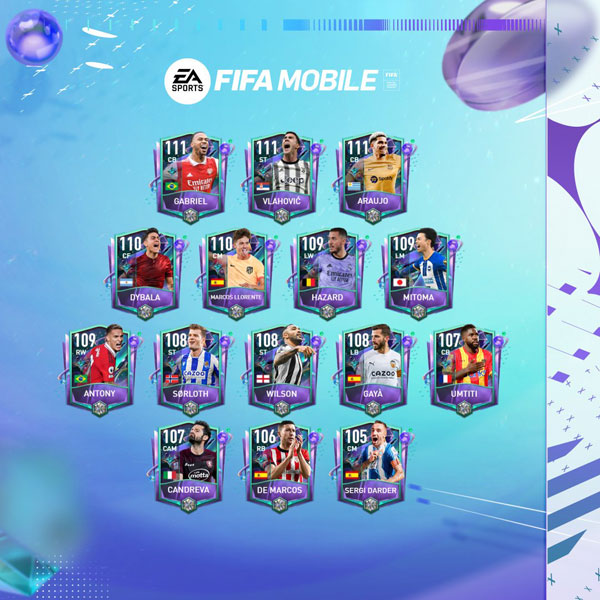 Individual Performance
Attackers and midfielders: If the player scores two goals or assists, they will receive a +1 OVR Upgrade. Defenders: If the player maintains two clean sheets, they will receive a +1 OVR Upgrade. Players must make appearances to be eligible for clean sheets.
Club Performance
They will receive a +1 OVR Upgrade if their current club avoids defeat in the next four games.
Exchanges
The Fantasy Player Exchanges are step-up Exchanges, where you trade in lower OVR Fantasy Players for higher OVR Fantasy Players or Prime Icons.

There is no limit to these exchanges.
| Reward | Requirements |
| --- | --- |
| 106+ OVR Fantasy Player | 6x 105 OVR Fantasy Players |
| 108 OVR Fantasy Player | 8x 106-107 OVR Fantasy Players |
| 109 OVR Fantasy Player | 3x 108 OVR Fantasy Players |
| 110 OVR Fantasy Player/Prime Icon | 6x 109 OVR Fantasy Players |
| 111 OVR Fantasy Player/Prime Icon | 2x 110 OVR Fantasy Players/Prime Icons |
Fantasy Store Packs
Furthermore, for pay-to-play players, you can buy Fantasy Player Packs in the Store. Additionally, you can claim a Free Fantasy Pack once a day.

Frequently Asked Questions
When will items be upgraded in-game?
Any earned Fantasy Player Item upgrades will be applied the week following the conclusion of the four-match run. Keep an eye on @EAFIFAMOBILE on Twitter for updates on when these changes will be implemented!
Which matches count towards Fantasy upgrades?
The upgrades will be based on the next four domestic league matches, starting from May 6th. Cup competitions and European competitions are not included in this calculation.
Does a player need to play in a match for their Fantasy Player Item to receive upgrades?
Both team-based and individual-based upgrades are available in Fantasy. A Player Item qualifies for the "Avoid Defeat" upgrades even if they don't participate in the four matches. However, they are only eligible for "Goals/Assists/Clean Sheet" upgrades if they personally achieve those milestones in their club's next four games.
What happens if an attacker or midfielder scores one goal and provides one assist?
The "two goals or assists" upgrade takes into account a combined total, which means a Player Item becomes eligible for the +1 OVR upgrade if they score two goals, provide two assists, or achieve one of each.
What is the highest OVR upgrade possible for an individual Player Item?
A maximum OVR upgrade of +2 can be achieved if the player meets both the individual and club performance milestones.
Fantasy Players List
| Player | Pos. | OVR | Skill Boost | Club | League | Nation |
| --- | --- | --- | --- | --- | --- | --- |
| Ronald Araujo | CB | 111 | Strength | FC Barcelona | LaLiga Santander | Uruguay |
| Dušan Vlahović | ST | 111 | Target Man | Juventus | Serie A TIM | Serbia |
| Gabriel | CB | 111 | Marking | Arsenal | Premier League | Brazil |
| Marcos Llorente | CM | 110 | Long Passing | Atlético de Madrid | LaLiga Santander | Spain |
| Paulo Dybala | CF | 110 | Finishing | Roma | Serie A TIM | Argentina |
| Timo Werner | ST | 110 | Finishing | RB Leipzig | Bundesliga | Germany |
| Alexis Sánchez | RW | 110 | Speed | Olympique de Marseille | Ligue 1 | Chile |
| Eden Hazard | LW | 109 | Speed | Real Madrid | LaLiga Santander | Belgium |
| Kaoru Mitoma | LM | 109 | Dribbling | Brighton & Hove Albion | Premier League | Japan |
| Antony | RW | 109 | Agility | Manchester United | Premier League | Brazil |
| Federico Bernardeschi | RM | 108 | Dribbling | Toronto FC | MLS | Italy |
| Alexander Sørloth | ST | 108 | Target Man | Real Sociedad | LaLiga Santander | Norway |
| Gayà | LB | 108 | Reactions | Valencia CF | LaLiga Santander | Spain |
| Christopher Trimmel | RWB | 108 | Pace | 1. FC Union Berlin | Bundesliga | Austria |
| Julian Ryerson | LB | 108 | Reactions | Borussia Dortmund | Bundesliga | Norway |
| Nicolás Tagliafico | LB | 108 | Pace | Olympique Lyonnais | Ligue 1 | Argentina |
| Moussa Sissoko | CDM | 108 | Interceptions | FC Nantes | Ligue 1 | France |
| Callum Wilson | ST | 108 | Second Striker | Newcastle United | Premier League | England |
| Samuel Umtiti | CB | 107 | Marking | Lecce | Calcio A | France |
| Antonio Candreva | CAM | 107 | Short Passing | Salernitana | Serie A TIM | Italy |
| Andrei Girotto | CB | 107 | Marking | FC Nantes | Ligue 1 | Brazil |
| Jarrod Bowen | RM | 107 | Counter | West Ham United | Premier League | England |
| Philip Billing | CM | 107 | Vision | Bournemouth | Premier League | Denmark |
| Alex Iwobi | CAM | 107 | Long Shots | Everton | Premier League | Nigeria |
| Christian Benteke | ST | 106 | Finishing | D.C. United | MLS | Belgium |
| Riqui Puig | CM | 106 | Vision | Los Angeles Galaxy | MLS | Spain |
| De Marcos | RB | 106 | Pace | Athletic Bilbao | LaLiga Santander | Spain |
| Stevan Jovetić | ST | 106 | Second Striker | Hertha BSC | Bundesliga | Montenegro |
| Maximilian Eggestein | CDM | 106 | Holding | SC Freiburg | Bundesliga | Germany |
| Kamal Miller | CB | 105 | Marking | CF Montréal | MLS | Canada |
| Sergi Darder | CM | 105 | Vision | RCD Espanyol | LaLiga SmartBank | Spain |
| Armand Laurienté | RM | 105 | Dribbling | Sassuolo | Serie A TIM | France |
| Patrick Wimmer | RM | 105 | Dribbling | VfL Wolfsburg | Bundesliga | Austria |
| Arnaud Kalimuendo | ST | 105 | Target Man | Stade Rennais | Ligue 1 | France |