Football Freeze is one of the most popular event on FIFA Mobile. In my opinion, on the previous season this is one of the best event. How about this season? Let's find out.
How does The Event Work?
There are three Chapters on this event, Snowflake, Snowmen, Holiday Calendar, and Frozen Gifts.
Snowflake
On the Snowflake Chapter, you can you use Snowflake Points to obtain different rewards (Skill Boosts, XP, Coins and Players).
You can collect snowflake point from three events (La Liga Rivals, Boxing Day and New Years Celebration).

Like the previous seasons, on the Snowflake there are different nodes linked to each other, and then form one big snowflake.
At the end of each branch, there are three Final Rewards (Coins, SB and Players). You can only choose one of them. For example, if you claim node C-6 option 2 (Victor Lindelöf), node C-6 option 1 (Coins) and node C-6 option 3 (SB) will lock automatically.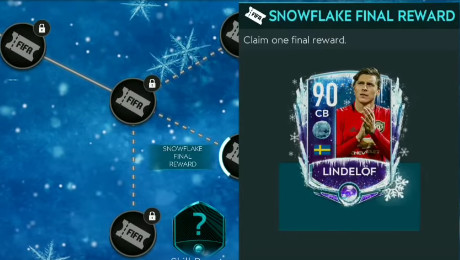 For P2P players, you can claim a 96 OVR Prime Icon Henrik Larsson by completing each branch of the Snowflake.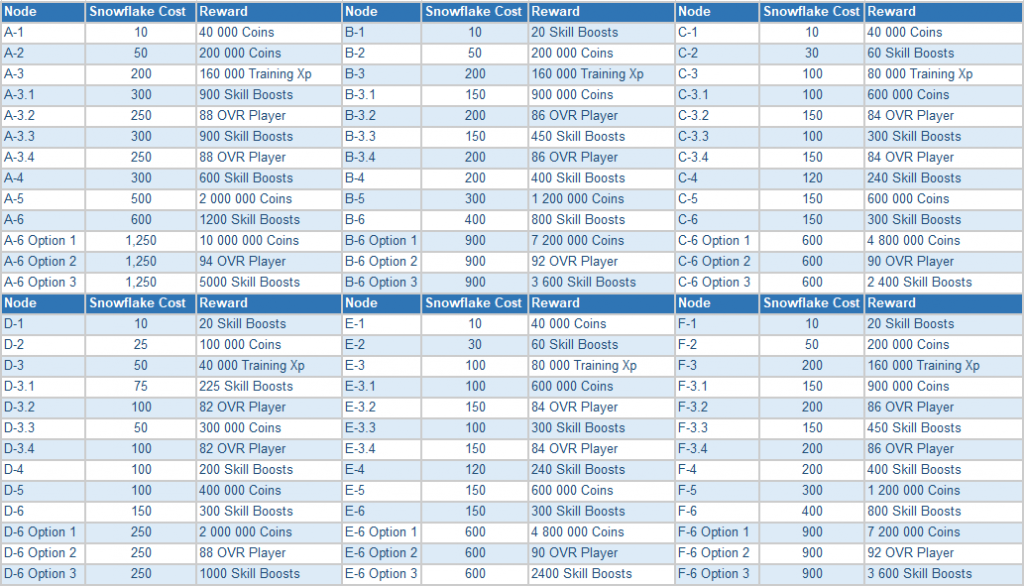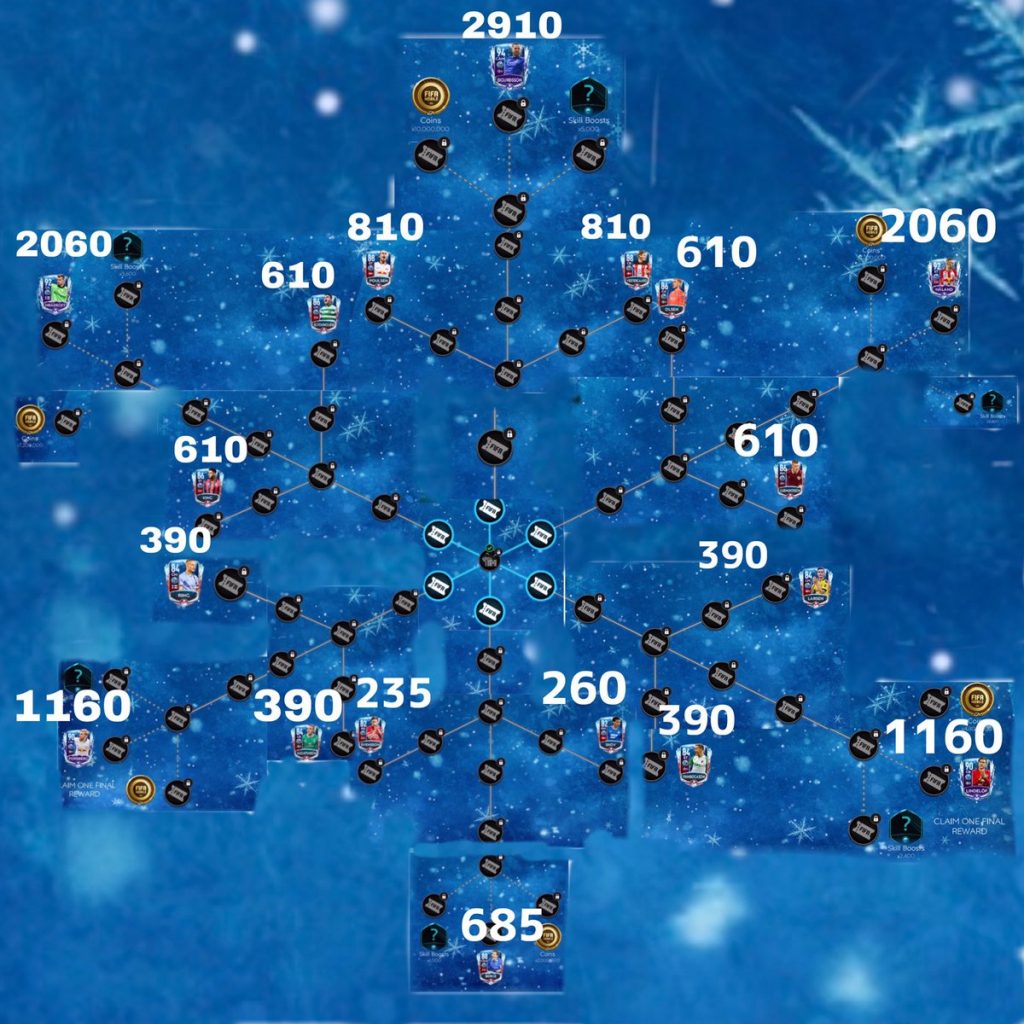 Snowmen
There are bonus Milestones, where you can obtain four Snowman of the Match players by completing it.
These players will have exclusive artwork and a custom name, and obtainable only by completing the milestones.
The first two players are Thomas Delaney and Jorge Resurrección aka Koke, and the two others will be revealed on the New Years Celebration and Boxing Day events launch.

Football Freeze event unlocked at December 12th, 2019 19:00 PM UTC.
update: Snowmen Players from Boxing Day and NYE Event:
| Christensen | Marking – CB – 87 OVR |
| --- | --- |
| Stay Frosty | Login for 7 days in a row |
| Frozen Throne | Reach FIFA Masters in Division Rivals |
| Starry Night | Claim Star Pass 4 tier 30 |
| Navas | Number 1 – GK – 88 OVR |
| --- | --- |
| Subzero chill | Complete 420 Daily Score |
| Warming Back Up | Win 100 Division Rivals matches |
| Cold Hard Coins | Spend 1,000,000 Coins |
Holiday Calendar
This Chapter unlock at Dec 13, 2019 19:00 PM UTC, one day after Football Freeze launched.
You can see the update reward list for Holiday Calendar here.
Frozen Gifts
This Chapter unlock at Dec 17, 2019 19:00 PM UTC. You can access more information and Offer list about Frozen Gifts here.
Football Freeze 20 Players List
Here is FIFA Mobile 20 Football Freeze Players List :
| Player | Pos. | OVR | Skill Boost | Club | League | Nation |
| --- | --- | --- | --- | --- | --- | --- |
| Sigurðsson | CAM | 94 | Counter | Everton | Premier League | Iceland |
| Hrádecký | GK | 92 | Reflexes | Bayer 04 Leverkusen | Bundesliga | Finland |
| Håland | ST | 92 | Finishing | RB Salzburg | Austria Bundesliga | Norway |
| Forsberg | LW | 90 | Agility | RB Leipzig | Bundesliga | Sweden |
| Lindelöf | CB | 90 | Marking | Manchester United | Premier League | Sweden |
| Vestergaard | CB | 88 | Stopper | Southampton | Premier League | Denmark |
| Poulsen | ST | 88 | Poacher | RB Leipzig | Bundesliga | Denmark |
| Berge | CDM | 88 | Destroyer | Genk | Belgium Pro League | Norway |
| Vestergaard | CB | 88 | Stopper | Southampton | Premier League | Denmark |
| Poulsen | ST | 88 | Poacher | RB Leipzig | Bundesliga | Denmark |
| Elyounoussi | LM | 86 | Vision | Celtic | Scottish Premiership | Norway |
| King | ST | 86 | Second Striker | Bournemouth | Premier League | Norway |
| Guðmundsson | RM | 86 | Long Shots | Burnley | Premier League | Iceland |
| Olsen | GK | 86 | Reflexes | Cagliari | Serie A | Sweden |
| Guðmundsson | RM | 86 | Long Shots | Burnley | Premier League | Iceland |
| Olsen | GK | 86 | Reflexes | Cagliari | Serie A | Sweden |
| Delaney | CM | 85 | Captain | Borussia Dortmund | Bundesliga | Denmark |
| Ring | CM | 84 | Box to Box | New York City FC | MLS | Finland |
| Augustinsson | LB | 84 | Reactions | Werder Bremen | Bundesliga | Sweden |
| Finnbogason | ST | 84 | Shooting | FC Augsburg | Bundesliga | Iceland |
| Larsen | LM | 84 | Ball Control | Borussia Dortmund | Bundesliga | Denmark |
| Svensson | RB | 82 | Pace | AZ | Eredivisie | Norway |
| Skov | RW | 82 | Attacking | TSG 1899 Hoffenheim | Bundesliga | Denmark |
For the latest Football Freeze event, please click here: FIFA Mobile Football Freeze