FIFA Mobile 20 La Liga is the event that display some of the most iconic derby matches on Spain clubs.
How does the Event Work?
In this event (finally) there's no event Stamina, you will use normal Stamina to play matches and skill games.
Play games and matches to earn LLR Points and Snowflake Points (can be used in the Football Freeze event). These can be completed once per day.
There are four Rivalry matches. On each Rivalry, you will be able to play 2 skill games, 2 half match and 2 full matches.
Spend LLR Points to get team specific players (three 80+ OVR players). You can also exchange 50 LLR points with a 70+ OVR player from specific LLR team.
And then, build full lineup (starting 11) of specific LLR team so you can play the Challenge match to earn a reward.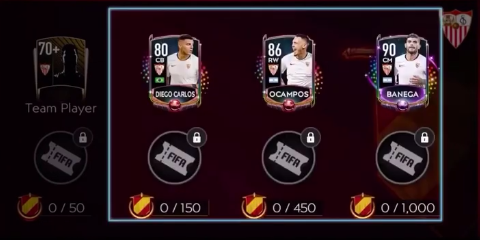 There are three rewards on a Challenge Match, and you can only choose one.
There are four Rivalry matches :
Match 1 – Dec 12: Sevilla v Real Betis
Match 2 – Dec 14: Valencia v Villareal
Match 3 – Dec 16: Real Sociedad v Athletic Bilbao
Match 4 – Dec 18: Barcelona v Real Madrid
The matches will unlock over time. As the event progresses in time, you will be able to complete more daily nodes and obtain more rewards.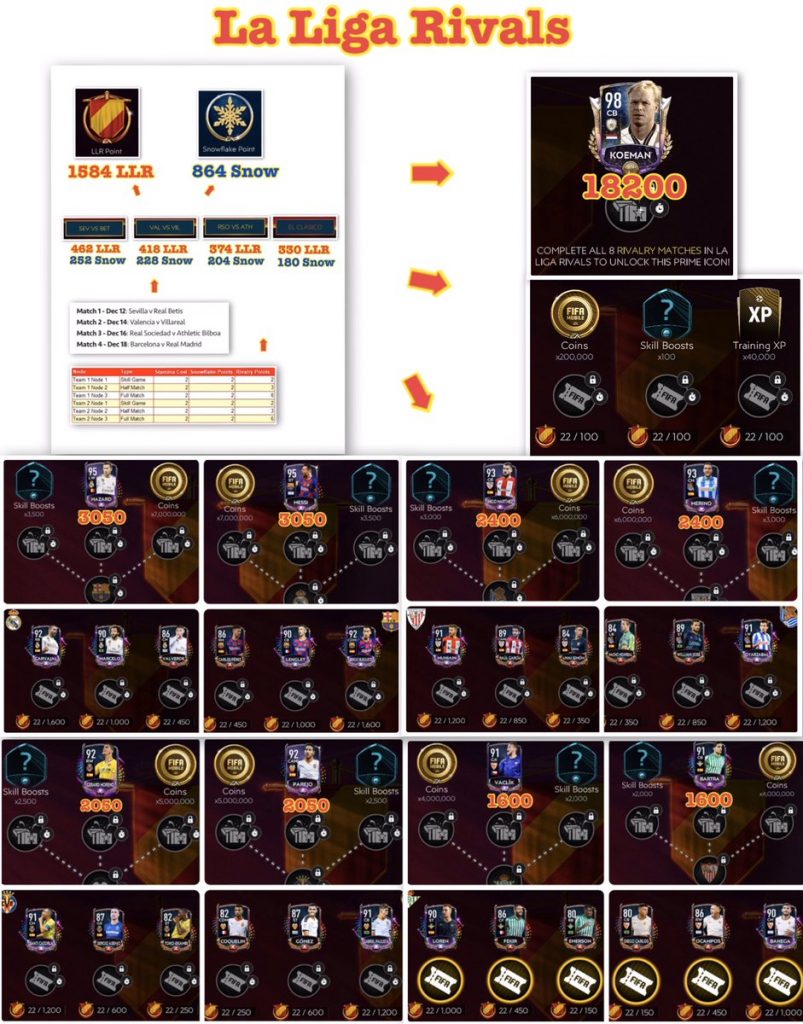 LLR Points can also be exchanged for resouces:
| | |
| --- | --- |
| LLR Points | Resources |
| 100 | 200,000 Coins |
| 100 | 100 Skill Boosts |
| 100 | 40,000 Training XP |
For P2P players, you can claim a Prime Icon Ronald Koeman (98 OVR) by completing all 8 Rivalry Matches.
La Liga Rivals event unlocked at December 12th, 19:00 PM UTC.
All La Liga Rivals (LLR) players can be auctioned after Jan 05, 2020.
Players List
Here is the list of FIFA Mobile 20 LLR Players:
| Player | Pos. | OVR | Skill Boost | Club | League | Nation |
| --- | --- | --- | --- | --- | --- | --- |
| Hazard | LW | 95 | Dribbling | Real Madrid | LaLiga | Belgium |
| Messi | ST | 95 | Second Striker | FC Barcelona | LaLiga | Argentina |
| Iñigo Martínez | CB | 93 | Marking | Athletic Club de Bilbao | LaLiga | Spain |
| Merino | CM | 93 | Box to Box | Real Sociedad | LaLiga | Spain |
| Carvajal | RB | 92 | Balanced | Real Madrid | LaLiga | Spain |
| Sergio Busquets | CDM | 92 | Interceptions | FC Barcelona | LaLiga | Spain |
| Gerard Moreno | RW | 92 | Attacking | Villarreal CF | LaLiga | Spain |
| Parejo | CAM | 92 | Free Kick | Valencia CF | LaLiga | Spain |
| Carvajal | RB | 92 | Balanced | Real Madrid | LaLiga | Spain |
| Sergio Busquets | CDM | 92 | Interceptions | FC Barcelona | LaLiga | Spain |
| Santi Cazorla | CM | 91 | Passing | Villarreal CF | LaLiga | Spain |
| Gabriel Paulista | CB | 91 | Marking | Valencia CF | LaLiga | Brazil |
| Muniain | LM | 91 | Counter | Athletic Club de Bilbao | LaLiga | Spain |
| Oyarzabal | LW | 91 | Agility | Real Sociedad | LaLiga | Spain |
| Bartra | CB | 91 | Stopper | Real Betis | LaLiga | Spain |
| Vaclík | GK | 91 | Reflexes | Sevilla FC | LaLiga | Czech Republic |
| Santi Cazorla | CM | 91 | Passing | Villarreal CF | LaLiga | Spain |
| Gabriel Paulista | CB | 91 | Marking | Valencia CF | LaLiga | Brazil |
| Muniain | LM | 91 | Counter | Athletic Club de Bilbao | LaLiga | Spain |
| Oyarzabal | LW | 91 | Agility | Real Sociedad | LaLiga | Spain |
| Loren | ST | 90 | Target Man | Real Betis | LaLiga | Spain |
| Banega | CM | 90 | Captain | Sevilla FC | LaLiga | Argentina |
| Marcelo | LB | 90 | Pace | Real Madrid | LaLiga | Brazil |
| Lenglet | CB | 90 | Tackling | FC Barcelona | LaLiga | France |
| Mario Hermoso | CB | 90 | Aggression | Atlético de Madrid | LaLiga | Spain |
| Loren | ST | 90 | Target Man | Real Betis | LaLiga | Spain |
| Banega | CM | 90 | Captain | Sevilla FC | LaLiga | Argentina |
| Marcelo | LB | 90 | Pace | Real Madrid | LaLiga | Brazil |
| Lenglet | CB | 90 | Tackling | FC Barcelona | LaLiga | France |
| Raúl García | CAM | 89 | Vision | Athletic Club de Bilbao | LaLiga | Spain |
| Willian José | ST | 89 | Acceleration | Real Sociedad | LaLiga | Brazil |
| Campaña | RM | 89 | Counter | Levante UD | LaLiga | Spain |
| Raúl García | CAM | 89 | Vision | Athletic Club de Bilbao | LaLiga | Spain |
| Willian José | ST | 89 | Acceleration | Real Sociedad | LaLiga | Brazil |
| Lucas Pérez | ST | 88 | Acceleration | Deportivo Alavés | LaLiga | Spain |
| Sergio Asenjo | GK | 87 | Number 1 | Villarreal CF | LaLiga | Spain |
| Gómez | ST | 87 | Shooting | Valencia CF | LaLiga | Uruguay |
| Puertas | RW | 87 | Speed | Granada CF | LaLiga | Spain |
| Sergio Asenjo | GK | 87 | Number 1 | Villarreal CF | LaLiga | Spain |
| Gómez | ST | 87 | Shooting | Valencia CF | LaLiga | Uruguay |
| Koke | RM | 86 | Long Shots | Atlético de Madrid | LaLiga | Spain |
| Fekir | CF | 86 | Finishing | Real Betis | LaLiga | France |
| Ocampos | RW | 86 | Shot Power | Sevilla FC | LaLiga | Argentina |
| Valverde | CM | 86 | Captain | Real Madrid | LaLiga | Uruguay |
| Carles Pérez | RM | 86 | Ball Control | FC Barcelona | LaLiga | Spain |
| Marc Roca | CM | 86 | Destroyer | RCD Espanyol | LaLiga | Spain |
| Fekir | CF | 86 | Finishing | Real Betis | LaLiga | France |
| Ocampos | RW | 86 | Shot Power | Sevilla FC | LaLiga | Argentina |
| Valverde | CM | 86 | Captain | Real Madrid | LaLiga | Uruguay |
| Carles Pérez | RM | 86 | Ball Control | FC Barcelona | LaLiga | Spain |
| Mata | ST | 85 | Shooting | Getafe CF | LaLiga | Spain |
| Rubén | GK | 85 | GK Positioning | CA Osasuna | LaLiga | Spain |
| Unai Simón | GK | 84 | Diving | Athletic Club de Bilbao | LaLiga | Spain |
| Nacho Monreal | LB | 84 | Defending | Real Sociedad | LaLiga | Spain |
| Orellana | LW | 84 | Dribbling | SD Eibar | LaLiga | Chile |
| Unai Simón | GK | 84 | Diving | Athletic Club de Bilbao | LaLiga | Spain |
| Nacho Monreal | LB | 84 | Defending | Real Sociedad | LaLiga | Spain |
| Óscar | CAM | 83 | Long Shots | CD Leganés | LaLiga | Spain |
| Toko-Ekambi | ST | 82 | Poacher | Villarreal CF | LaLiga | Cameroon |
| Coquelin | CDM | 82 | Long Passing | Valencia CF | LaLiga | France |
| Aidoo | CB | 82 | Physical | RC Celta de Vigo | LaLiga | Ghana |
| Toko-Ekambi | ST | 82 | Poacher | Villarreal CF | LaLiga | Cameroon |
| Coquelin | CDM | 82 | Long Passing | Valencia CF | LaLiga | France |
| Aleix Febas | CM | 81 | Box to Box | RCD Mallorca | LaLiga | Spain |
| Emerson | RB | 80 | Reactions | Real Betis | LaLiga | Brazil |
| Diego Carlos | CB | 80 | Holding | Sevilla FC | LaLiga | Brazil |
| Salisu | CB | 80 | Aggression | Real Valladolid | LaLiga | Ghana |
| Emerson | RB | 80 | Reactions | Real Betis | LaLiga | Brazil |
| Diego Carlos | CB | 80 | Holding | Sevilla FC | LaLiga | Brazil |
Archive (FIFA Mobile 19)
Here is the FIFA Mobile 19 La Liga Rivals Players List :
| Player | Pos. | OVR | Skill Boost | Club | League | Nation | Match |
| --- | --- | --- | --- | --- | --- | --- | --- |
| Luka Modrić | CAM | 98 | Counter | Real Madrid | LaLiga Santander | Croatia | 4 |
| Lionel Messi | ST | 98 | Second Striker | FC Barcelona | LaLiga Santander | Argentina | 4 |
| Carvajal | RB | 95 | Reactions | Real Madrid | LaLiga Santander | Spain | 4 |
| Ivan Rakitić | CDM | 95 | Captain | FC Barcelona | LaLiga Santander | Croatia | 4 |
| Karim Benzema | ST | 92 | Shot Power | Real Madrid | LaLiga Santander | France | 3 |
| Samuel Umtiti | CB | 92 | Marking | FC Barcelona | LaLiga Santander | France | 3 |
| Wissam Ben Yedder | CF | 91 | Attacking | Sevilla FC | LaLiga Santander | France | 3 |
| Giovani Lo Celso | CM | 91 | Counter | Real Betis | LaLiga Santander | Argentina | 3 |
| Lucas Vázquez | RM | 91 | Pace | Real Madrid | LaLiga Santander | Spain | 2 |
| Jordi Alba | LB | 91 | Reactions | FC Barcelona | LaLiga Santander | Spain | 2 |
| Neto | GK | 90 | Diving | Valencia CF | LaLiga Santander | Brazil | 2 |
| Pablo Fornals | CAM | 90 | Long Shots | Villarreal CF | LaLiga Santander | Spain | 2 |
| Dani Ceballos | CM | 90 | Passing | Real Madrid | LaLiga Santander | Spain | 1 |
| Ousmane Dembélé | RM | 90 | Second Striker | FC Barcelona | LaLiga Santander | France | 1 |
| Iñigo Martínez | CB | 89 | Aggression | Athletic Club | LaLiga Santander | Spain | 1 |
| Oyarzabal | LW | 89 | Dribbling | Real Sociedad | LaLiga Santander | Spain | 1 |
| Rodrigo | ST | 89 | Finishing | Valencia CF | LaLiga Santander | Spain | 2 |
| Sergio Asenjo | GK | 89 | Reflexes | Villarreal CF | LaLiga Santander | Spain | 2 |
| Éver Banega | CM | 89 | Passing | Sevilla FC | LaLiga Santander | Argentina | 3 |
| Pablo Sarabia | CAM | 89 | Vision | Sevilla FC | LaLiga Santander | Spain | 3 |
| Bartra | CB | 89 | Holding | Real Betis | LaLiga Santander | Spain | 3 |
| Cristian Tello | LW | 89 | Speed | Real Betis | LaLiga Santander | Spain | 3 |
| André Silva | ST | 88 | Heading | Sevilla FC | LaLiga Santander | Portugal | 3 |
| Loren | ST | 88 | Finishing | Real Betis | LaLiga Santander | Spain | 3 |
| Williams | RF | 87 | Shot Power | Athletic Club | LaLiga Santander | Spain | 1 |
| Illarramendi | CDM | 87 | Interceptions | Real Sociedad | LaLiga Santander | Spain | 1 |
| Carlos Soler | RW | 87 | Ball Control | Valencia CF | LaLiga Santander | Spain | 2 |
| Gerard Moreno | ST | 87 | Positioning | Villarreal CF | LaLiga Santander | Spain | 2 |
| Munir | LF | 87 | Shooting | Sevilla FC | LaLiga Santander | Spain | 3 |
| Junior Firpo | LM | 87 | Crossing | Real Betis | LaLiga Santander | Dominican Republic | 3 |
| Geoffrey Kondogbia | CM | 86 | Generalist | Valencia CF | LaLiga Santander | France | 2 |
| Mario Gaspar | RB | 86 | Reactions | Villarreal CF | LaLiga Santander | Spain | 2 |
| Muniain | LM | 85 | Agility | Athletic Club | LaLiga Santander | Spain | 1 |
| Diego Llorente | CB | 85 | Physical | Real Sociedad | LaLiga Santander | Spain | 1 |
| Ezequiel Garay | CB | 85 | Tackling | Valencia CF | LaLiga Santander | Argentina | 2 |
| Iborra | CDM | 85 | Short Passing | Villarreal CF | LaLiga Santander | Spain | 2 |
| Yuri Berchiche | LB | 84 | Defending | Athletic Club | LaLiga Santander | Spain | 1 |
| Juanmi | RW | 84 | Acceleration | Real Sociedad | LaLiga Santander | Spain | 1 |
| Dani García | CM | 83 | Long Passing | Athletic Club | LaLiga Santander | Spain | 1 |
| Héctor Moreno | CB | 83 | Strength | Real Sociedad | LaLiga Santander | Mexico | 1 |
Archive (FIFA Mobile 18)
Here is the FIFA Mobile 18 La Liga Rivalries Players List :