FIFA Mobile 20: Hazard Event is a long journey event (maybe until the end of the season) where you have to play the game each day, featuring a familiar section from previous seasons, Daily Warm-up. The final reward? Of course the player it self, 104 OVR LW Eden Hazard.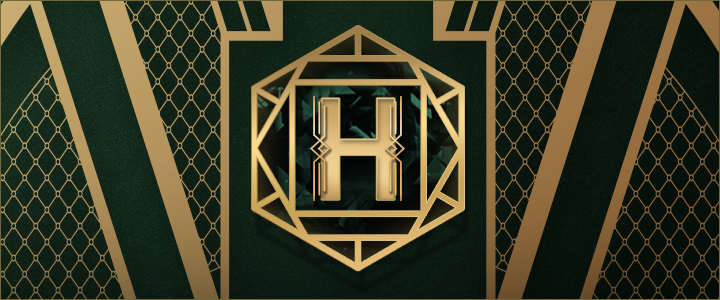 How to Play
Daily Warm-up Chapter
Play 3 Skill Games and 2 Matches every day here to earn Warm-up Score. Spend your Warm-up Score on the Daily Bonus.

Daily Bonus Rewards :
5 Hazard Points
5 Common Rank Shards
1 Weekly Score
Spend the Weekly Score on the Weekly Bonus.
Weekly Bonus Rewards :
10 Rare Rank Shards
25 Common Rank Shards
3 Gold+ Players
15 Hazard Points
Check out the Hazard Chapter to spend your Hazard Points.
Hazard Chapter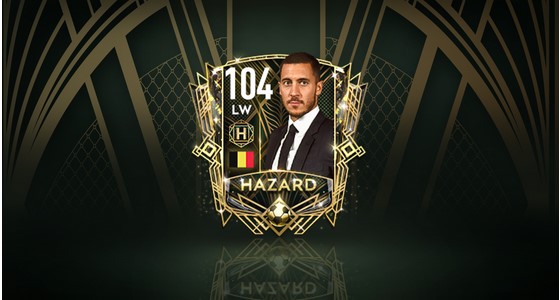 Spend Hazard Points here to progress through the pyramid and collect Hazard Keys from other events to unlock more pyramid rows.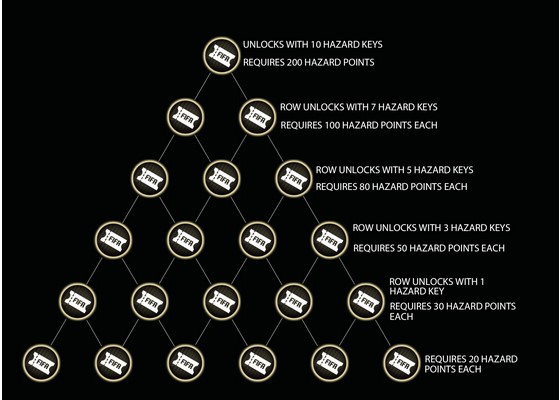 Lineup Challenges Chapter
This chapter is an extra opportunity to earn Hazard Points and Rank Shards faster.
New Challenges refreshes every 2 weeks. Build a lineup that fulfills the criteria and earn Players, Hazard Points and Rank Shards.
In the end of each path, there is an optional SBC to get more Hazard Points and Rank Shards.
Lineup Challenge I
Activity
Normal
Reward
Advanced
Reward
Match 1
2 Italian Players Required. All team Players must be at least 70 OVR
– Gold+ Player
– 5 HP
2 Eredivisie Players Required. All team Players must be at least 80 OVR
– Gold+ Player
-5 HP
Match 2
5 Italian Players Required. All team Players must be at least 74 OVR
– 100 SB
– 5 HP
5 Eredivisie Players Required. All team Players must be at least 83 OVR
– 250 SB
– 5 HP
Match 3
8 Italian Players Required. All team Players must be at least 77 OVR
– 100,000 Coins
– 5 HP
8 Eredivisie Players Required. All team Players must be at least 86 OVR
– 250,000 Coins
– 5 HP
Match 4
11 Italian Players Required. All team Players must be at least 81 OVR
– 83 CAM Verre
– 15 HP
11 Eredivisie Players Required. All team Players must be at least 88 OVR
– 89 LW Sinisterra
– 15 HP
SBC
11 Italian Players Required. All team Players must be at least 81 OVR
– 20 Common Rank Shards
– 20 HP
11 Eredivisie Players Required. All team Players must be at least 88 OVR
– 50 Common Rank Shards
– 20 HP
Lineup Challenge II
Activity
Normal
Reward
Advanced
Reward
Match 1
2 LaLiga Players Required. All team Players must be at least 70 OVR
– Gold+ Player
– 5 HP
2 Belgian Players Required. All team Players must be at least 80 OVR
– Gold+ Player
-5 HP
Match 2
5 LaLiga Players Required. All team Players must be at least 74 OVR
– 100 SB
– 5 HP
5 Belgian Players Required. All team Players must be at least 83 OVR
– 250 SB
– 5 HP
Match 3
8 LaLiga Players Required. All team Players must be at least 77 OVR
– 100,000 Coins
– 5 HP
8 Belgian Players Required. All team Players must be at least 86 OVR
– 250,000 Coins
– 5 HP
Match 4
11 LaLiga Players Required. All team Players must be at least 81 OVR
– 83 LM Tello
– 15 HP
11 Belgian Players Required. All team Players must be at least 88 OVR
– 89 LM Trossard
– 15 HP
SBC
11 LaLiga Players Required. All team Players must be at least 81 OVR
– 20 Common Rank Shards
– 20 HP
11 Belgian Players Required. All team Players must be at least 88 OVR
– 50 Common Rank Shards
– 20 HP
Lineup Challenge III
Activity
Normal
Reward
Advanced
Reward
Match 1
2 French Players Required. All team Players must be at least 70 OVR
– Gold+ Player
– 5 HP
2 Liga NOS Players Required. All team Players must be at least 80 OVR
– Gold+ Player
-5 HP
Match 2
5 French Players Required. All team Players must be at least 74 OVR
– 100 SB
– 5 HP
5 Liga NOS Players Required. All team Players must be at least 83 OVR
– 250 SB
– 5 HP
Match 3
8 French Players Required. All team Players must be at least 77 OVR
– 100,000 Coins
– 5 HP
8 Liga NOS Players Required. All team Players must be at least 86 OVR
– 250,000 Coins
– 5 HP
Match 4
11 French Players Required. All team Players must be at least 81 OVR
– 83 CB Todibo
– 15 HP
11 Liga NOS Players Required. All team Players must be at least 88 OVR
– 89 RW Edwards
– 15 HP
SBC
11 French Players Required. All team Players must be at least 81 OVR
– 20 Common Rank Shards
– 20 HP
11 Liga NOS Players Required. All team Players must be at least 88 OVR
– 50 Common Rank Shards
– 20 HP
*HP : Hazard Points
Lineup Challenge IV
Activity
Normal
Reward
Advanced
Reward
Match 1
2 Serie A Players Required. All team Players must be at least 70 OVR
– Gold+ Player
– 5 HP
2 Argentinian Players Required. All team Players must be at least 80 OVR
– Gold+ Player
-5 HP
Match 2
5 Serie A Players Required. All team Players must be at least 74 OVR
– 100 SB
– 5 HP
5 Argentinian Players Required. All team Players must be at least 83 OVR
– 250 SB
– 5 HP
Match 3
8 Serie A Players Required. All team Players must be at least 77 OVR
– 100,000 Coins
– 5 HP
8 Argentinian Players Required. All team Players must be at least 86 OVR
– 250,000 Coins
– 5 HP
Match 4
11 Serie A Players Required. All team Players must be at least 81 OVR
– 83 CAM Malinovsky
– 15 HP
11 ArgentinianPlayers Required. All team Players must be at least 88 OVR
– 89 CB Marcos Rojo
– 15 HP
SBC
11 Serie A Players Required. All team Players must be at least 81 OVR
– 20 Common Rank Shards
– 20 HP
11 Argentinian Players Required. All team Players must be at least 88 OVR
– 50 Common Rank Shards
– 20 HP
*HP : Hazard Points
Lineup Challenge V
Activity
Normal
Reward
Advanced
Reward
Match 1
2 Brazilian Players Required. All team Players must be at least 70 OVR
– Gold+ Player
– 5 HP
2 Süper Lig Players Required. All team Players must be at least 80 OVR
– Gold+ Player
-5 HP
Match 2
5 Brazilian Players Required. All team Players must be at least 74 OVR
– 100 SB
– 5 HP
5 Süper Lig Players Required. All team Players must be at least 83 OVR
– 250 SB
– 5 HP
Match 3
8 Brazilian Players Required. All team Players must be at least 77 OVR
– 100,000 Coins
– 5 HP
8 Süper Lig Players Required. All team Players must be at least 86 OVR
– 250,000 Coins
– 5 HP
Match 4
11 Brazilian Players Required. All team Players must be at least 81 OVR
– 83 RB Bruno Peres
– 15 HP
11 Süper Lig Players Required. All team Players must be at least 88 OVR
– 89 CDM Lemina
– 15 HP
SBC
11 Brazilian Players Required. All team Players must be at least 81 OVR
– 20 Common Rank Shards
– 20 HP
11 Süper Lig Players Required. All team Players must be at least 88 OVR
– 50 Common Rank Shards
– 20 HP
*HP : Hazard Points
Lineup Challenge VI
Activity
Normal
Reward
Advanced
Reward
Match 1
2 EPL Players Required. All team Players must be at least 70 OVR
– Gold+ Player
– 5 HP
2 Netherlands Players Required. All team Players must be at least 80 OVR
– Gold+ Player
-5 HP
Match 2
5 EPL Players Required. All team Players must be at least 74 OVR
– 100 SB
– 5 HP
5 Netherlands Players Required. All team Players must be at least 83 OVR
– 250 SB
– 5 HP
Match 3
8 EPL Players Required. All team Players must be at least 77 OVR
– 100,000 Coins
– 5 HP
8 Netherlands Players Required. All team Players must be at least 86 OVR
– 250,000 Coins
– 5 HP
Match 4
11 EPL Players Required. All team Players must be at least 81 OVR
– 83 CM Longstaff
– 15 HP
11 Netherlands Players Required. All team Players must be at least 88 OVR
– 89 LM Dilrosun
– 15 HP
SBC
11 EPL Players Required. All team Players must be at least 81 OVR
– 20 Common Rank Shards
– 20 HP
11 Netherlands Players Required. All team Players must be at least 88 OVR
– 50 Common Rank Shards
– 20 HP
*HP : Hazard Points
Lineup Challenge VII
Activity
Normal
Reward
Advanced
Reward
Match 1
2 Spanish Players. All team Players must be at least 70 OVR
– Gold+ Player
– 5 HP
2 MLS Players Required. All team Players must be at least 80 OVR
– Gold+ Player
-5 HP
Match 2
5 Spanish Players Required. All team Players must be at least 74 OVR
– 100 SB
– 5 HP
5 MLS Players Required. All team Players must be at least 83 OVR
– 250 SB
– 5 HP
Match 3
8 Spanish Players Required. All team Players must be at least 77 OVR
– 100,000 Coins
– 5 HP
8 MLS Players Required. All team Players must be at least 86 OVR
– 250,000 Coins
– 5 HP
Match 4
11 Spanish Players Required. All team Players must be at least 81 OVR
– 83 RM Susaeta
– 15 HP
11 MLS Players Required. All team Players must be at least 88 OVR
– 89 ST Locadia
– 15 HP
SBC
11 Spanish Players Required. All team Players must be at least 81 OVR
– 20 Common Rank Shards
– 20 HP
11 MLS Players Required. All team Players must be at least 88 OVR
– 50 Common Rank Shards
– 20 HP
*HP : Hazard Points
Lineup Challenge VIII
Activity
Normal
Reward
Advanced
Reward
Match 1
2 Bundesliga Players Required. All team Players must be at least 70 OVR
– Gold+ Player
– 5 HP
2 Portuguese Players Required. All team Players must be at least 80 OVR
– Gold+ Player
-5 HP
Match 2
5 Bundesliga Players Required. All team Players must be at least 74 OVR
– 100 SB
– 5 HP
5 Portuguese Players Required. All team Players must be at least 83 OVR
– 250 SB
– 5 HP
Match 3
8 Bundesliga Players Required. All team Players must be at least 77 OVR
– 100,000 Coins
– 5 HP
8 Portuguese Players Required. All team Players must be at least 86 OVR
– 250,000 Coins
– 5 HP
Match 4
11 Bundesliga Players Required. All team Players must be at least 81 OVR
– 83 CB Schonlau
– 15 HP
11 Portuguese Players Required. All team Players must be at least 88 OVR
– 89 CB Ferro
– 15 HP
SBC
11 Bundesliga Players Required. All team Players must be at least 81 OVR
– 20 Common Rank Shards
– 20 HP
11 Portuguese Players Required. All team Players must be at least 88 OVR
– 50 Common Rank Shards
– 20 HP
*HP : Hazard Points
Lineup Challenge IX
Activity
Normal
Reward
Advanced
Reward
Match 1
2 English Players Required. All team Players must be at least 70 OVR
– Gold+ Player
– 5 HP
2 Belgium Pro League Players Required. All team Players must be at least 80 OVR
– Gold+ Player
-5 HP
Match 2
5 English Players Required. All team Players must be at least 74 OVR
– 100 SB
– 5 HP
5 Belgium Pro League Players Required. All team Players must be at least 83 OVR
– 250 SB
– 5 HP
Match 3
8 English Players Required. All team Players must be at least 77 OVR
– 100,000 Coins
– 5 HP
8 Belgium Pro League Players Required. All team Players must be at least 86 OVR
– 250,000 Coins
– 5 HP
Match 4
11 English Players Required. All team Players must be at least 81 OVR
– 85 CDM Barry
– 15 HP
11 Belgium Pro League Players Required. All team Players must be at least 88 OVR
– 90 CM Vormer
– 15 HP
SBC
11 English Players Required. All team Players must be at least 81 OVR
– 20 Common Rank Shards
– 20 HP
11 Belgium Pro League Players Required. All team Players must be at least 88 OVR
– 50 Common Rank Shards
– 20 HP
*HP : Hazard Points
Lineup Challenge X
Activity
Normal
Reward
Advanced
Reward
Match 1
2 Ligue 1 Players Required. All team Players must be at least 70 OVR
– Gold+ Player
– 5 HP
2 Croatian Players Required. All team Players must be at least 80 OVR
– Gold+ Player
-5 HP
Match 2
5 Ligue 1 Players Required. All team Players must be at least 74 OVR
– 100 SB
– 5 HP
5 Croatian Players Required. All team Players must be at least 83 OVR
– 250 SB
– 5 HP
Match 3
8 Ligue 1 Players Required. All team Players must be at least 77 OVR
– 100,000 Coins
– 5 HP
8 Croatian Players Required. All team Players must be at least 86 OVR
– 250,000 Coins
– 5 HP
Match 4
11 Ligue 1 Players Required. All team Players must be at least 81 OVR
– 85 CB Denayer
– 15 HP
11 Croatian Players Required. All team Players must be at least 88 OVR
– 90 ST Budimir
– 15 HP
SBC
11 Ligue 1 Players Required. All team Players must be at least 81 OVR
– 20 Common Rank Shards
– 20 HP
11 Croatian Players Required. All team Players must be at least 88 OVR
– 50 Common Rank Shards
– 20 HP
*HP : Hazard Points
Road to Hazard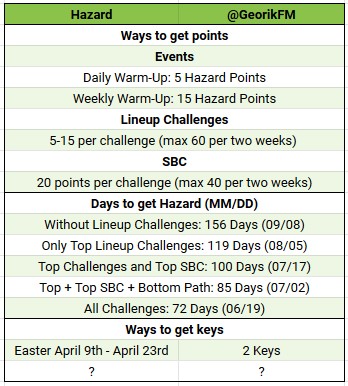 Hazard Players List
| Player | Pos. | OVR | Skill Boost | Club | League | Nation | Chapter |
| --- | --- | --- | --- | --- | --- | --- | --- |
| Thorgan Hazard | RW | 92 | Attacking | Borussia Dortmund | Bundesliga | Belgium | Hazard |
| Kylian Hazard | RM | 88 | Long Shots | Cercle Brugge | Belgium Pro League | Belgium | Hazard |
| Sinisterra | LW | 89 | Attacking | Feyenoord | Eredivisie | Colombia | Challenge 1 |
| Verre | CAM | 83 | Counter | Hellas Verrona | Serie A TIM | Italy | Challenge 1 |
| Trossard | LM | 89 | Counter | Brighton & Hove Albion | Premier League | Belgium | Challenge 2 |
| Tello | LM | 83 | Long Shots | Real Betis | LaLiga Santander | Spain | Challenge 2 |
| Edwards | RW | 89 | Dribbling | Vitória Guimarães | Liga NOS | England | Challenge 3 |
| Todibo | CB | 83 | Aggression | FC Schalke 04 | Bundesliga | France | Challenge 3 |
| Rojo | CB | 89 | Marking | Estudiantes | Primera División | Argentina | Challenge 4 |
| Malinovsky | CAM | 83 | Long Shots | Atalanta | Serie A TIM | Ukraine | Challenge 4 |
| Lemina | CDM | 89 | Long Passing | Galatasaray | Süper Lig | Gabon | Challenge 5 |
| Bruno Peres | RB | 83 | Reactions | Roma | Serie A TIM | Brazil | Challenge 5 |
| Dilrosun | LM | 89 | Free Kick | Hertha BSC | Bundesliga | Netherlands | Challenge 6 |
| Longstaff | CM | 83 | Passing | Newcastle United | Premier League | England | Challenge 6 |
| Locadia | ST | 89 | Finishing | FC Cincinnati | MLS | Netherlands | Challenge 7 |
| Susaeta | RM | 83 | Long Shots | Melbourne City | Hyundai A-League | Spain | Challenge 7 |
| Ferro | CB | 89 | Aggression | SL Benfica | Liga NOS | Portugal | Challenge 8 |
| Schonlau | CB | 83 | Physical | SC Paderborn 07 | Bundesliga | Germany | Challenge 8 |
| Barry | CDM | 85 | Long Passing | West Bromwich Albion | EFL Championship | England | Challenge 9 |
| Vormer | CM | 90 | Box to Box | Club Brugge | Belgium Pro League | Netherlands | Challenge 9 |
| Denayer | CB | 85 | Marking | Olympique Lyonnais | Ligue 1 | Belgium | Challenge 10 |
| Budimir | ST | 90 | Finishing | RCD Mallorca | LaLiga Santander | Croatia | Challenge 10 |
| Bamford | ST | 90 | Second Striker | Leeds United | EFL Championship | England | Challenge 11 |
| Castro | CM | 85 | Captain | VfB Stuttgart | Bundesliga | Germany | Challenge 11 |
| Padt | GK | 90 | Diving | FC Groningen | Eredivisie | Netherlands | Challenge 12 |
| Mancosu | CAM | 85 | Long Shots | Lecce | Serie B | Italy | Challenge 12 |