Celebrate some of football's most unforgettable players with FIFA Mobile 22: Heroes Journey, a new event that represents career-making memorable moments from fan favorites like Jorge Campos, Ole Gunnar Solskjær, Clint Dempsey, Sami Al Jaber, and David Ginola.
Journey through fan-favorite moments in football history with revered football Heroes. Complete matches to earn Hero Points and Super Score! Unlock new Heroes' Journeys by obtaining Hero Keys – you don't wanna miss a moment!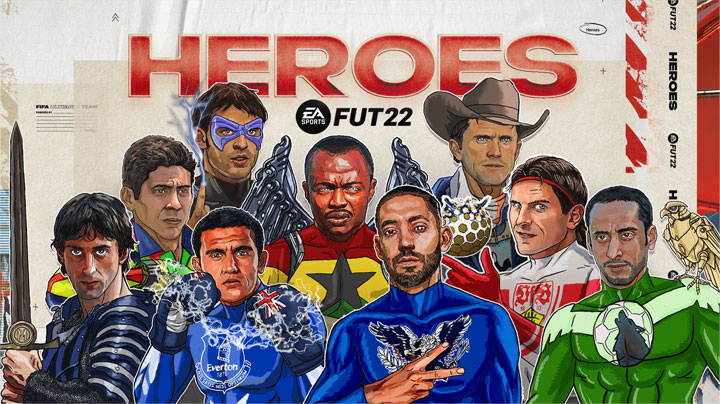 Heroes Challenges
Complete Weekly Hero Challenges and earn rewards like Hero Points and Super Score. Challenge requirements change every week so be sure to check back regularly.
| Type | Reward | Requirement |
| --- | --- | --- |
| Skill Game | 10 Hero Points | – |
| Skill Game | 20 Hero Points | – |
| Skill Game | 30 Hero Points | – |
| Skill Game | 40 Hero Points | – |
| Match | 20 Hero Points | – |
| Match | 40 Hero Points | Min. 1 EPL Player |
| Match | 60 Hero Points | Min. 2 EPL Players |
| Match | 80 Hero Points | Min. 3 EPL Players |
| Match | 50 Super Scores | Min. 4 EPL Players |
Hero Assembler
Spend your Hero Points here to claim Base Hero Players. For every 200 Hero Points, you will get a guaranteed Base Hero Player (85-89 OVR).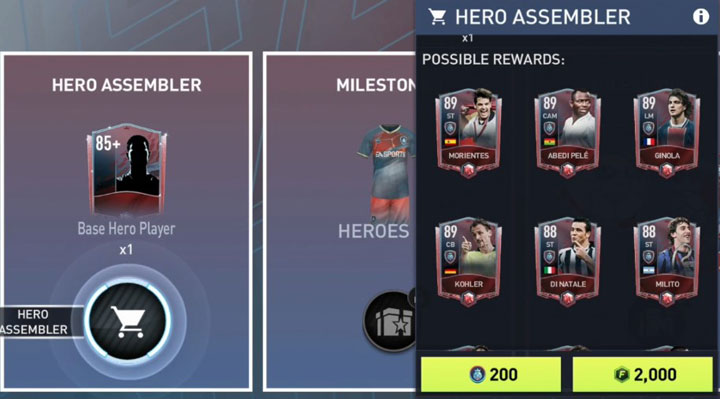 Milestones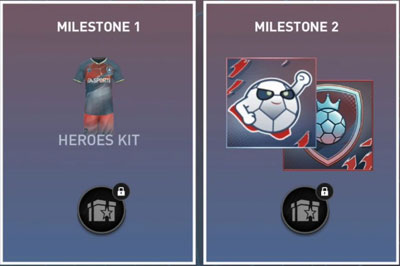 Requirement
Reward
Win 45 Skill Games or Matches
Heroes Kit
Win 45 Skill Games or Matches
Encourage Emote
Heroes Logo
Heroes Journey
Unlock a new Hero Journey by obtaining Hero Keys. Each Hero Journey offers a unique set of challenges and conditions themed around the featured Hero Player.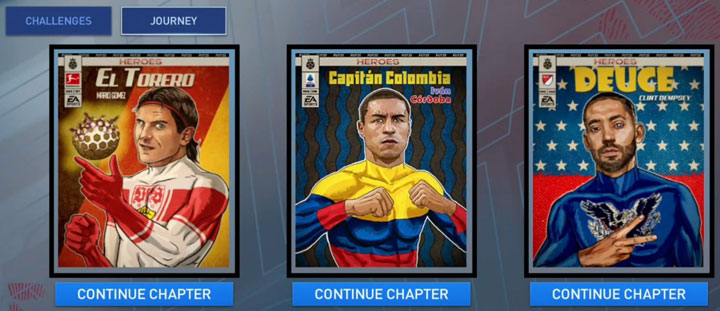 Captain Colombia
AKA Iván Córdoba
Nation: Colombia
League: Serie A TIM
Position: CB
OVR: 100
OUR LATEST VIDEOS
Evolution of FIFA MOBILE Card Art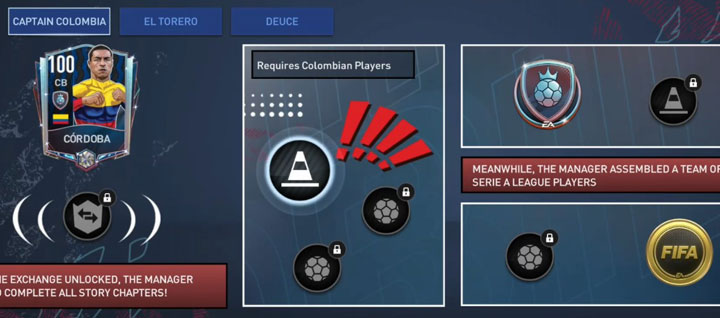 The decorated Colombian Iván Córdoba led several domestic and European challenges for Inter with his diligent defensive work. A leader, warrior-type center-back, his style of play typified the robustness of Inter's legendary treble-winning 2010 side. In 2008, against Reggina, in a hard-fought match that looked destined for a draw, it was Córdoba's last-minute winner that placed him in Nerazzurri folklore.
El Torero
AKA Mario Gomez
Nation: Germany
League: Bundesliga
Position: ST
OVR: 100
With over 200 goals in the Bundesliga for some of its biggest clubs, the fearsome striking of Mario Gómez at his peak was known all over the world. But he was always remembered most fondly at home. Particularly setting up the legendary goal that would bring VfB Stuttgart their third Bundesliga title, certifying his status as a club and FUT Hero.
Deuce
AKA Clint Dempsey
Nation: USA
League: Major League Soccer
Position: LW
OVR: 100
Whether in MLS, the Premier League, or on the international stage, Dempsey left it all on the pitch – and very often in the goal too. The joint top scorer in USMNT history, Dempsey's return to North American football in Seattle saw him bag an impressive 47 league goals in 115 games – including a memorable hat trick in 2014.
Heroes Players List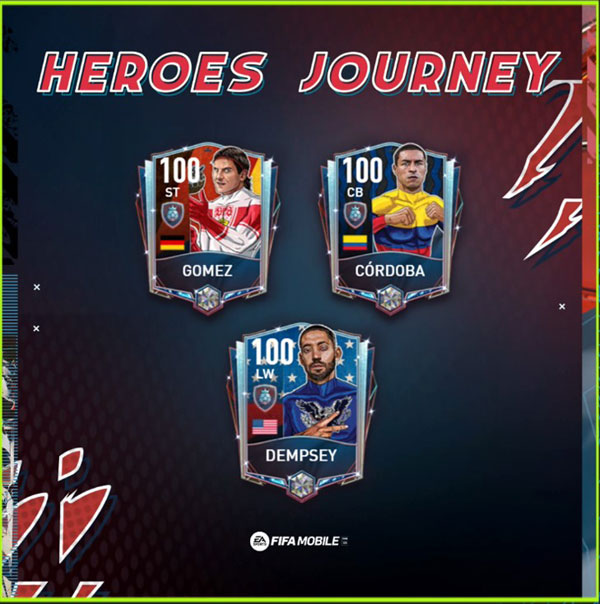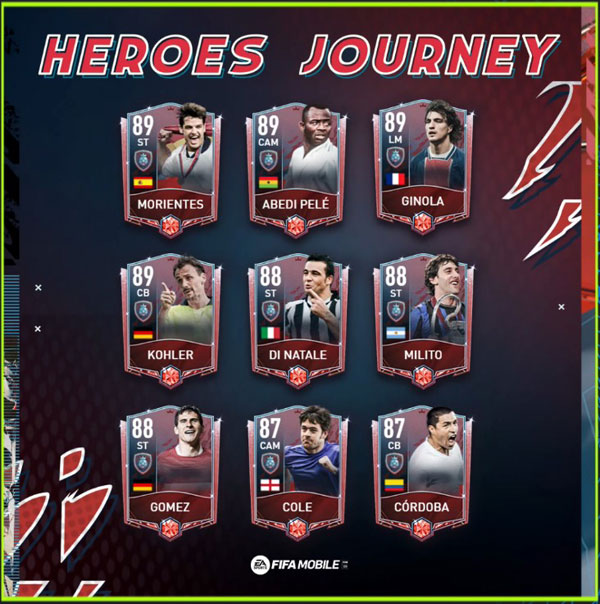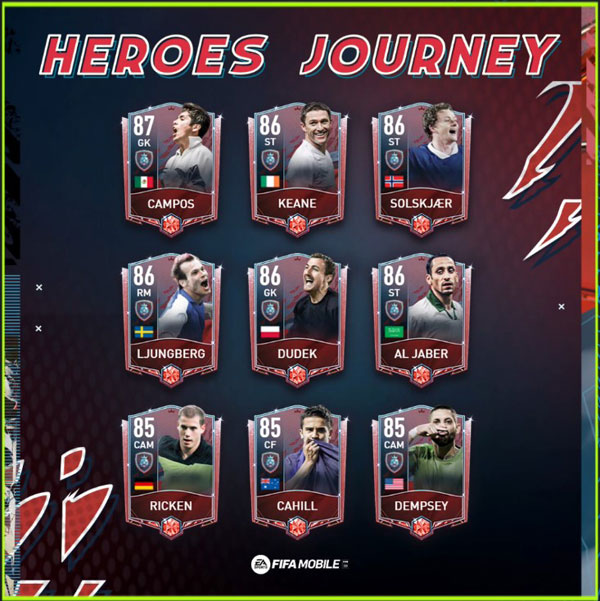 | Player | Pos. | OVR | Skill Boost | Club | League | Nation |
| --- | --- | --- | --- | --- | --- | --- |
| Clint Dempsey | LW | 100 | Agility | Fulham | Premier League | United States |
| Iván Córdoba | CB | 100 | Marking | Inter | Serie A TIM | Colombia |
| Mario Gomez | ST | 100 | Finishing | VfB Stuttgart | Bundesliga | Germany |
| Clint Dempsey | CAM | 85 | Counter | Seattle Sounders | MLS | United States |
| Tim Cahill | CF | 85 | Second Striker | Everton | Premier League | Australia |
| Lars Ricken | CAM | 85 | Short Passing | Borussia Dortmund | Bundesliga | Germany |
| Sami Al Jaber | ST | 86 | Finishing | Al Hilal | MBS Pro League | Saudi Arabia |
| Jerzy Dudek | GK | 86 | Reflexes | Liverpool | Premier League | Poland |
| Freddie Ljungberg | RM | 86 | Counter | Arsenal | Premier League | Sweden |
| Ole Gunnar Solskjær | ST | 86 | Finishing | Manchester United | Premier League | Norway |
| Robbie Keane | ST | 86 | Shooting | Tottenham Hotspur | Premier League | Republic of Ireland |
| Jorge Campos | GK | 87 | Number 1 | Los Angeles Galaxy | MLS | Mexico |
| Iván Córdoba | CB | 87 | Defending | Inter | Serie A TIM | Colombia |
| Joe Cole | CAM | 87 | Dribbling | Chelsea | Premier League | England |
| Mario Gomez | ST | 88 | Target Man | Bayern München | Bundesliga | Germany |
| Diego Milito | ST | 88 | Second Striker | Inter | Serie A TIM | Argentina |
| Antonio Di Natale | ST | 88 | Shooting | Udinese | Serie A TIM | Italy |
| Jürgen Kohler | CB | 89 | Marking | Borussia Dortmund | Bundesliga | Germany |
| David Ginola | LM | 89 | Dribbling | Paris Saint-Germain | Ligue 1 | France |
| Abedi Pelé | CAM | 89 | Long Shots | Olympique de Marseille | Ligue 1 | Ghana |
| Morientes | ST | 89 | Target Man | Real Madrid | LaLiga Santander | Spain |