The World Cup 2022 Tournament is coming to FIFA Mobile on November 08. Select your favorite National Team, play with them through the Tournament, and bring home the FIFA World Cup.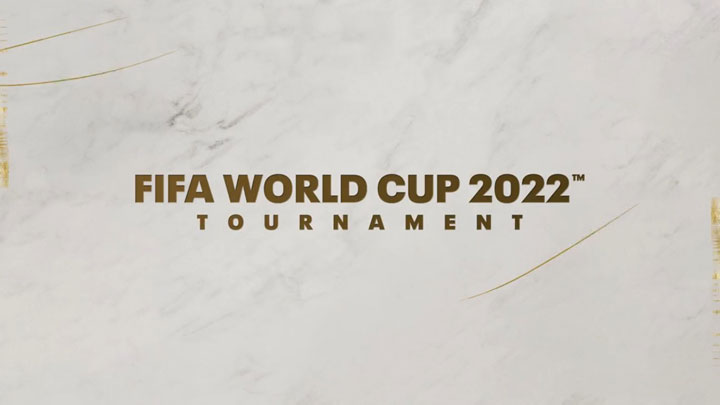 Table of Contents
Difficulty
The FIFA Mobile World Cup Tournament includes six difficulty levels to choose from, depending on your skill level:
Beginner (suitable for newbies)
Amateur (you only need some practice)
Semi-Pro (it might be a bit challenging)
Professional (you need to take it seriously)
World Class*
Legendary*
*Unlock by winning the tournament on the last difficulty level.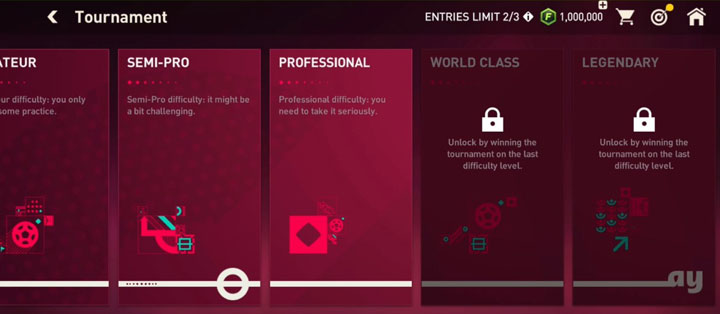 The higher the difficulty, the better the rewards.
National Teams
After deciding on your level of difficulty, pick the nation you want to lead to victory to start your FIFA World Cup 2022 journey.
There are 32 qualified National Teams and 15 non-qualified National Teams. Choosing one of the 15 additional Teams will replace one of the 32 qualified Teams.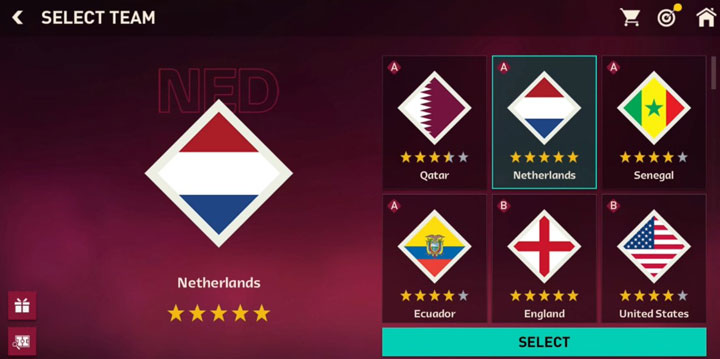 The star rating (from 1 to 5) shows the OVR of the nation. Teams with higher star ratings will have players with higher OVR and better stats.
Before choosing, you may check the squad lineup and details by clicking the Team Overview icon on the bottom left.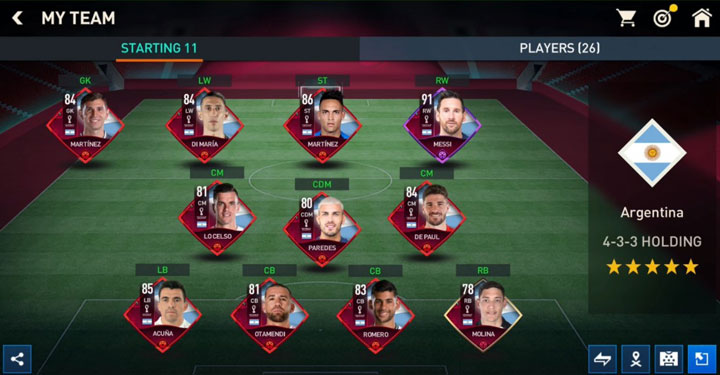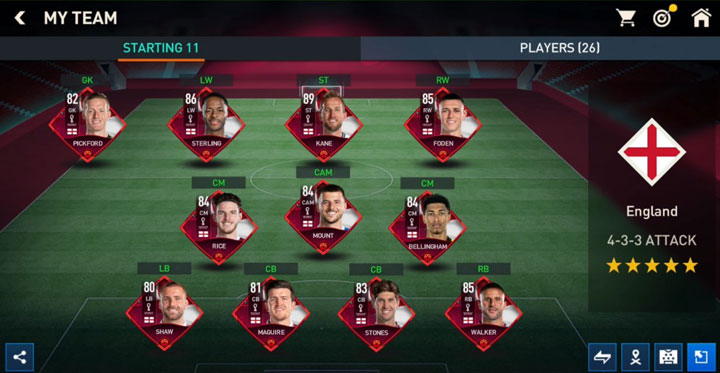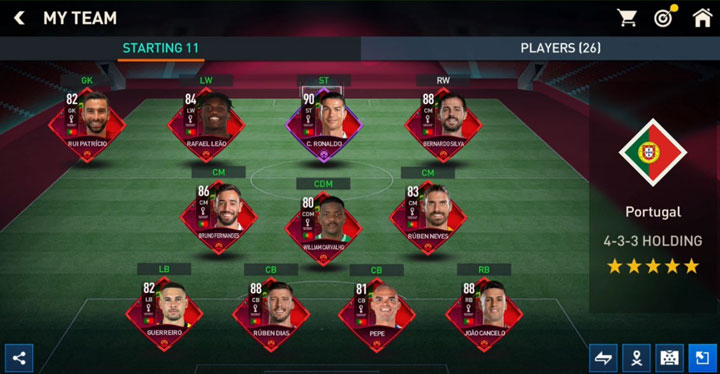 Tournament
You have an opportunity to look through the group phase draw before the tournament starts. You can reshuffle the draw up to three times if you'd like. However, by default, the 32 qualified National Teams are put reflecting the real tournament draw. By selecting the Default button, you can return to the default Tournament draw if none of the new groups work for your team.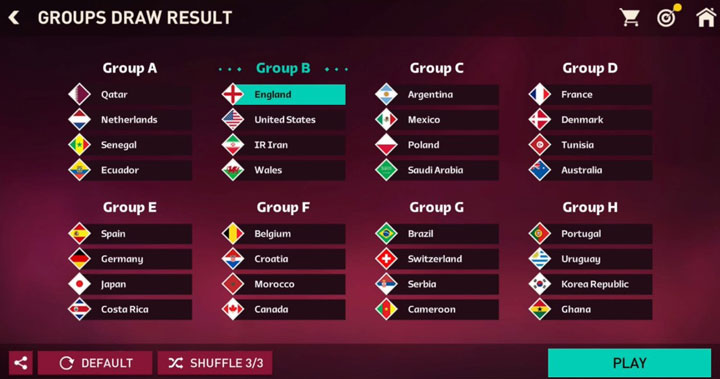 Then, click Continue to advance to the Tournament Hub. Here you can change your formation, swap your players, view your Tournament schedule and check out the rewards based on your difficulty level.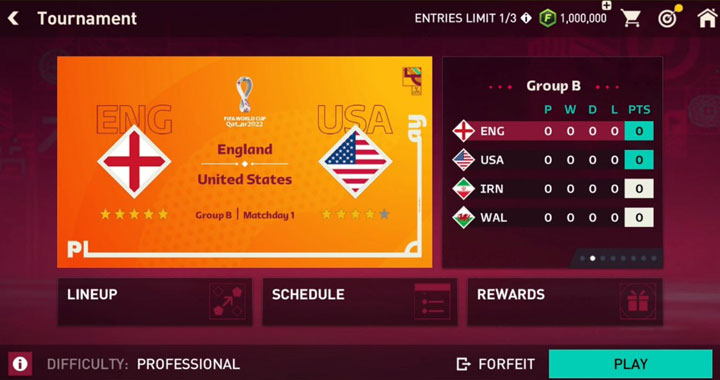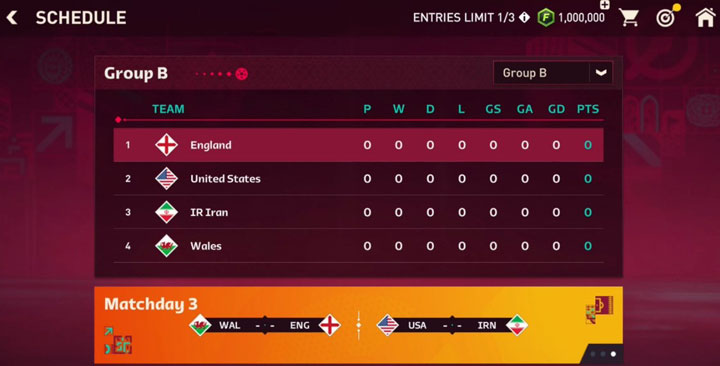 Finally, tap the Play button to kick off your first FIFA Mobile World Cup 2022 match. All matches in this tournament are AI matches. As far as we know, there is no VSA or H2H mode.
You can play the FIFA Mobile World Cup 2022 Tournament up to 3 times every week, and you can utilize FIFA Points to get more chances to participate.
Rewards
By completing the tournament, you will earn rewards based on your tournament progress and the difficulty you have selected.
Difficulty: Beginner
| Round | Reward |
| --- | --- |
| Round of 16 | |
| Quarter Final | 12 Program Tokens |
| Semi Final | 16 Program Tokens |
| Final | 24 Program Tokens |
| Champion | 32 Program Tokens |
Difficulty: Professional
Round
Reward
Round of 16
20 Program Tokens
Quarter Final
30 Program Tokens
Semi Final
40 Program Tokens
Final
60 Program Tokens
Champion
400 Program Tokens*
80 Program Tokens
*first-time win
Program Tokens are used to get currencies and players in the FIFA Mobile World Cup event (expected to open on November 17).
For winning the Tournament, you can gain exclusive World Cup Players starting on November 17th, when the FIFA Mobile World Cup 2022 live event starts.
Live OVR
Live OVR is a feature that allows base players' OVR and stats to be improved. Currently, only the FIFA Mobile World Cup 2022 Tournament mode has access to this feature.
For each victory in the FIFA World Cup 2022, all players on the winning team will gain +1 OVR and +1 to all of their stats based on their real-world performances. This implies that your favorite teams' and players' OVR and stats in FIFA Mobile will be directly impacted by how well they do in the actual tournament!
The OVR and stats of the Man of the Match will also increase by +1.
For fan-favorite players, there may be opportunities to determine additional OVR and stats boosts on social media.
Event Duration: November 08 – November 17, 2022 (9 Days)