EA is aware of the issues currently facing the community, such as the market, TOTY, and the uncertainty of upcoming events. They understand the frustration some players may feel and are continuously working behind the scenes to identify and address these issues.
EA's team is dedicated to improving players' experiences and addressing the concerns raised by the community regarding the market and future events.
Here's what EA has planned for the upcoming months of FIFA Mobile.
Market Improvements
EA acknowledges the concerns surrounding the current state of the market and is actively working to enhance this system. They understand that selling players, especially those from TOTY, has been challenging for many, and they are committed to making it better.
Players may notice some upcoming changes to the market.
Price cap minimums for 80-110 OVR Player Items will be reduced.
The fixed minimum price will primarily be based on purchase and sale orders rather than being set according to OVR. For instance, a 110 OVR UTOTY Player's price could potentially fall below 60 million coins if demand dictates. A 100 OVR player's price could potentially fall below 2 million coins, and so on.
This should enhance the sale of Player Items, as prices will better align with buyer expectations and reduce the number of 999+ sale order listings.
Many UCL Player Items will be non-auctionable.
During the UEFA Champions League Event, numerous UCL Players will be non-auctionable, meaning they won't be available on the Market. The non-auctionable UCL Players obtained from the Main Chapter and Reward Path can be used in your team or included in Exchanges for auctionable UCL Players or ICONs.
This will decrease the number of Players flooding the Market and promote more sales orders.
Additional Exchanges will be available to earn different Players.
More Exchanges will allow you to include unwanted and non-auctionable Players in exchange for various UCL Players. This offers a direct avenue for you to offload Players that might be difficult to sell otherwise.
What's Next
EA has exciting Main events, Secondary events, and Base events coming up that will help revitalize the game and keep players engaged.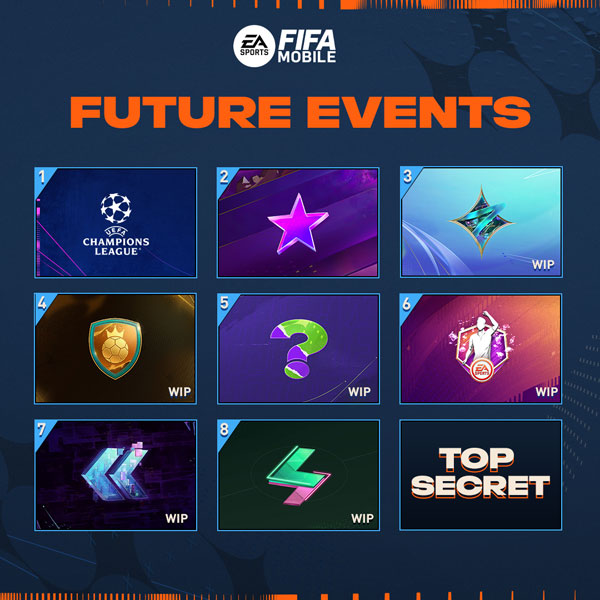 Main events will offer the highest OVR players and the biggest rewards, while secondary events will introduce more players and build out teams.
Secondary events will be shorter but are expected to release every two weeks for the next few months.
Main Events
Secondary Events
Future Stars
Fantasy
Heroes
What If
Record Breakers
Shape Shifters
Base Events
Division Rivals Refresh: EA is revamping the progression and rewards within Division Rivals to offer more engaging content.
Player of the Month (POTM) is returning to FIFA Mobile and will be available within the Division Rivals reward system.
EA is dedicated to bringing more content into the game, enhancing gameplay experiences, and connecting players with the game on a deeper level. They are constantly working on incorporating more real-world content and look forward to sharing updates.
More Information
The season of FIFA Mobile is not close to the season reset.
New market changes will roll out over the next few weeks.
OVRs will continue to increase gradually from month to month and event to event.
No updates are coming to League Tour, Daily Training, and Icon Journeys, but Division Rivals will see a major refresh.
More Hero Players (Hero Journeys) will be released in the coming months.
EA appreciates the community's involvement and hopes these updates will address concerns and make FIFA Mobile more enjoyable for everyone. They will continue to monitor new market adjustments and upcoming events to make improvements based on player feedback.