Chemistry is back on FIFA Mobile 21. Team Chemistry is a system that boosts your starting XI when you include players from the same club, league, nation or special events.
Chemistry Basic Guide
Team Chemistry is as important as the team OVR. Having a good chemistry will give you better chances in Vs Attack (VSA) or League vs League (LvL) matches.
To get Team Chemistry rating, you must have at least 2 elite players linked together with anything similar (Club/League/Nation/Event).
Chemistry is shown on the 'Starting 11' screen by a colored line between players. Green color indicates good Chemistry, green (light) color indicates great Chemistry and grey indicates no Chemistry.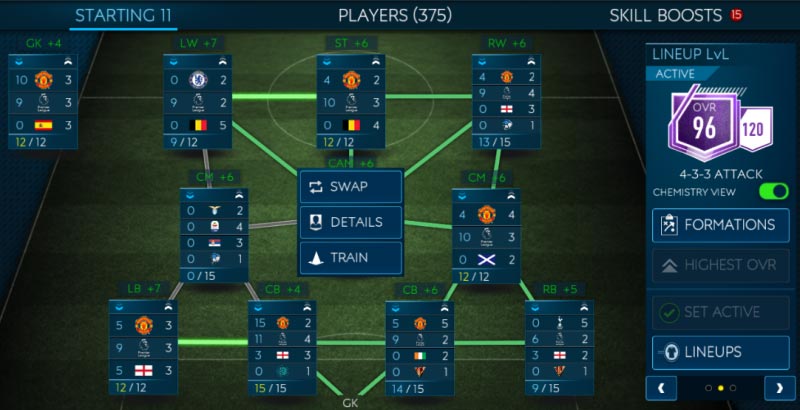 To view the chemistry statistics of every player on your starting lineup, click the "chemistry view" toggle on the top right of the "Starting 11" tab.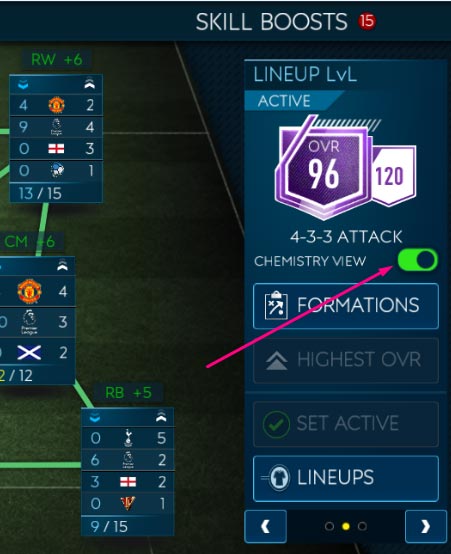 Important things to note, the numbers on the right of every player are the Chemistry given by that player to all linked players, meanwhile the numbers on the left represent the Chemistry received by this player from linked players.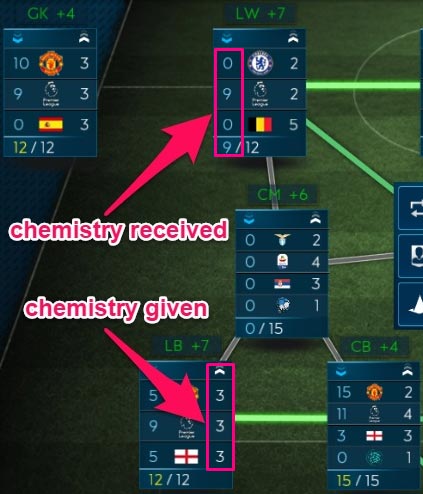 Team Chemistry only works with 80+ OVR players. That means if you link a silver or a gold player to an elite player it will not work.
An indicator next to your team OVR shows how much total Chemistry you have from all players in your Starting lineup.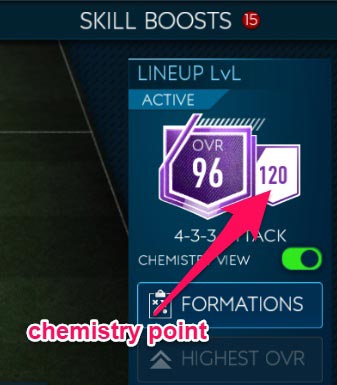 Regional Chemistry
On FIFA Mobile 21, EA have revamped the way Player Chemistry is done. Chemistry on Exact Leagues now have expanded to Regional Groups.
Regional Chemistry Groups include multiple leagues, so you now have more options to link up more players for added Chemistry. For example, a player from the Bundesliga, will have a Chemistry Link with a player from the Bundesliga 2, and 3. Liga. A player from the Serie A TIM, will have a Chemistry Link with a player from the "Calcio B", and so on.
Regional Chemistry Groups
Regional Group
League
England
Premier League
EFL Championship
EFL League 1
EFL League 2
France
Ligue 1 Uber Eats
Ligue 2 BKT
Italy
Serie A TIM
"Calcio B"
Germany
Bundesliga
Bundesliga 2
3. Liga
Spain
LaLiga Santander
LaLiga Smartbank
Western Europe
Liga NOS (Portugal)
Eredivisie (Netherlands)
1A Pro League (Belgium)
Scottish Prem (Scotland)
SSE Airtricity Lge (Ireland)
Eastern Europe
RSL (Switzerland)
O. Bundesliga (Austria)
3F Superliga (Denmark)
Eliteserien (Norway)
Allsvenskan (Sweden)
PKO Ektstraklasa (Poland)
Liga I (Romania)
Super Lig (Turkey)
"Finnliga" (Finland)
"Ceska Liga" (Czech Republic)
"League of Russia" (Russia)
"Ukrayina Liha" (Ukraine)
"Liga Hrvatska" (Croatia)
"Hellas Liga" (Greece)
Rest of World
MLS (USA/Canada)
Liga BBVA MX (Mexico)
LPF (Argentina)
CSL (China)
K-League 1 (South Korea)
A-League (Australia/New Zealand)
Hero ISL (India)
MBS Pro League (Saudi Arabia)
"United Emirates League" (UAE)
"South African FL" (South Africa)
How to Increase & Maximize your Team Chemistry?
Here are some tips & tricks that you can use to increase and maximize your team chemistry.
Don't be too thematic
Building a squad only from 1 club or 1 country certainly makes it easy to maximize team chemistry. But your squad will lose its flexibility and will be difficult for new players to enter.
Moreover (when I write this article) it is now just the beginning of the season and there will be many events which of course will feature new and better players (TOTY, TOTS, Carniball, Easter, etc).
Look at chemistry statistics before buying players in the market
Chemistry statistics can be seen at the bottom right of the profile page. By looking at the chemistry stats, you can calculate how many chemistry points the player will give to the squad and how many chemistry points he will receive. This is because each card have different chemistry values.
If possible, choose cards from the new events rather than the base one or the old events.
Usually, players from the events such as UCL, Football Freeze, or Lunar receive and give more chemistry points than base cards.
That being said, if all players on your starting 11 are from special events, and they linked well (same Club/Regional Leagues/Nation/Program), your Chemistry will go up faster.
And entering the middle and end of the season, EA will always release new cards with higher maximum chemistry points.
Participate in League Tournament and get Perk Points
On this season, you can also increase your team chemistry by using Perks. Participate on League Tournaments and get Perk Points, then redeem for Chemistry Boost and Max Chemistry. Read all about Perks here.
Max chemistry in FIFA Mobile is 120. You can increase this limit by using Perks Points to get more Max Chemistry.
I hope this team chemistry guide at FIFA Mobile 21 Season 5 can help you build your best squad. If you have any questions, let us know in the comments below.