VIP is a system in FIFA Mobile 21 where you will get rewards and bonuses every time your VIP Rank or Level goes up. To Increase your VIP Rank/Level, you must collect VIP Points.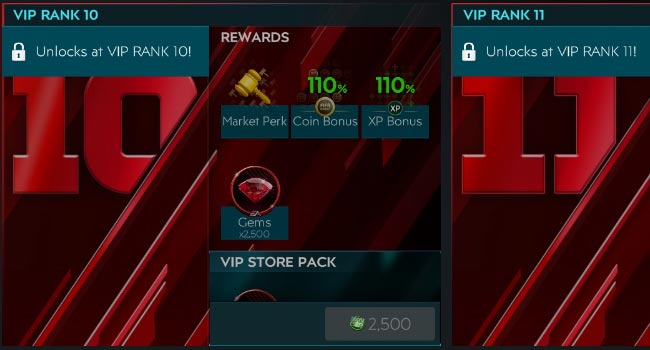 How do you get VIP Points in FIFA Mobile?
VIP Points can be obtained for free from daily quests or purchasing packs in the Store.
How to increase VIP Points in FIFA Mobile?
You can increase VIP Points by completing daily quests everyday. For f2p players, this is the only way.
In total there are 20 Ranks or Levels in VIP. The higher your rank, the better the rewards and bonuses you can get. For f2p players, the best reward is undoubtedly VIP Rank 10, where you will be released from a 5% tax when selling players on the market.
In this VIP system there is also VIP Store Pack which can only be purchased if you have reached a certain rank. Unfortunately, this Pack can only be purchased using FIFA Points.
The following is a list of VIP Rank or Level and VIP Points needed on FIFA Mobile 21, as well as all available rewards.
| Rank | Free Daily Points | Points Required |
| --- | --- | --- |
| 1 | 100 | 200 |
| 2 | 150 | 500 |
| 3 | 200 | 1,000 |
| 4 | 250 | 2,500 |
| 5 | 300 | 5,000 |
| 6 | 350 | 7,500 |
| 7 | 400 | 10,000 |
| 8 | 450 | 20,000 |
| 9 | 500 | 30,000 |
| 10 | 550 | 50,000 |
| 11 | 600 | 75,000 |
| 12 | 650 | 100,000 |
| 13 | 700 | 200,000 |
| 14 | 750 | 300,000 |
| 15 | 800 | 500,000 |
| 16 | 850 | 750,000 |
| 17 | 900 | 900,000 |
| 18 | 950 | 1,100,000 |
| 19 | 1000 | 1,300,000 |
| 20 | – | 1,500,000 |
Rank
Rewards
Store Pack
1
102% XP
2,500 Gems (500)
2
102% Coin
102% XP
25 Gems
42,500 TXP (500)
3
102% Coin
104% XP
50 Gems
125 SB (500)
4
104% Coin
104% XP
125 Gems
500K Coins (1,000)
5
104% Coin
106% XP
250 Gems
5,000 Gems (1,000)
6
106% Coin
106% XP
375 Gems
85,000 TXP (1,000)
7
106% Coin
108% XP
500 Gems
250 SB (1,000)
8
108% Coin
108% XP
1,000 Gems
1,25M Coins (2,500)
9
108% Coin
110% XP
1,500 Gems
210K TXP (2,500)
10
Market Perk
110% Coin
110% XP
2,500 Gems
10,000 Gems (2,500)
11
112% Coin
110% XP
3750 Gems
500 SB (2,500)
12
114% Coin
110% XP
5,000 Gems
1,25M Coins (2,500)
13
116% Coin
110% XP
10,000 Gems
425K TXP (5,000)
14
118% Coin
110% XP
15,000 Gems
1,250 SB (5,000)
15
120% Coin
115% XP
25,000 Gems
15,000 Gems (5,000)
16
122% Coin
115% XP
37,500 Gems
2,5M Coins (5,000)
17
124% Coin
115% XP
45,000 Gems
425K TXP (5,000)
18
126% Coin
115% XP
55,000 Gems
1,250 SB (5,000)
19
128% Coin
115% XP
65,000 Gems
20,000 Gems (5,000)
20
135% Coin
125% XP
75,000 Gems
2,5M Coins (5,000)