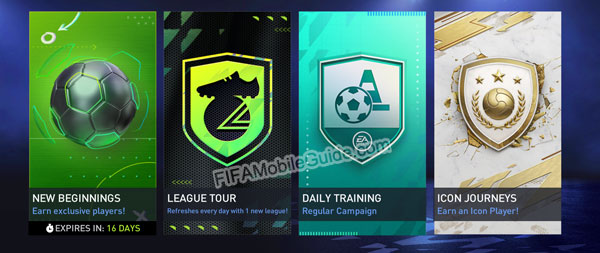 Hi, welcome to FIFAMobileGuide.com. If you want to know the events schedules in FIFA Mobile 23 (seasons 7), here are the lists:
FIFA Mobile 23 Daily events (Events Calendar 2023)
These are the events on FIFA Mobile that you can play daily throughout the season.
FIFA Mobile 22 – 23 Seasonal Events
These are seasonal events on FIFA Mobile which are usually presented by EA to celebrate events in the real world. A seasonal event usually ends within 1 week to 2 months, with better rewards than normal events.
Date
Events
Jan 18, 2022
FIFA Mobile 22 (New Season 2021 - 2022)
Season 6
Jan 18, 2022
New Beginnings
Feb 03, 2022
TOTY
Feb 10, 2022
Heartbreakers (Pack Only)
Feb 17, 2022
Carniball
Mar 03, 2022
UEFA Europa League
Mar 17, 2022
UCL Group Stage
Mar 31, 2022
Lantern Festival (Pack Only)
UCL R16
Apr 07, 2022
Top Transfer
Apr 21, 2022
Spring Showdown
Apr 26, 2022
UCL Quarter-Finals (Pack Only)
May 05, 2022
Team of the Season (TOTS)
Jun 30, 2022
Treasure Hunt: Camelot
Jul 15, 2022
Summer Vacation: Europe
Jul 28, 2022
Tropical Tour
Aug 26, 2022
Kickoff Rivalries
Aug 31, 2022
Heroes Journey
Sep 15, 2022
Neon Nights
Oct 06, 2022
Group Stage Challengers
Oct 20, 2022
Scream Team
Nov 08, 2022
World Cup Tournament
Nov 17, 2022
World Cup Live Event
Dec 15, 2022
Winter Fest
Jan 05, 2023
TOTT (Team of the Tournament) - Pack Only
Jan 12, 2023
National Heroes
Jan 18, 2023
Lunar (Pack Only)
Feb 02, 2023
TOTY
Feb 09, 2023
Obrigado, Pelé
Feb 14, 2023
Heartbreakers
March 30, 2023
UCL
April 6, 2023
Future Stars
April 20, 2023
Fantasy
May 04, 2023
Shapeshifter
May 11, 2023
TOTS
May 18, 2023
What If
June 01, 2023
Record Breakers
June 13, 2023
UTOTS
June 16, 2023
Flashbacks
June 29, 2023
Hall of Legends
June 30, 2023
UCL Best 11
July 10, 2023
Mystery Signings
July 14, 2023
Centurions
FIFA Mobile 23 Upcoming Events
And these are the upcoming events at FIFA Mobile.
*The upcoming events list is predictions only; mostly based on leaked information, future events in real life, and also based on the previous season events on FIFA Mobile 21/22.
FIFA Mobile All Events
Curious about FIFA Mobile events in previous seasons? Or just want to go back to the good old days? Check out the events in FIFA Mobile from season 1 (2017) to season 5 (2021) below.
FIFA Mobile 21 (Season 5)
FIFA Mobile 20 (Season 4)
Arena
Black Friday
Clair De Lune
Derbies
Legacy
Oktober Fest
Scream
Star Pass
STPD (Pack Only)
Summer Showdown
World Tour
Zidane
FIFA Mobile 19 (Season 3)
Bastille Day
Canada Day
Cinco De Mayo
Domination
Europa League
FIFA Legends
Golden Week
Halloween
Independence Day
New Years
Preseason
Record Breakers
Retro Stars
Russia Day
Treasure Hunt: Amazon
Thanksgiving
FIFA Mobile 18 (Season 2)
Campaign
Domination
Easter
Euro Stars
Flash Sale
Football Freeze
Halloween
Hometown Homies
Icons
Mobile Master
National Heroes
National Legend
New Year
Prestige
SBC
Scouting
STPD
Team Heroes
Thanksgiving
TOTS
FIFA Mobile 17 (Season 1)
4th of July
African Tournament
Bastille Day
Blue Star
Canada Day
Carniball
Domination
Easter
End of an Era
England Heroes
Europe Tournament
Fan Favourites
Father's Day
Flash Sale
Flashbacks
Football Freeze
Global Tour
Golden Boy
Golden Week
Halloween
International Champions
La Liga Rivalries
Lunar New Year
MLS Cup
Mobile Master
Movember
National Champions
Pre-season
Program Master
Qualifiers
Record Breakers
Rookies
Scouting
St. Patrick's Day
Summer Celebration
Team Heroes
Team of the Season
Team of the Year
Top Transfers
Trophy Monster
Ultimate Flashback
TOTS
Valentine's Day
Veteran Editions
We will always try to update this post if there are any new events or changes in the future.